Un'altra stagione di The Walking Dead è giunta alla sua conclusione lasciandosi dietro non poche polemiche. La rivoluzionaria serie prodotta da AMC, che alle sue origini si è imposta come un successo mondiale, si è distaccata (a detta di molti spettatori) dal quel modello originale che ci aveva appassionato. Nel corso delle ultime stagioni il ritmo di narrazione si è evidentemente dilatato, attribuendo alla Serie Tv un tono più lento, un po' pretenzioso e a tratti prevedibile. Ma quando The Walking Dead ha smesso di essere The Walking Dead?
Le prime due stagioni, considerate a furor di popolo le migliori delle otto uscite, erano firmate da Frank Darabont. Regista di Serie Tv di grande successo come The Shield che per il grande schermo ha sceneggiato film come Il Miglio Verde e Le Ali della Libertà. Per The Walking Dead, Darabont ha scritto sceneggiature di grande impatto, dando vita a dialoghi e ambientazioni curati in ogni singolo particolare ed estremamente eleganti. Nel 2011 Darabont ha annunciato il suo allontanamento dalla Serie, in accordo con AMC, portando inevitabilmente la Serie Tv a un cambiamento strutturale notevole. Il cambio nello show running dopo due stagioni di grande successo non sembrava, però, aver minato la popolarità di The Walking Dead, che ha continuato a riscuotere grandi successi anche nelle stagioni successive.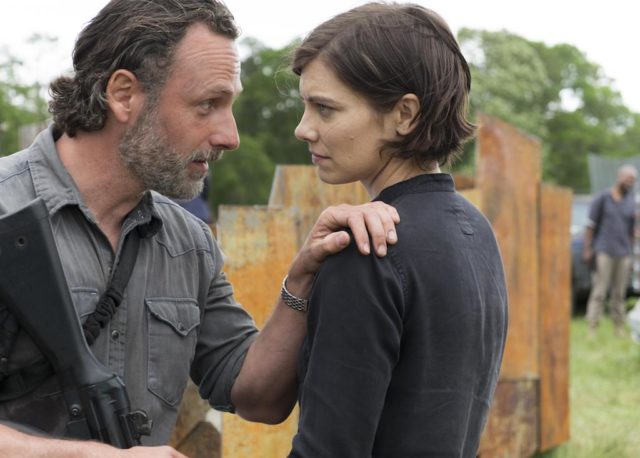 Tuttavia la riproposizione di determinati schemi narrativi ha iniziato pian piano a essere evidente agli occhi di tutti. I nostri eroi trovavano un posto dove insediarsi, poi arrivavano i problemi e li vedevamo fuggire di nuovo per cercarne un altro, il più delle volte dopo lunghe e sanguinose battaglie con l'antagonista di turno.
A pensarci bene, anche se ripetitivo, in un'ottica apocalittica una tale instabilità ha senso, i pericoli nel mondo di The Walking Dead sono tanti e non ci si può guardare solo dai vaganti. Tutto questo valeva fino all'arrivo di Negan.
Ad Alexandria infatti si erano create le condizioni per la nascita di una comunità solida e proficua e per un breve momento ci è sembrato quasi che nulla potesse incrinare questa armonia.
E mentre gli zombie diventavano quasi marginali ai fini della trama, Rick e i suoi hanno iniziato una battaglia, quella con Negan e i Salvatori,  i cui costi reali in termini di vite, sono stati altissimi per tutte le comunità che hanno preso parte alla guerra.
È stato all'inizio della rivalità con Negan che The Walking Dead è entrata in una sorta di bozzolo, per uscirne poi nella 8×16, con una nuova pelle.
I vaganti fanno paura solo quando sono in tanti tutti insieme. I nostri eroi hanno infatti acquisito l'abilità di ucciderli con qualsiasi utensile e con la stessa facilità con la quale noi tagliamo una mela. Del resto i walkers sono troppo stupidi per rappresentare un pericolo nella loro individualità e chi è ancora vivo è presumibilmente un veterano, che da anni ha imparato a cavarsela da solo. Ora la priorità sono gli uomini. In un'ottica apocalittica, infatti, i problemi da arginare non sono solo quelli più immediati, come i walkers, ma anche quelli che l'anarchia, figlia dell'apocalisse, ha generato.
È in questo senso che le molte guerre combattute da Rick e i suoi trovano fondamento, nel bisogno di proteggere quella che lui e i suoi chiamano "casa". Ma il buon Grimes è un leader volubile, che più volte ha perso la sua strada, per poi ritrovarla e rimettere tutto in dubbio di nuovo. Solo l'evento più devastante della sua vita poteva portarlo a un vero e proprio cambiamento e insieme a lui l'intera realtà delle comunità come Hilltop e il Regno sta per cambiare una volta per tutte.
Gli uomini sono la cosa più importante. Il principale pericolo e allo stesso tempo la più grande risorsa. Kirkman ce l'aveva fatto capire. L'uomo dalla cui penna è nato tutto ci aveva preparato a questa presa di coscienza quando pochi giorni fa ha dichiarato che la causa dell'epidemia non verrà mai svelata in quanto irrilevante ai fini della trama e che lo stesso vale per un'eventuale cura. Insomma gli zombie non sono al centro di The Walking Dead. Il fulcro sono gli uomini. Del resto Rick ce l'aveva detto nella 5×10:
"We are the walking dead".
Loro sono infetti ma il loro cuore batte ancora e finchè batterà devono poter vivere in un mondo che abbia qualcosa da offrire loro. E Rick vuole costruire quel mondo grazie a Carl. Certo la Serie Tv e il fumetto camminano su due binari a volte differenti, ma con tutta probabilità hanno la stessa destinazione.
Sono tanti i fan ad aver storto il naso nel lungo percorso che ha portato a questo cambiamento, del resto approcciandosi a The Walking Dead si pensa alla componente Horror che accompagna il genere zombie. Ma questo discorso vale solo a metà per questa Serie Tv che unisce e divide allo stesso tempo. Perché The Walking Dead ha smesso di essere The Walking Dead gradualmente, relegando i walkers in una posizione subordinata rispetto ai vivi e questo lento percorso è culminato con l'ultimo episodio dell'ottava stagione.
La misericordia di Rick ha prevalso sulla sua ira, come voleva suo figlio.
Negan è stato risparmiato e trattenuto ad Alexandria da Rick. I Salvatori sono tornati liberi al Santuario e tutti devono collaborare per dare forma a questo nuovo mondo che Carl ha disegnato con le sue lettere. La sua morte ha rappresentato il punto di non ritorno nella metamorfosi di The Walking Dead perché tutto il dolore che ne è scaturito è diventato perdono. E il perdono si sa, è ciò che consente agli uomini di ricominciare. Quindi The Walking Dead non è più quello che conoscevamo (o pensavamo di conoscere). Non è una Serie Tv sugli Zombie, ma è una Serie Tv sulle persone. E il raggiungimento di questa consapevolezza segna il momento in cui The Walking Dead smette di essere quello che era.
Eccoci qua allora, ad aspettare la nona stagione temendo per una lotta intestina che nessuno poteva aspettarsi non tanto per chi ha deciso di promuoverla (una donna che a causa di Negan ha perso l'amore della sua vita) quanto per chi sembra spalleggiarla. Questo è il nuovo The Walking Dead: gli uomini, protagonisti e antagonisti in questa Serie Tv potenzialmente ancora molto lunga. I vaganti, contingenza preoccupante ma secondaria. Insomma un The Walking Dead 2.0. Un nuovo mondo.
Prima di salutarci, vi invitiamo a passare dalla nostra gemellata The Walking Dead ITA, mettete un bel 'mi piace" alla loro pagina Facebook !
Non dimenticatevi di passare anche dai nostri amici di Caryl Italia , Dwighty Boy – Austin Amelio Italia , Norman Reedus Italia.  The Walking Dead Italia e FIGHT the Dead. FEAR the living – The Walking Dead gdr . The Walking Dead Pagina Italiana