Basata sull'omonima Serie a fumetti scritta da Robert Kirkman, The Walking Dead è diventata una fra le Serie Tv più seguite al mondo. Con la bellezza di sette stagioni, non è una semplice storia sugli zombie. Allo stesso modo la sua trama ci continua a tenere col fiato sospeso per le pieghe inaspettate della storia e di conseguenza siamo anche stati costretti a temere i social, per il quantitativo di #spoiler, proprio per la sua trama imprevedibile.
Seguendo le storie dei suoi protagonisti negli anni, abbiamo visto nuovi legami formarsi davanti ai nostri occhi. Tuttavia siamo anche stati costretti a vivere dolorosi addii. In definitiva, possiamo dire tutto su The Walking Dead, tranne che la sua sia una storia priva di pathos. Molti sono al passo con l'omonimo fumetto, potendo persino prevedere i futuri colpi di scena, sebbene la Serie non smetta mai di sorprenderci.
Ma oggi non siamo qui solo per questo. In questo articolo vogliamo fare qualcosa di audace: vogliamo proporvi delle "similitudini" fra The Walking Dead e altre Serie Tv. Non vi proporremo delle Serie di trama "simile" – di cui abbiamo già scritto – ma andremo piuttosto a ritrovare analogie che accomunano storie anche completamente diverse fra loro.
Andiamo per ordine:
1. The Strain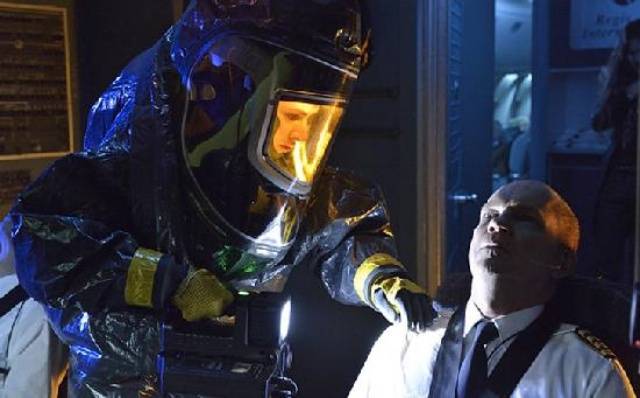 Cosa potrebbe mai collegare The Walking Dead e The Strain, la Serie scritta da Guillermo del Toro e Chuck Hogan? Il genere horror, direbbero alcuni, ma la similitudine fra le stesse è più profonda di così.
Analizzando l'incipit di entrambe le storie ci rendiamo conto che si fondano su un comune principio: il dramma improvviso vissuto dalla razza umana costretta a fronteggiare una incombente minaccia mortale per tutto il pianeta.
In The Strain tutto comincia su un aereo di linea. Sebbene si pensasse, almeno all'inizio, a una non ben nota epidemia virale, ci si rende conto che la minaccia in effetti è molto più seria di così. Vediamo i protagonisti prenderne coscienza e persino studiare nuovi metodi per la salvaguardia della "normalità". Tuttavia lo stesso concetto sarà rivoluzionato completamente. Diventerà cioè "normale" stare attenti di notte, portarsi sempre dietro una lampada UV, controllarsi la pelle temendo quei disgustosi vermi ematofagi.
In The Walking Dead abbiamo vissuto qualcosa di simile, sebbene con altre premesse. Conosciamo una tranquilla cittadina dove Rick Grimes svolgeva il suo lavoro normalmente. Poi ecco il dramma improvviso: un'epidemia, forse un virus, rende le persone molto aggressive. Tuttavia non è così semplice e scopriamo ben presto che si tratta di veri e propri morti viventi, spinti dall'istinto primordiale di nutrirsi. Ci si infetta con la saliva o anche semplicemente morendo, perché in realtà siamo già tutti entrati in contatto con questo misterioso virus e di conseguenza vediamo cambiare allo stesso modo il concetto di "normalità" per l'intera razza umana.