Nelle prime stagioni di The Walking Dead, era semplicemente un comprimario (di cui quasi non aspettavamo che la fine). Da comparsa che si sopportava a malapena, col passare degli episodi, Daryl Dixon è diventato un fedele gregario, la spalla, il fratello di Rick Grimes.
La nona stagione di The Walking Dead ha anche segnato l'addio di Rick dalla serie e – in assenza del re (il vero Re, non Ezekiel) – qualcuno doveva prendere il suo scomodo posto.
Nessuno puntava su di lui, perché Daryl era la spalla perfetta, non certo il leader al comando, eppure, seppur di malavoglia, ha riempito il vuoto lasciato da Rick. Non è stato facile e non ha mai chiesto di farlo, eppure dopo nove stagioni di The Walking Dead, Daryl è riuscito a diventare il capo della comunità di Alexandria.
Non ha un carattere facile, anzi, chiuso, burbero, emotivamente bloccato, avere a che fare con Daryl non è semplice. Carol lo sa bene, perché è l'unica, nel corso di tutti questi anni, che è sempre riuscita a trovare una chiave per "leggerlo". Molte volte, però, neppure Carol è riuscita farlo aprire.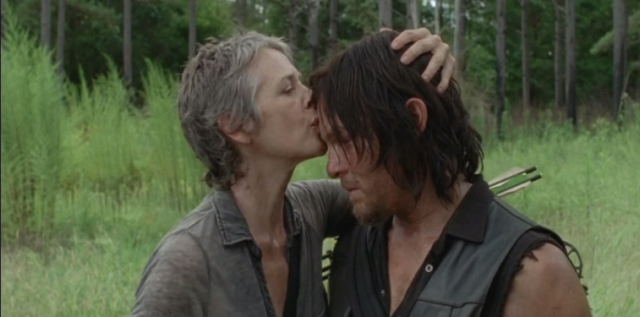 Daryl non parla dei suoi sentimenti, non si sfoga mai, non esterna quello che prova, perché fa parte di quel gruppo di uomini che sono convinti che mostrare emozioni sia segno di debolezza. Non piange e, quando lo fa, lo fa timidamente.
Ci sono pochi momenti in cui Daryl è riuscito ad aprire il proprio cuore a qualcuno e, paradossalmente, è riuscito a farlo con Beth, la più giovane dei Green. Beth è una ragazzina un po' viziata e molto infantile che deve crescere per forza, date le circostanze. Diventa grande molto prima del tempo e lo fa soprattutto grazie a Daryl. È lui, infatti, che le sbatte in faccia la realtà e a lei va il merito di essere riuscita a far breccia nel muro impenetrabile dell'arciere.
Daryl non piange quando muore Sophia, né quando deve uccidere Dale. Piange però quando Beth viene uccisa da Dawn, perché in lei vedeva l'innocenza perduta di una ragazza che, forse, aveva sempre saputo che non avrebbe vissuto a lungo, ma non aveva mai mollato.
La morte di Beth è uno spartiacque nella vita di Daryl, che perde molta della sua sicurezza e diventa ancora più duro, più insensibile.
Ma anche i duri devono sfogarsi e Daryl lo fa nel bosco, dopo aver perduto tutto, quando il gruppo rischia di morire di stenti e di fame. Ancora una volta è Carol che capisce la sua difficoltà, ma Daryl non vuole il suo aiuto. Si allontana dal gruppo e, da solo, sfoga la propria angoscia.
Piange di nuovo quando Negan uccide Glenn e in questo caso si ritiene anche responsabile della morte dell'amico. Se Daryl non fosse intervenuto a difesa di Rosita, Negan avrebbe ucciso lo stesso Glenn? Certo che sì, ma Daryl si addossa anche questa responsabilità.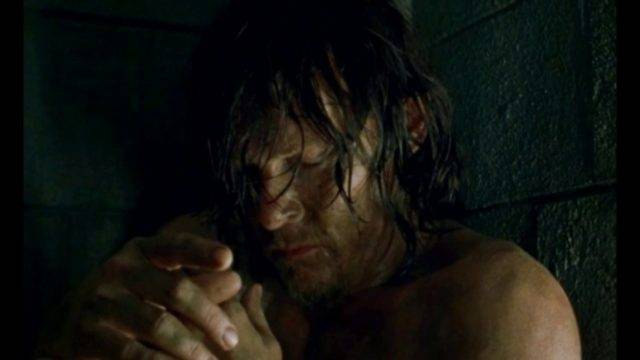 La morte di Glenn segna anche il punto più basso della vita di Daryl in The Walking Dead, perché poi viene sequestrato dai Salvatori e torturato ai limiti della barbarie. Da solo in cella, Daryl può finalmente piangere per tutto quello che è successo: la morte di Abraham e Glenn, la disfatta del suo gruppo e la sua libertà perduta che lo ha portato a diventare un subumano, un oggetto, non più una vera persona.
Daryl piange ancora quando incrocia l'ultimo sguardo con Rick e intuisce ciò che sta per fare l'amico: l'ultimo sacrificio, l'ultimo addio. Daryl abbassa le spalle e, quasi sconfitto, si allontana in silenzio.
Perché quando Daryl piange, lo fa in modo sommesso, non è uno da grida o strepiti, non si accascia a terra, non fa sceneggiate eclatanti. In The Walking Dead, ogni volta che Daryl piange (e sono davvero poche), accade perché si rende conto di aver perso un altro briciolo della propria umanità. È rassegnato, abbattuto, quindi il suo pianto è sommesso. Il ragazzo pronto ad aggredire a testa bassa non esiste più, c'è un uomo ferito che è stanco, ma pensa ancora che piangere sia da deboli.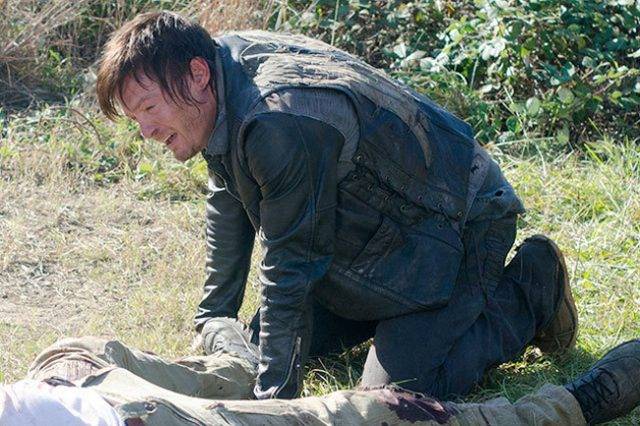 A volte gli capita anche di piangere di gioia.
Sono momenti rarissimi in The Walking Dead e sono sempre legati a un nuovo incontro con Carol. Più che un pianto, è una commozione che riesce a mascherare in fretta. Non sia mai che mostri troppe emozioni…
I fratelli Dixon hanno condiviso un passato di incomprensioni, violenze, abusi e conflitti che la morte di Merle lascerà per sempre irrisolti.
C'è solo un'occasione in cui Daryl si lascia completamente andare, in netto contrasto con tutte le altre. È quando scopre la morte di Merle. Lì, da solo, lontano da tutti, può piangere disperato, perché la morte del fratello segna un momento quasi catartico per lui. Con Merle c'era sempre stato un rapporto conflittuale, i due spesso non erano andati d'accordo e il fratello maggiore lo aveva tradito in diverse occasioni. Eppure era suo fratello e, dopo la sua morte, non ci sarebbero più state occasioni per riconciliarsi.