Lo abbiamo visto ritornare con prepotenza nell'intricata lotta contro i Sussurratori in The Walking Dead, dopo alcune puntate di stallo. Negan, il villain più amato di tutta la serie, è un personaggio iconico che, pur avendo sulla coscienza la morte di due adorati protagonisti, è comunque tra i preferiti tra i fan.
Merito soprattutto dell'attore che lo interpreta, Jeffrey Dean Morgan.
Ma chi è davvero Jeffrey Dean Morgan?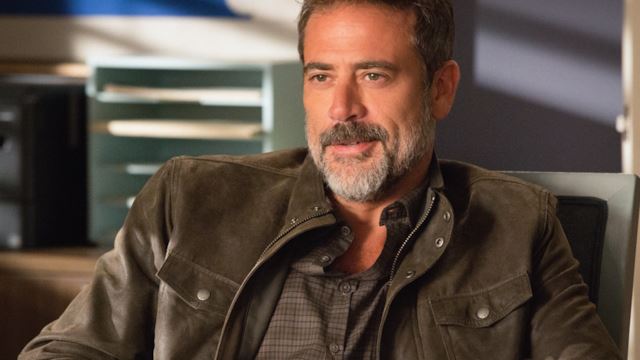 A parte The Walking Dead, che lo ha riportato sulla cresta dell'onda negli ultimi anni, moltissimi lo conoscono già perché ha alle spalle una vasta carriera nel mondo delle serie tv.
Jeffrey Dean nasce a Seattle il 22 aprile 1966 da Sandy e Richard Dean Morgan, al liceo gioca a football americano ed è capitano della squadra di pallacanestro. La sua carriera nel mondo dello sport finisce all'università, a causa di un grave infortunio.
Accantonato lo sport, quasi per caso si dedica alla recitazione, dopo essere stato notato da un agente mentre accompagnava un amico a un provino.
A partire dal 1991 compare in più di venticinque film, ma ottiene ruoli in film di secondo piano, a parte rarissime eccezioni. Interpreta (non accreditato) il papà di Bruce Wayne, accanto alla collega di The Walking Dead Lauren Cohan in Batman v Superman: Dawn of Justice. È poi il sergente maggiore Andy Tanner nel remake del cult del 1984 Alba Rossa, accanto a Chris Hemsworth. Fa anche un'incursione nell'horror con The Possession, di cui è protagonista. In un'intervista ha rivelato che sul set del film dell'orrore si sono verificati incidenti inspiegabili, come luci che esplodevano e persino un incendio che ha distrutto parte della scenografia.
La sua carriera, però, si svolge principalmente sul piccolo schermo.
Lo vediamo in qualche episodio di J.A.G. Avvocati in divisa, Star Trek, Tru Calling, E.R. Medici in prima linea, The Good Wife e C.S.I. Scena dal crimine.
Il suo primo ruolo importante è nella seguitissima serie tv Supernatural, dove dal 2005 al 2006 indossa i panni di John Winchester, padre di Sam e Dean.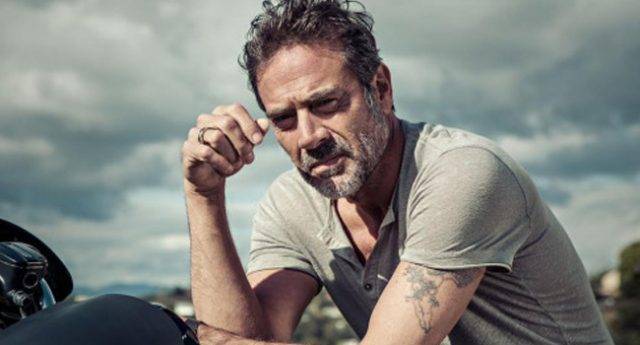 Inoltre ha un ruolo ricorrente in Grey's Anatomy, nei panni del trapiantato di cuore Denny Duquette. Si è fatto amare con questo ruolo straziante e con l'amore infelice per la dottoressa Izzie Stevens. E chi non ha pianto alla sua morte?
Fa il colpaccio ottenendo il ruolo di un personaggio centrale nella trama di The Walking Dead, l'ironico villain senza pietà, che vive nel ricordo della moglie Lucille. Per ora sappiamo pochissimo sul passato di Negan, ma la bravura di Jeffrey Dean Morgan fa venire voglia ai fan di scoprire di più.
Il 30 maggio 1992 sposa a Las Vegas l'attrice Anya Longwell, il matrimonio finisce nel 2003. Per un po' di tempo si fidanza con Mary-Louise Parker, sua partner in Weeds, ma il fidanzamento si conclude nel 2008.
L'anno successivo inizia a uscire con Hilarie Burton, famosa per aver indossato i panni di Payton Sawyer nella serie teen One Tree Hill. Vengono presentati da Jensen Ackles, amico di entrambi. La coppia ha due figli, Gus e Georgia e nell'ottobre di quest'anno i due si sposano. La cerimonia viene proprio officiata da Jensen Ackles, un vero cupido.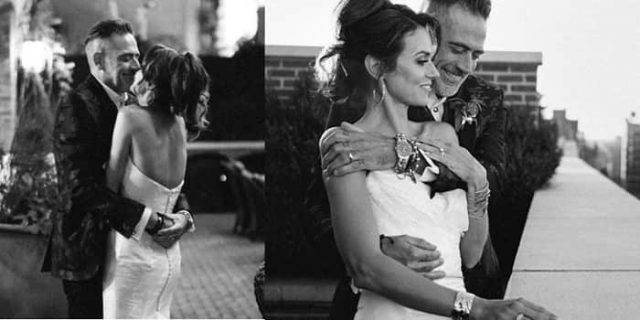 La coppia vive nella cittadina di Rhinebeck, nella Dutchess County nello stato di New York, in una fattoria piena di animali, tra cui mucche, galline e alpaca. Possiedono anche il Samuel's Sweet Shop, un negozio di caramelle che hanno salvato dalla chiusura dopo che il proprietario era morto improvvisamente.
Jeffrey è un amante della natura, assiste personalmente alla nascita degli animali nella sua fattoria e il suo account twitter (https://twitter.com/JDMorgan) è pieno di foto in merito. Sul set di The Walking Dead ha uno stretto rapporto di amicizia con Norman Reedus, col quale ha anche partecipato alla prima puntata della terza stagione di Ride, ambientata in Spagna dato che, tra le altre cose, è anche un appassionato di moto.
Diretto e senza peli sulla lingua, ha recentemente battibeccato con Arnie Hammer proprio su Twitter.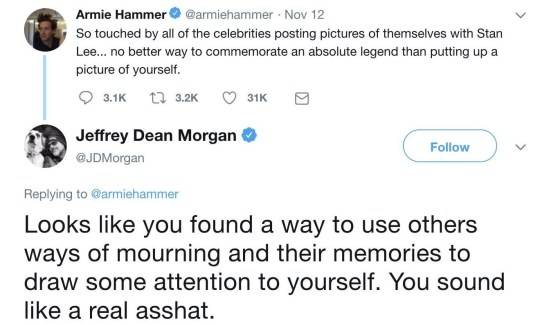 Sempre su Twitter, senza tanti giri di parole, ha anche mandato a quel paese niente di meno che l'attuale Presidente degli Stati Uniti Donal Trump, tacciandolo di razzismo.
Il suo Negan, pur essendo uno dei più personaggi crudeli di The Walking Dead, è talmente amato dai fan che è stato inserito in uno dei videogiochi più popolari, Tekken 7.