4) Carol Peletier – Melissa McBride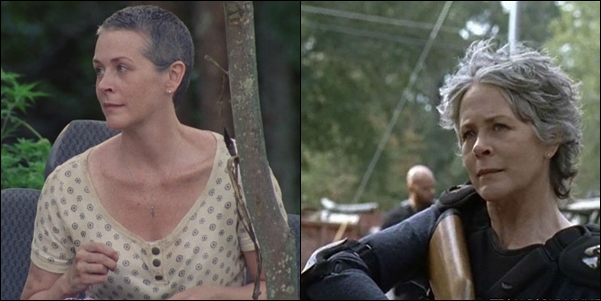 Carol Peletier è, probabilmente, il personaggio ad aver subito più cambiamenti nel corso delle sette stagioni di The Walking Dead. Soltanto con il passare del tempo, infatti, si è mostrata realmente per ciò che è: una donna forte, coraggiosa, completamente diversa dalla Carol sottomessa che abbiamo avuto modo di conoscere nei primi episodi.
Nelle prime puntate, infatti, Carol era costretta a soddisfare ogni capriccio di suo marito, un uomo burbero che non nascondeva i suoi modi di fare a dir poco violenti. Carol inizierà a "rinascere" con la morte di Ed, per poi trasformarsi completamente quando perderà anche sua figlia Sophia. Alla morte della bambina Carol diventerà molto più importante all'interno del gruppo, stringerà una bellissima amicizia con Daryl e inizierà davvero a combattere in prima fila accanto agli altri sopravvissuti.
Oggi possiamo considerare Carol Peletier uno dei personaggi più forti del gruppo dei sopravvissuti di The Walking Dead: il suo più grande cambiamento, oltre ai capelli più lunghi e qualche rughetta sul viso, lo notiamo infatti nel suo sguardo, un tempo impaurito e sottomesso, adesso fiero e combattivo.