Il primo episodio di The Walking Dead è stato trasmesso nell'ormai lontano 2010, ideata dal regista Frank Darabont e basata sull'omonima serie a fumetti scritta da Robert Kirkman, che è inoltre produttore dello stesso show.
Il primo episodio della prima stagione, I giorni andati, venne trasmesso in Italia il 1 novembre del 2010. Nella prima puntata scopriamo che il protagonista Rick Grimes, che si risveglia dal coma dopo essere stato colpito da un proiettile, dovrà avere a che fare con un nuovo "virus" che fa risvegliare i morti.
Sono passati ormai sette anni dalla prima messa in onda del tanto amato The Walking Dead, a breve potremo vedere la sua ottava stagione e sono certa che, esattamente come me, anche voi non vedete l'ora di scoprire quale sorte toccherà ai nostri protagonisti.
Oggi vogliamo fare un tuffo nel passato, per rivedere insieme com'erano i sopravvissuti nel primo episodio e come sono diventati oggi!
1) Rick Grimes – Andrew Lincoln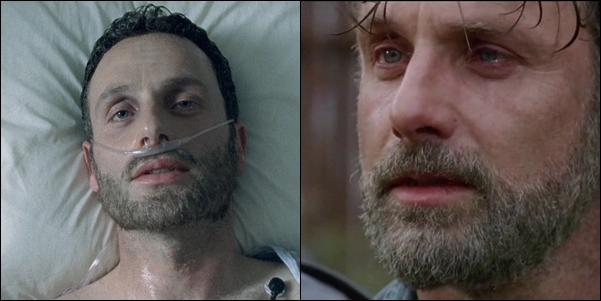 Il personaggio interpretato da Andrew Lincoln ha subito non pochi cambiamenti nel corso degli episodi di The Walking Dead. Nella prima puntata Rick Grimes ci appariva spaventato e intenzionato solo e soltanto a ritrovare la propria famiglia; per le prime stagioni della Serie Tv in questione l'obiettivo dell'ex vice-sceriffo è stato quello di trovare una cura all'epidemia, mentre adesso ciò che vuole l'uomo è semplicemente sopravvivere.
Oggi lo vediamo invecchiato, con uno sguardo più stanco ma anche più forte. La paura si è trasformata in determinazione: Rick si è reso conto che in un mondo dove non c'è più umanità, cercare di trovare qualcosa di buono negli sconosciuti è praticamente impossibile.
Rick è un uomo disilluso, coraggioso, con un unico obiettivo: proteggere la propria famiglia e i propri amici, anche a costo di sacrificare vite umane.