The Walking Dead è stata per molto tempo associata quasi esclusivamente al nome di Rick Grimes. D'altra parte, come potrebbe essere altrimenti? Lo sceriffo è stato il primo personaggio che abbiamo avuto modo di conoscere nella serie.
Siamo usciti dall'ospedale con lui, completamente sconvolti dal mondo che ci si presentava davanti agli occhi, e abbiamo cercato di ambientarci in una nuova realtà. Abbiamo gioito quando ha ritrovato la sua famiglia, abbiamo odiato Lori quando lo ha fatto soffrire e siamo stati pervasi dall'ansia quando i membri del gruppo rischiavano la loro vita e lui tentava in ogni modo di aiutarli. Il personaggio di Rick Grimes non è stato scritto per essere "perfetto", lo sappiamo bene. Ha avuto i suoi momenti di forza, in cui riusciva con lucidità a mettere la sicurezza della sua "famiglia allargata" davanti a tutto il resto, ma ci sono stati anche degli attimi in cui non sapeva come gestire una realtà molto più grande di lui.
Nonostante non fosse sempre impeccabile nelle sue scelte, ci piaceva. Lo amavamo perché era umano: le sue debolezze, sia mentali che fisiche, la sua forza e la sua perseveranza ci hanno fatto affezionare a lui. Quando abbiamo saputo che avremmo dovuto dirgli addio, forse definitivamente, non l'abbiamo presa proprio bene. È in quel momento che ai nostri occhi è stato più chiaro che mai che in The Walking Dead nessuno è immortale. Tutti, da un momento all'altro, potrebbero dire addio a questo mondo post-apocalittico con cui abbiamo a che fare da molti anni.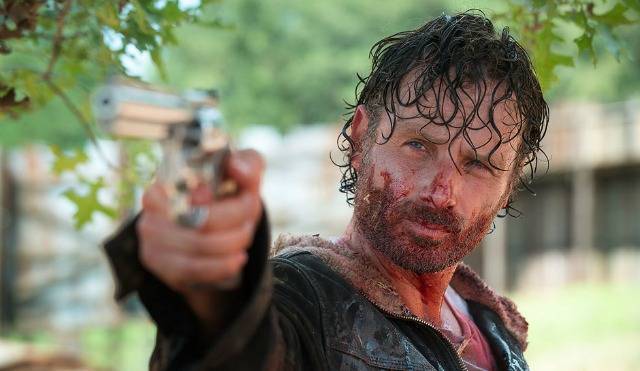 Abbiamo detto addio a Rick Grimes ormai più di due anni fa, in un episodio che ci ha a dir poco sconvolti. Lo abbiamo visto scomparire, senza sapere che fine avrebbe fatto. Sapevamo soltanto che, prima o poi, lo avremmo visto ritornare sullo schermo e avremmo avuto risposta a tutte le nostre domande.
Ma cos'è davvero cambiato in The Walking Dead da quando abbiamo salutato il protagonista?
Innanzitutto dobbiamo ammettere che soltanto in quel momento abbiamo davvero compreso che in questo mondo post-apocalittico nessuno è davvero "essenziale". Pensavamo che Rick fosse intoccabile, sia per ciò che significava per il gruppo sia per quel che pensavano i fan di un possibile abbandono della serie da parte di Andrew Lincoln. Certo, c'è da dire che avevamo già perso alcuni personaggi importanti: per citarne tre potremmo parlare di Andrea, Glenn e Carl, ma la lista sarebbe in realtà molto più lunga.
In The Walking Dead, dunque, potremmo perdere anche i protagonisti in men che non si dica. C'è da dire che, tuttavia, salutare definitivamente Rick ci ha permesso anche di conoscere meglio quasi tutti gli altri membri del gruppo. Se prima ci sembrava che la storia ruotasse soltanto attorno a un personaggio, ora che non c'è un vero e proprio "protagonista" la situazione è cambiata: abbiamo dunque il punto di vista di Daryl, di Carol, di Gabriel e di tutti gli altri. Il personaggio ad aver avuto più visibilità dopo la scomparsa di Rick, però, è stato senza ombra di dubbio Negan.
Abbiamo imparato a conoscere Negan come uno dei tanti villain che il gruppo ha dovuto affrontare nel corso della serie, ma con le ultime due stagioni abbiamo avuto modo di rivalutare ampiamente il suo personaggio. Negli ultimi episodi siamo infatti così lontani dal brutale uomo che ha spaccato la testa di Glenn e Abraham con l'aiuto di Lucille, che non ci sembra nemmeno che il personaggio sia lo stesso. Certo, c'è anche da dire che ormai sono passati anche alcuni anni da quando Negan era a capo dei Salvatori. Ma chissà come sarebbero andate le cose se Rick fosse rimasto ancora a capo del gruppo? Avremmo avuto modo di veder sviluppato il rapporto tra lui e il suo ex rivale oppure avrebbero continuato a farsi guerra a vicenda, in un modo o nell'altro?
La scomparsa dello sceriffo Grimes, tuttavia, ha portato di conseguenza anche all'abbandono del gruppo da parte di Michonne. L'abbiamo vista rimboccarsi le maniche egregiamente e prendersi cura di Judith, di R.J. e dell'intera comunità. Quando ha capito che Rick era ancora vivo, però, non ci ha esitato nemmeno per un istante: dopo aver comunicato la notizia via radio a sua figlia, ha deciso di andare verso l'ignoto pur di ritrovare l'uomo che ama.
Dopo quasi due intere stagioni senza la presenza di Rick Grimes, dunque, cosa abbiamo avuto di "nuovo" in The Walking Dead? Di sicuro abbiamo avuto modo di conoscere meglio alcuni dei personaggi principali e abbiamo acquisito la consapevolezza che nulla è scontato. E anche i più scettici, che pensavano che dopo l'addio del protagonista nulla avrebbe avuto più senso, forse hanno avuto modo di ricredersi.
La serie ha paradossalmente riacquistato le forze proprio dopo la scomparsa dello sceriffo. E noi, nonostante il dolore di aver perso un personaggio scritto magistralmente, dobbiamo ammettere che forse la scelta più dolorosa si è davvero rivelata vincente.