Eccoci arrivati all'episodio di e per Rick Grimes.
Non poteva che aprirsi così questa puntata: una maledetta camera di ospedale, quella in cui è cominciato tutto. Il Rick Grimes di ieri che parla al Rick Grimes di oggi. Un dialogo con se stesso. Perché da solo all'inizio e non ha subito tutte le persone accanto a se? Perché nessun altro, se non lui, può cominciare quel viaggio.
"Svegliati coglione"
Rick è solo e tutto ciò che ha è l'eredità di ciò che è stato. Le parole di Glenn sono la sua eredità in quel momento. Rick è circondato, apparentemente senza speranze, e ancora una volta è quel poco simpatico appellativo a salvarlo. Non c'è un Glenn ad aiutarlo, non c'è un Shane ad ucciderlo definitivamente. C'è solo Rick Grimes che ha il preciso compito di non morire.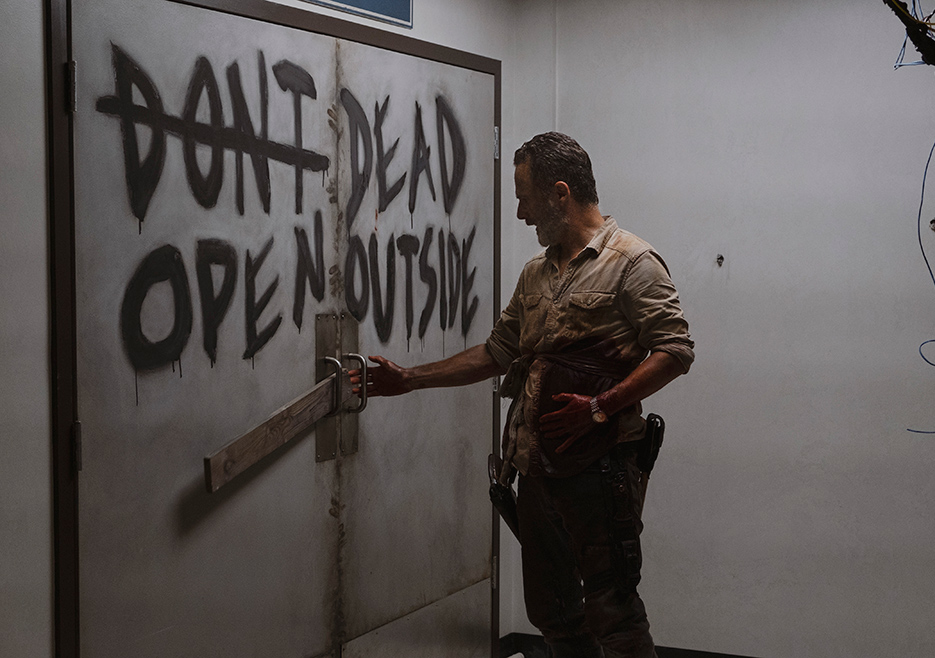 "Devo tenerli al sicuro", "Sto cercando la mia famiglia"
La prima parte dell'episodio è un viaggio. E' un viaggio in cui riviviamo insieme a Rick tutto ciò che è stato.
Fattoria – ospedale – incidente non importa quello che succede, bisogna andare avanti. Una casa in cui qualcuno si è suicidato – un cervo – la strada per Atlanta, non ci si può fermare. Sono tutte immagini chiave delle prime due stagioni che come ben ricordiamo sono state caratterizzate dalla "fuga" dai morti, dalla ricerca incessante di un luogo sicuro dove poter vivere.
Mentre ripercorre le tappe iniziali e così lontane del suo percorso Rick si immagina un dialogo con Shane. Parla di Judith e di quanto sia stato difficile affondare quel coltello. Se la prima tappa del suo viaggio era cominciata con "quel terzo uomo ha cambiato tutto", da quel momento l'ex sceriffo "si è fatto avanti" cominciando un altro capitolo.
Shane ha da sempre rappresentato la parte oscura di Rick, quello che Rick sarebbe potuto diventare. Vengono citati altri momenti: il morso alla gola di Joe, l'uccisione di Gareth con il machete rosso, la rabbia, l'odio e la completamente cieca lealtà per il suo gruppo.
Con la prigione, Terminus e il primo approccio ad Alexandria finì un'altra parte di The Walking Dead, quella caratterizzata dalla convinzione che non ci fosse più niente da salvare nel mondo se non se stessi.
E' proprio in quel momento che la storia si sposta su Maggie e Michonne.
Era evidente che prima dell'uscita di Rick, Maggie avrebbe dovuto trovarsi faccia a faccia con Negan e fare la sua stessa scelta.
E' difficile, ma Maggie non riesce a trovare giustizia nell'esaudire proprio il desiderio di Negan. Egli vuole essere ucciso perché da solo non ci riesce. Ecco spiegati il digiuno, le provocazioni, lo sbattere la testa contro il muro. In quella richiesta disperata Maggie rivede se stessa: l'uccidere e il desiderio di vendetta non hanno salvato il potente e malvagio Negan dalla morte di sua moglie, perché ucciderlo dovrebbe salvare lei dalla morte di Glenn?
"Sono venuta ad uccidere Negan e sta peggio così che da morto"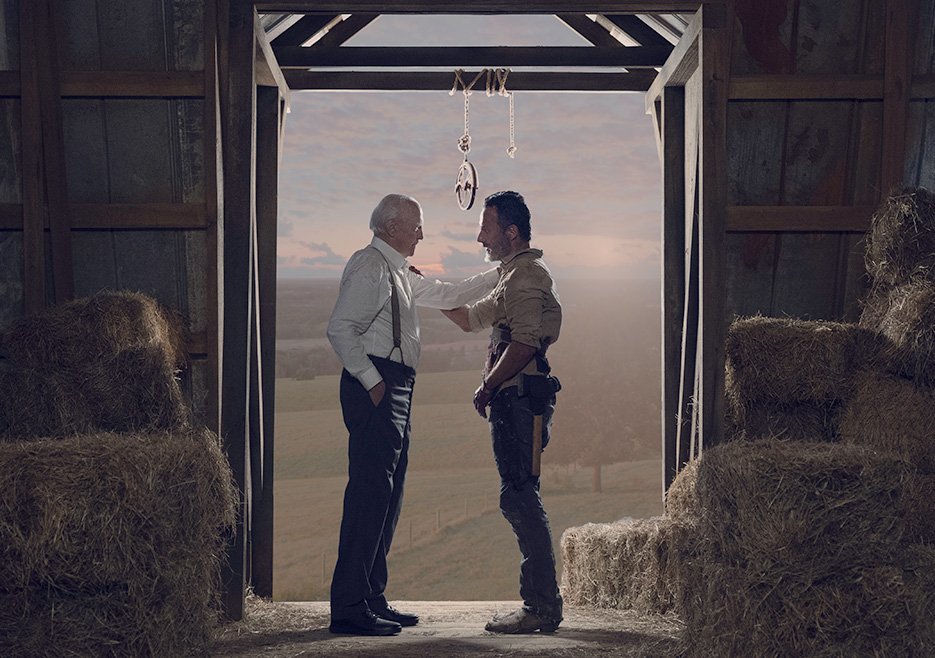 Mentre scatta l'allerta al campo della costruzione del ponte e mentre i futuri leader fanno le scelte giuste Rick continua la sua missione. "Devo allontanarli", "devo tenerli al sicuro".
Ospedale: il primo morto – Fattoria di Hershel – Hershel.
Rick ha l'occasione di parlare anche con l'uomo che più di tutti è stato una guida per lui. Nel momento in cui soffre di più, nel momento in cui ha rischiato di arrendersi Rick ritrova Hershel. Per sfilarsi dal palo di metallo aveva bisogno della rabbia che contraddistingueva Shane, per non abbandonarsi al dolore ha bisogno di qualcuno che gli ricordi che tutti hanno un compito e che il suo viaggio non è finito ("ci arriveremo, tutti noi"). 
DON'T OPEN, DEAD OUTSIDE
Il passaggio in cui Rick apre quella porta fa emergere chiaramente un messaggio molto semplice: che cosa sarebbe successo se Rick avesse ignorato quella scritta, se, citando Michonne, egli non fosse fin da subito stato un combattente che non si arrende.
La risposta è ancora più facile della domanda: sarebbero tutti morti.
L'omaggio alla copertina n.100 del fumetto ci riporta Sasha e completa il cerchio delle visioni del passato di Rick. Anche a lei viene posta una domanda "come può andare bene?". Cosa significa? Rick chiede a Sasha perché la sua morte adesso sarebbe diversa dalla sua morte allora con l'apertura della porta.
Arriva un'altra semplice risposta:
"Hai fatto la tua parte"

"Le piccole cose finiscono, ma non è mai la fine di tutto"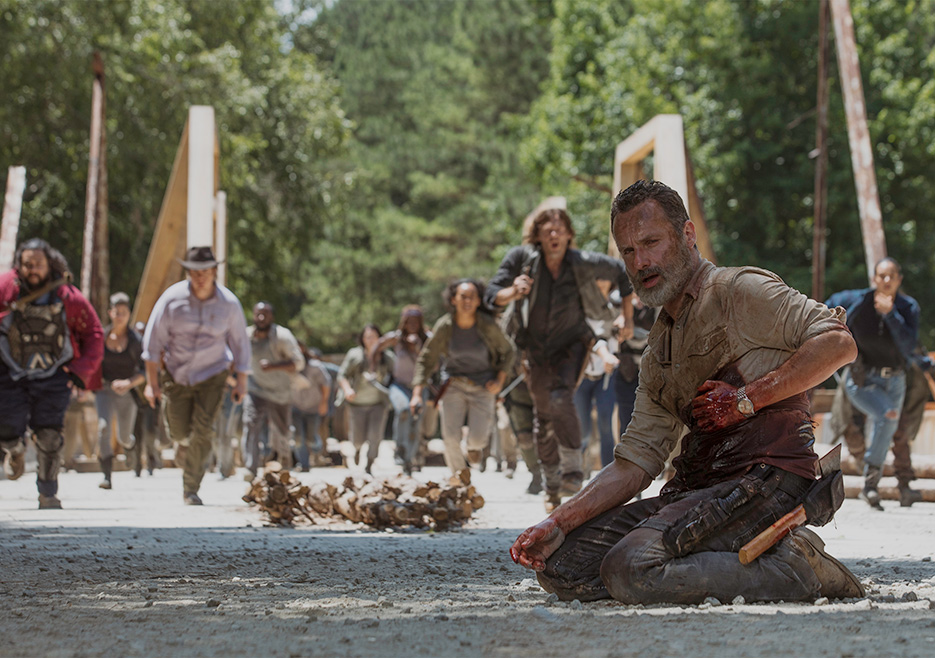 E' proprio sul ponte, sul suo ponte che il viaggio di Rick (per ora) finisce.
Le visioni si trasformano in realtà. Le comunità si uniscono, il ponte non crolla e così Rick Grimes riesce anche nella sua ultima missione: unire le persone, farle combattere per lo stesso scopo.
"Li ho trovati"
La sua famiglia è riunita ed è pronta a fare a meno di lui. Le ultime immagini sono molto significative. Daryl gli copre le spalle come ha sempre fatto ed è per lui l'ultimo sguardo di Rick. Le altre persone combattono per lui, proprio come hanno sempre fatto e come continueranno a fare.
Lo sparo, quello con la mano tesa insanguinata e la sua pistola dritta davanti al viso, è esso stesso un flashback. Rick Grimes ha sempre sparato quel colpo, quello definitivo, quello che nessun altro avrebbe mai potuto sparare.
Con un singolo sparo distrugge tutti i suoi sogni e fa in modo che diventino realtà per gli altri.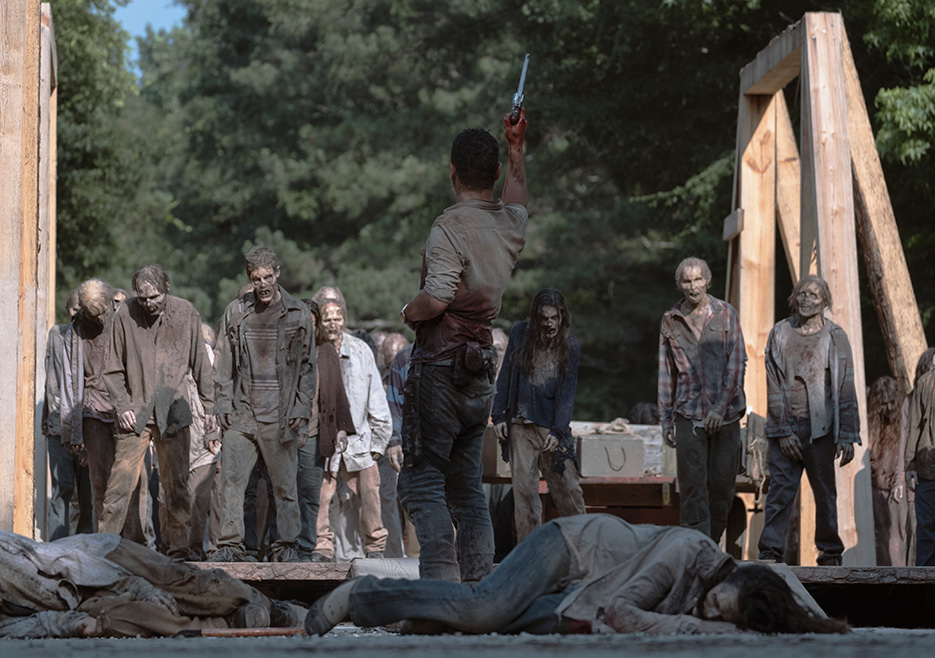 L'episodio si avvia verso la sua conclusione con la stessa musica della fine della primissima puntata di The Walking Dead (Space Junk, '97, Wang Chung). Anche questa non è una scelta casuale.
La storia di Rick Grimes non è finita. Ricomincia. Cominciò con un elicottero in volo verso il centro di Atlanta e ricomincia con un elicottero in volo per chissà dove. Al suo fianco ha una delle tante persone che faticosamente è riuscito a salvare e alle sue spalle tutti coloro che potranno sopravvivere senza di lui.
Come prova di ciò che ci viene mostrato negli ultimi minuti c'è la sequenza finale.
Nella 4×16 (la puntata dello scontro Rick-Joe e dell'arrivo a Terminus) Carl sentì le urla di un uomo in una radura. Quell'uomo era circondato da zombie in tutte le direzioni e chiedeva aiuto. D'istinto il ragazzo alzò la pistola sparare ed aiutarlo ma Rick e Michonne lo bloccarono.
Magna, Connie, Kelly, Yumiko e Luke sono bloccati da zombie in tutte le direzioni. Judith Grimes dal bosco li salva e li accoglie. La bambina, ormai diventata ragazza, conclude ciò che suo fratello aveva cominciato.
Gli insegnamenti di Rick, i suoi sbagli, la sua rabbia, il suo dolore e i suoi sacrifici hanno costruito un mondo nuovo dove sua figlia può fare ciò che un tempo loro non hanno potuto: fidarsi delle persone.
Rick Grimes è stato tante cose. Il ragazzo dell'elicottero, l'ex vice sceriffo, un marito tradito, un padre. Un leader. Ora è una "B". L'unica costante è sempre stata la sua forza ed è per questo che la sua storia non è finita.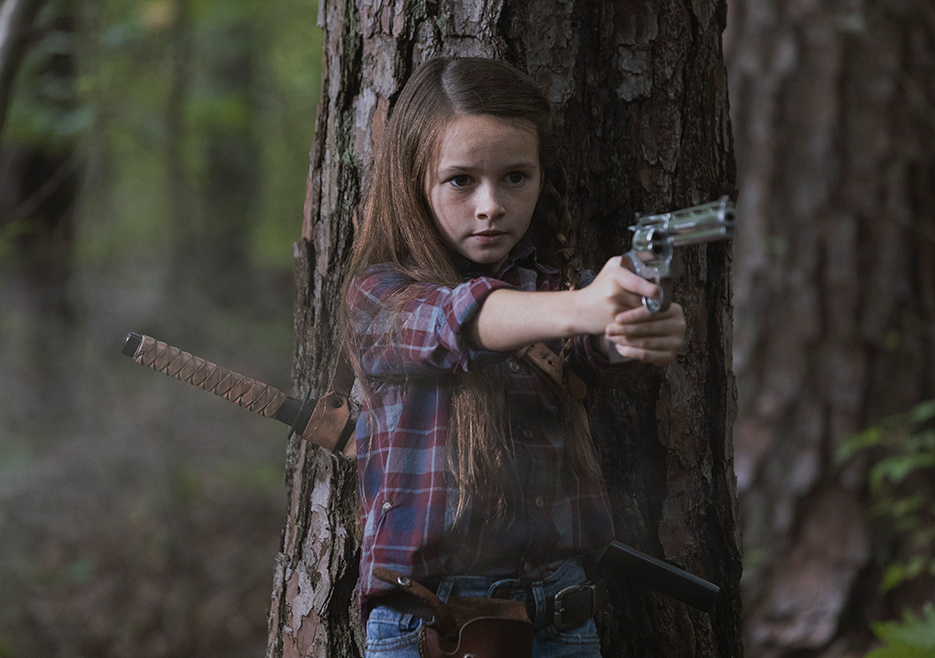 Prima di salutarci, vi invitiamo a passare dalla nostra gemellata The Walking Dead ITA Family. Sulla loro pagina Facebook troverete anche il promo sottotitolato!
Non dimenticatevi di passare anche dai nostri amici di:
Caryl Italia e Dwighty Boy – Austin Amelio Italia
FIGHT the Dead. FEAR the living – The Walking Dead gdr