Altra settimana, altra puntata di The Walking Dead.
I lavori al ponte citati nella 9×01 sono cominciati. Ce lo racconta Rick, mentre ne parla proprio con Negan. Che sia un dialogo unidirezionale, almeno all'inizio, è chiaro. Che dall'altra parte ci sia proprio l'ex leader dei Salvatori ad ascoltare è più che intuibile. Questa puntata di The Walking Dead comincia con un monologo:
Oggi è stato il giorno 35 e le cose stanno prendendo forma. Non molto tempo fa lottavamo solo per restare in vita, ma non è più così. Stiamo costruendo, stiamo crescendo. Siamo ancora pronti ad affrontare questo mondo e le sue condizioni. Ma non gli permettiamo più di limitarci. Stiamo tornando ad essere un po' quelli che eravamo, a come funzionavano le cose prima di tutto questo. Sta accadendo davvero. Non lottiamo più solo per sopravvivere. Stiamo creando un nuovo inizio.
Tutto l'episodio ruota attorno al ponte, che Ezekiel sottolinea subito non essere "solo un ponte" perché "le strade sono la linfa vitale della civiltà". Il ponte era caduto, ora è stato ricostruito. L'umanità era caduta, ora è in fase di ricostruzione. Proprio per questo paragone Rick spende tutte le energie per il mantenimento e la stabilità del progetto. E' fondamentale che il ponte resti in piedi perché la gente resti in piedi, perché tutto ciò che hanno creato non si sgretoli al passaggio di una tempesta.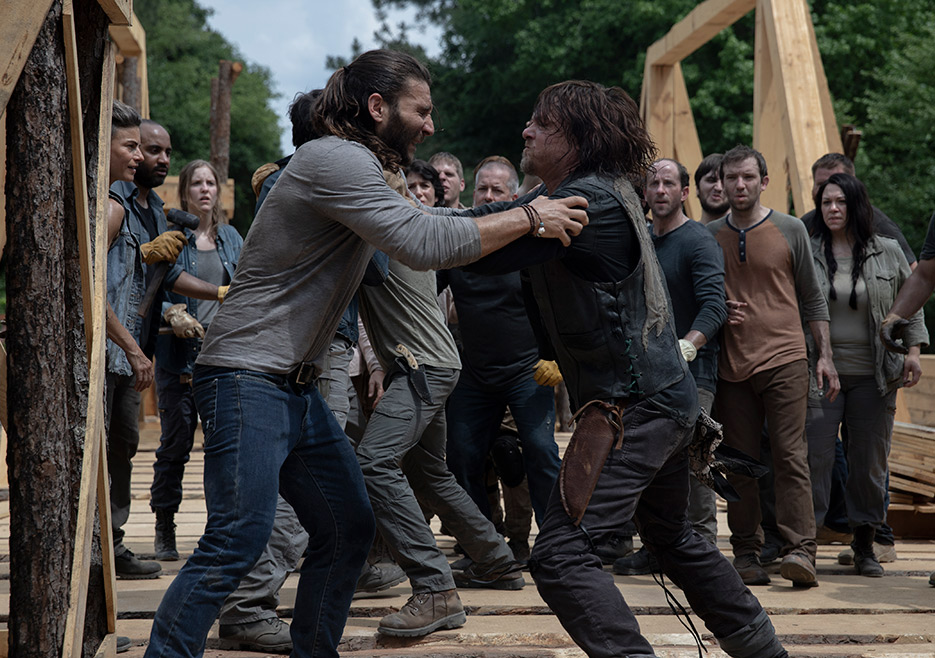 "Questa struttura noiosa ci unisce tutti"
Unisce le persone che devono imparare un nuovo mestiere, come Enid che crede di non poter fare medico da sola ma viene rincuorata dalle persone che hanno fiducia in lei. Unisce Rosita e Arat che cooperano per ottenere un risultato. Unisce Earl, Jadis e Padre Gabriel nell'aver avuto una seconda possibilità e nell'averla sfruttata.
Ma se è vero quel ponte rappresenta il futuro, allora è vero anche alcune persone non sono pronte a viverlo. Carol ha ragione e si mostra decisa nel ricordarlo a Rick. Lei sa che è giusto quello che stanno cercando di fare. Sa che il ponte deve essere costruito anche se bisogna lavorare con qualcuno che ha ucciso un tuo amico, anche se quelle persone ti hanno rinchiuso in cella e calpestato.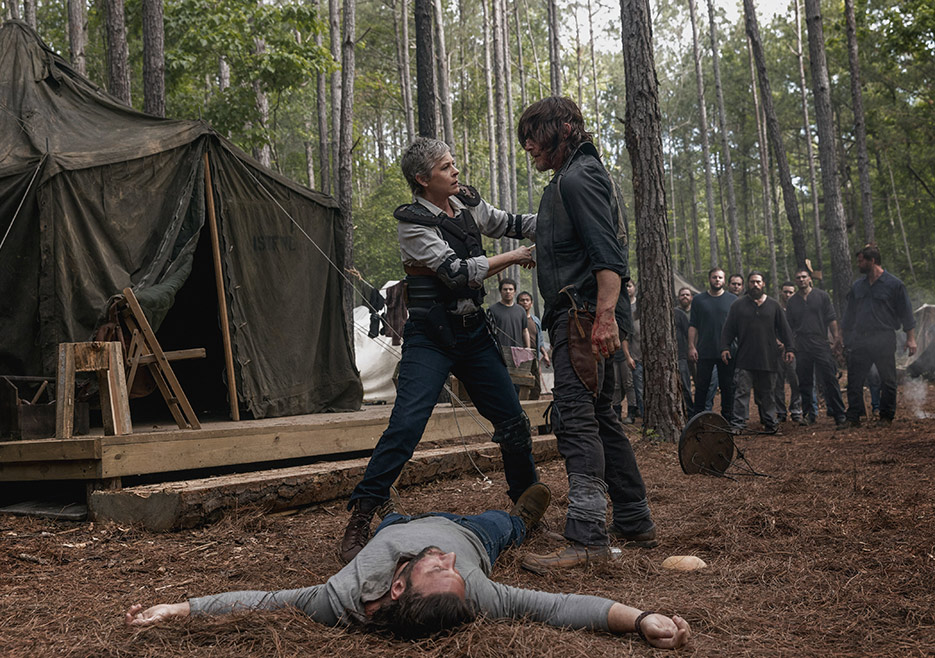 Ed è proprio perché alcune persone non riescono a vedere il futuro che esistono i leader in The Walking Dead.
Justin sente di non appartenere alle idee di Rick e si ribella, anche se continua a lavorare per lui. Daryl fa lo stesso: non è d'accordo, ma segue la strada tracciata. Michonne cerca di portare Maggie dalla sua parte, di trovare un piano comune perché solo così Hilltop può essere parte del progetto. Di vitale importanze in questo episodio sono anche i "consiglieri" dei leader. Carol da un lato, Jesus dall'altro. Rick e Maggie non sarebbero le stesse persone se qualcuno non ricordasse loro che "nessuno ha sempre ragione".
Non esiste il bianco e non esiste il nero. In The Walking Dead è così.
Non si tratta di dimenticare, si tratta di andare avanti. 
Proprio per questo ci viene sottolineata l'importanza del godersi ogni attimo: guardare una coppia che si sposa, non perdere l'occasione di dimostrare a qualcuno quanto tieni a lui, mettersi in gioco per amputare un braccio salvando una vita.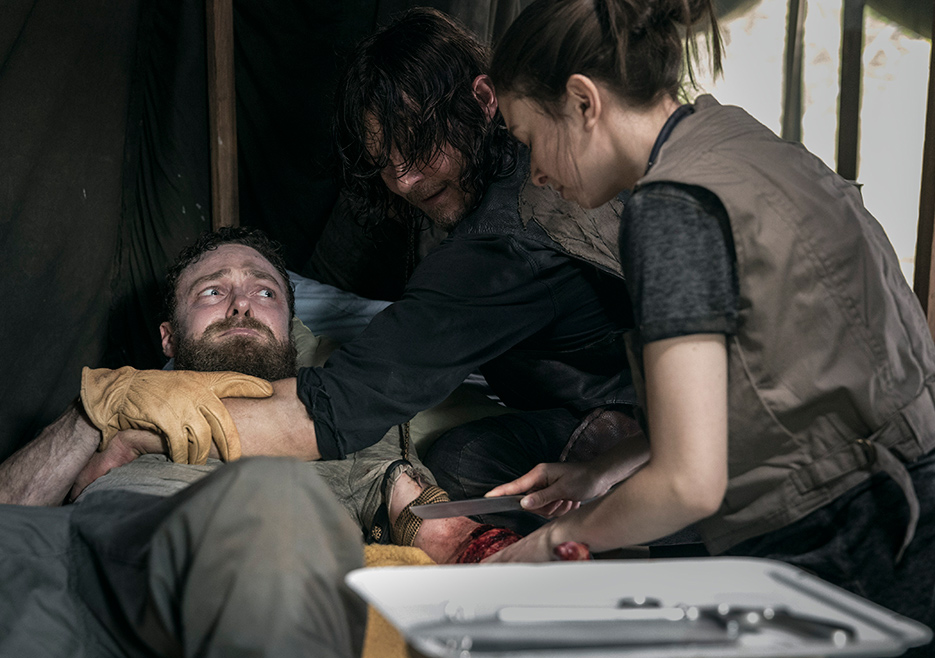 Ma soprattutto, viene ribadita la forza del perdono.
Earl e Tammy indirettamente spingono Maggie a rivalutare le sue scelte. L'errore di un alcolista ha causato la sofferenza di qualcuno e Maggie sa che quell'alcolista sarebbe potuto essere anche suo padre se qualcuno non gli avesse dato una chance in più. Hershel fece tanti errori, ma trovò il modo di uscirne. Decise delle regole, regole secondo le quali lei non avrebbe mai costruito qualcosa con Glenn, ma è stato disposto a cambiare il suo punto di vista in nome di qualcosa di più grande.
Così farà anche Maggie, ben consapevole che ci siano persone che possono redimersi e altre che ormai sono perdute.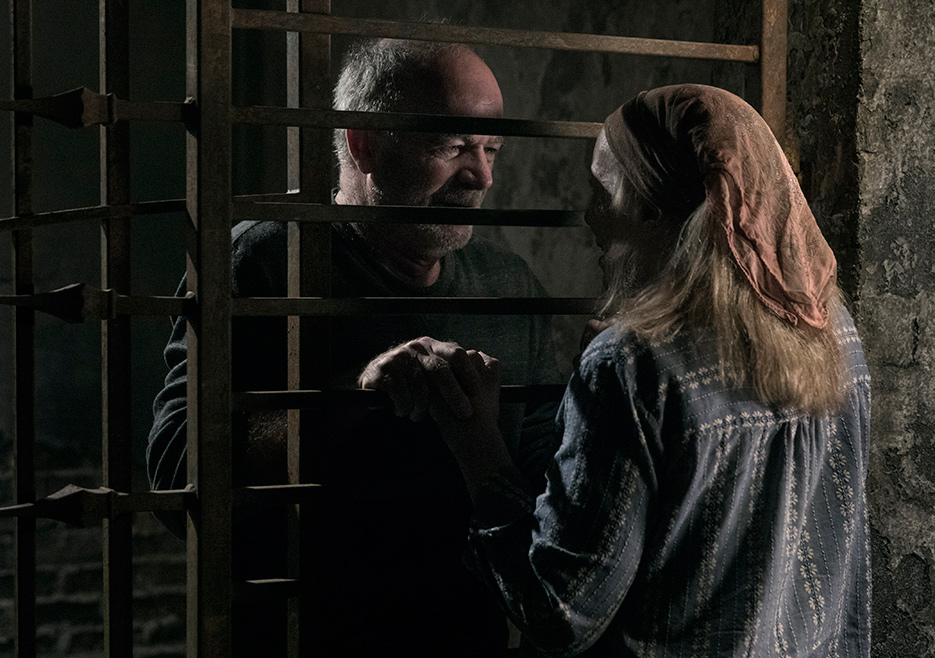 Rick ha tracciato il nuovo mondo. Qualcuno lo ha seguito, qualcuno lo seguirà. Che sia un'illusione o una realtà non ci è ancora dato saperlo. Ci sono tante cose in sospeso: un elicottero che ricompare dopo tanto tempo, Justin che sembra riconoscere qualcuno sulla strada del ritorno ma che viene aggredito.
Quando i morti hanno iniziato a risorgere pensavo di vedere la fine di tutto. Ma tu questo l'hai cambiato, Rick. Non è più la fine del mondo. E' invece l'inizio di uno nuovo.
Dall'altra parte della visione di Rick c'è Negan.
L'altro futuro e le altre prospettive sono chiuse in una cella. E' inevitabile capire e pensare che la contrapposizione di luci ed ombre sui volti di Rick e Negan non sia casuale. Se è vero che "nessuno ha sempre ragione" allora la verità non sta con nessuno dei due uomini. Questo è il messaggio della puntata.
Sono due facce della stessa medaglia, il lato chiaro e il lato scuro.
Capisci dove voglio arrivare? Non importa ciò che succede. L'istinto umano ci fa riunire. E' quello che facciamo.

Prima di salutarci, vi invitiamo a passare dalla nostra gemellata The Walking Dead ITA. Sulla loro pagina Facebook troverete anche il promo sottotitolato!
Non dimenticatevi di passare anche dai nostri amici di:
Caryl Italia e Dwighty Boy – Austin Amelio Italia
Norman Reedus Italia. e The Walking Dead Italia
FIGHT the Dead. FEAR the living – The Walking Dead e The Walking Dead Pagina Italiana