Questo episodio di The Walking Dead 10×14 è in assoluto la puntata dell'accettazione.
L'accettazione dei propri desideri, delle proprie paure, dei propri errori, del proprio passato e delle proprie speranze per il futuro in primis. L'accettazione dell'altro, invece, come diretta conseguenza. In The Walking Dead 10×14 ogni personaggio deve fare i conti con ciò che vuole da se stesso e con ciò che può dare a chi è intorno a lui.
Si parte da un momento che sembra ormai lontanissimo: Carol liberò Negan per fare in modo che uccidesse Alpha il più velocemente possibile. Strinsero un patto, un patto secondo il quale Negan sarebbe dovuto essere di nuovo apprezzato ad Alexandria. Un patto che avrebbe dovuto non solo silenziare i Sussurratori, ma anche i demoni di Carol una volta per tutte.
Già da allora il lungimirante Negan aveva voluto farla ragionare sui rischi, sulla più che reale possibilità di mettere in pericolo le persone che amava, ma Carol era determinata a perseguire il suo scopo. Esisteva solo quello, solo la vendetta.
"Portami la testa di Alpha e la gente ti ricorderà per questo"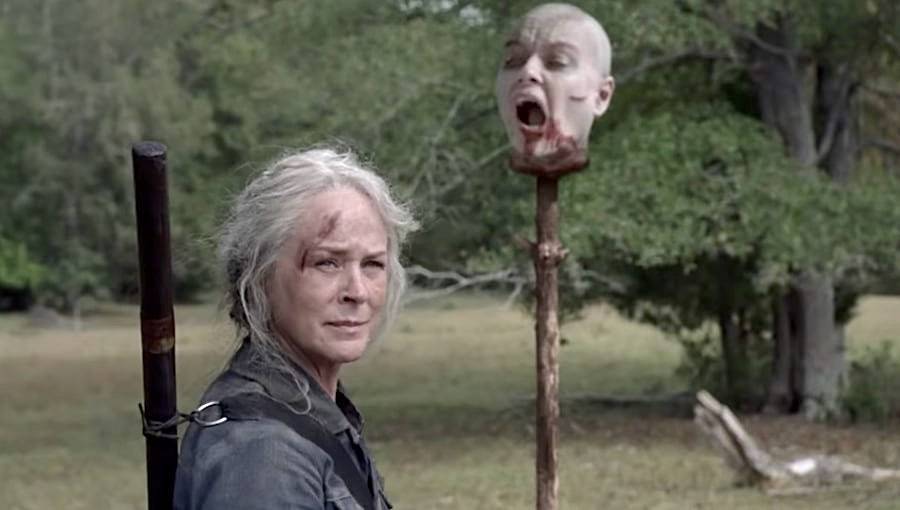 Nel frattempo però sono successe molte cose. Per Carol non è esistita più solo la vendetta. La sua famiglia l'ha riportata indietro, ancora una volta. Daryl prima di tutti, ma anche Ezekiel, Connie, Eugene, lo stesso Negan.
Non è un caso, infatti, che il momento in cui Carol mette la testa di Alpha su una delle picche del confine non venga particolarmente celebrato. Non è catartico, non merita né attenzione né festeggiamenti, perché nessuno ne è davvero uscito vincitore.
Carol non ha raggiunto la sua pace interiore compiendo quel gesto. Niente le ridarà indietro Henry, niente la farà tornare alla sua "bella vita", niente le farà provare quello che vuole. Su quel confine, su quelle picche, in quel modo, Alpha ha perso la testa "solo" in senso fisico. La sua voce, il suo modo opprimente di pensare e di parlare continuano a farsi strada nella mente della nostra protagonista.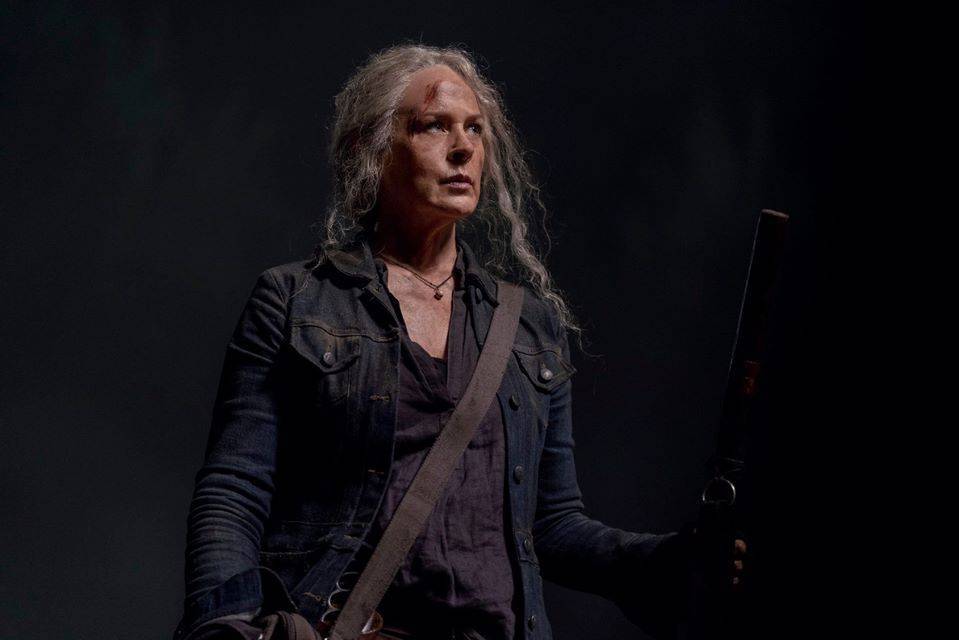 "Non tornerò. Non ancora. Devo stare da sola"
Nell'ultima parte della sua accettazione verso se stessa e verso ciò con cui deve convivere Carol è chiamata ad avere visioni di Alpha a testimonianza che una vendetta non basta a colmare un vuoto, che dalla morte di un figlio (o più di uno) non si può guarire. Bisogna aprire il proprio cuore e ammettere che la solitudine e la vendetta non sono buone soluzioni. A volte bastano il perdono, una casa (il suo ritorno ad Alexandria è emblematico) e un po' di amore.
La presa di coscienza di Carol è quanto di più metaforico potesse essere rappresentato in questo episodio. Finisce sotto delle macerie a causa di un crollo strutturale (che ricorda molto l'incidente alla grotta) e apparentemente non riesce ad uscirne. Solo nel momento in cui combatte per vivere (sta arrivando uno zombie che la condannerebbe a morte certa), in cui decide che vale ancora la pena lottare riesce ad uscire dalla situazione incastrata sotto cui si trova. E a quel punto Alpha non ha più alcun potere, quindi scompare dalla sua mente.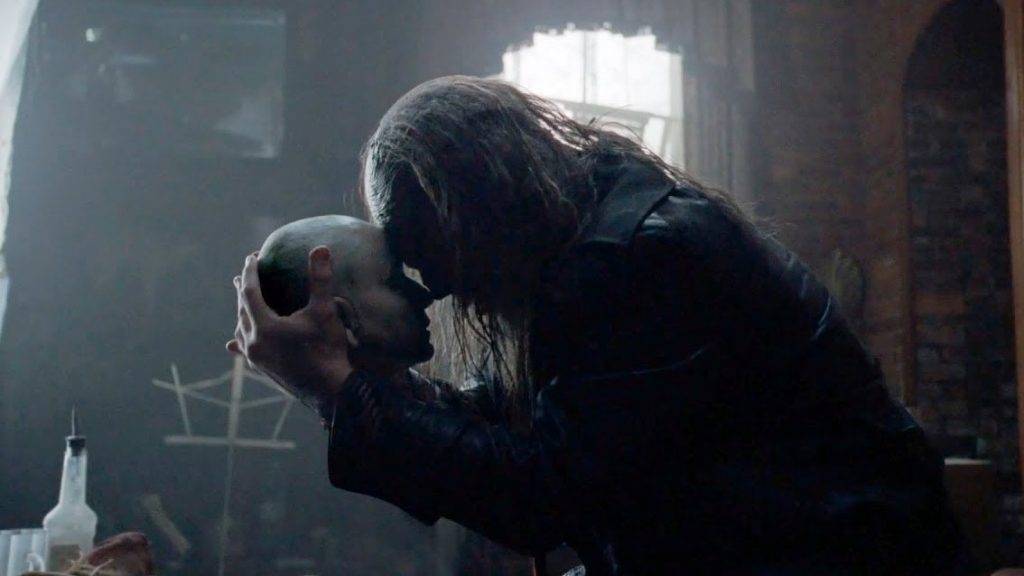 Se è vero che da una parte Carol non può colmare il vuoto della sua vecchia famiglia con la morte del suo figurato nemico, dall'altra è vero anche che nemmeno Beta può colmare l'assenza del suo capobranco portandosi dietro la testa di Alpha e i suoi lamenti.
Lui è un gregario. Ha bisogno di avere uno scopo, di essere indirizzato. Alpha gli ha, in un modo contorto e assolutamente discutibile, salvato la vita una volta, quindi si aspetta lo possa fare di nuovo. Ascoltando i suoi sussurri e la disperazione del proprio cuore Beta ritrova una parte di se stesso (la sua vecchia identità, presumibilmente quella di un famoso cantante). Quella parte "vecchia" unita alle nuove convinzioni del branco e agli insegnamenti dell'Alpha gli mostrano la strada da percorrere ("questi due occhi vedono una verità").
Con la sua stessa canzone attira una mandria di vaganti e si prepara a portare a termine il suo compito da Beta.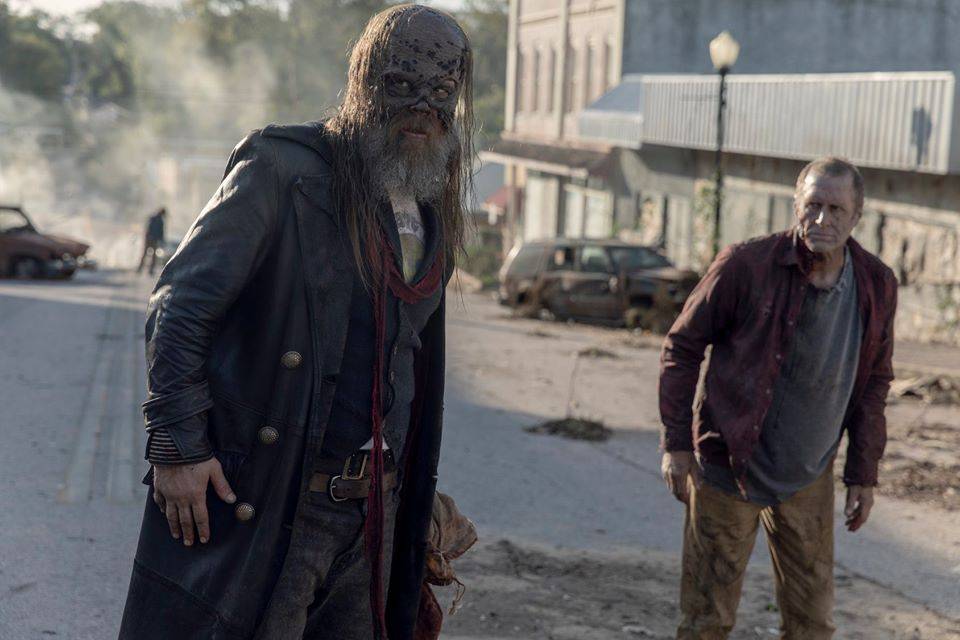 Il percorso di accettazione di se stessi e degli altri prosegue anche per altri personaggi nell'episodio di The Walking Dead 10×14.
Eugene per la prima volta si rende portatore di buone notizie e richiede l'attenzione per un discorso pubblico che non è in grado di fare. Tutti ricordiamo i suoi fallimenti e le sue bugie, ma ora siamo disposti a dargli fiducia, come Ezekiel che sposta immediatamente l'ago della bilancia dai dubbi legittimi alla possibilità di una nuova alleanza con il gruppo di Stephanie.
La comunità deve sapere ciò a cui sta andando incontro nonostante tutti gli avvenimenti negativi degli ultimi tempi e deve prendere una decisione per il futuro, non in base al passato.
"Siamo tutti dalla stessa parte qui"
E così Eugene, nel "sembrare pazzo", si emoziona, come è giusto che sia. Accetta la sua volontà di conoscere nuove persone e di uscire da schemi apparentemente prefissati. Lui si commuove, ma non è il solo. In quella comunità di sopravvissuti ci sono tante persone che hanno voglia e bisogno di quella pazzia. Yumiko deve andare. Ezekiel anche, perchè "non puoi impedire a un pazzo di fare pazzie".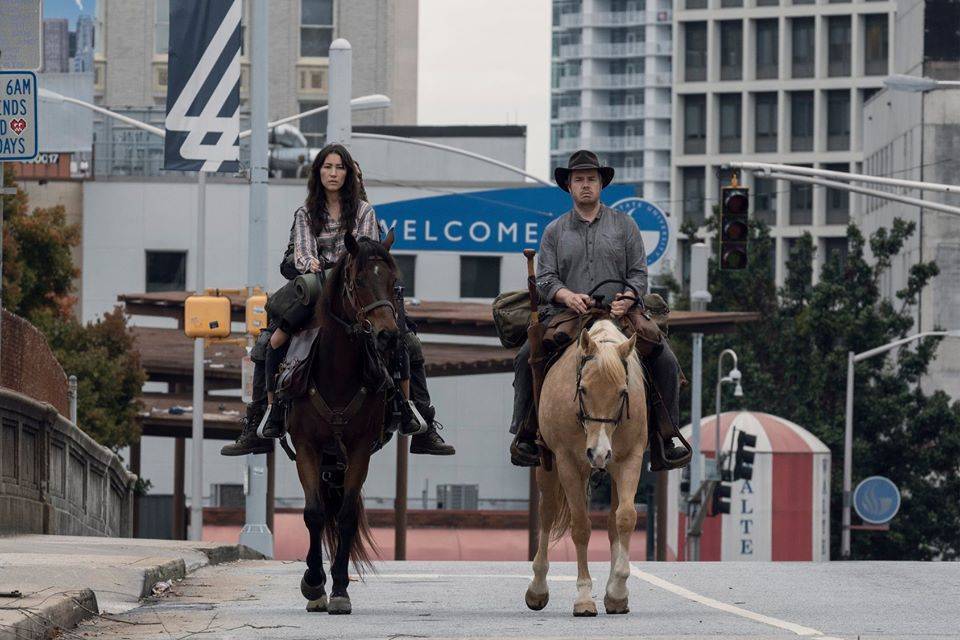 Il saluto tra Jerry e Ezekiel ci parla in modo molto chiaro. La malattia del nostro vecchio Re sta peggiorando e avanzando inesorabilmente, così bisogna assicurarsi che quel modo di pensare e di vivere possano continuare ugualmente.
"Il Regno ha bisogno di te, assicurati che la nostra eredità viva" suona come una nuova incoronazione (lunga vita al Re!). Jerry si è guadagnato quella riconoscenza, ma prima di tutto si è guadagnato il sapere di essere stato l'amico più fedele e più caro che Ezekiel abbia mai avuto.
Lui continuerà a lottare e a dare il suo contributo mentre saprà che a casa ci sarà Jerry a mantenere i loro progetti. Forse fisicamente non avrà forze ancora per molto, ma noi sappiamo che la fisicità non è ciò di cui le persone hanno bisogno. A ricordargli questo ci pensa Yumiko.
"Quindi vuoi tornare indietro a causa di ciò che potrebbe accadere? Non sai cosa ci aspetta, nessuno lo sa. Avevo tanti progetti per la mia vita e mi ci sono aggrappata così fortemente e per cosa? A nessuno importa cosa ho in mente per il futuro. Sono qui per scoprire cosa è possibile, ciò che nessuno di noi poteva prevedere o immaginare. E sai di chi abbiamo bisogno noi? Dell'uomo che ha costruito un Regno durante l'apocalisse."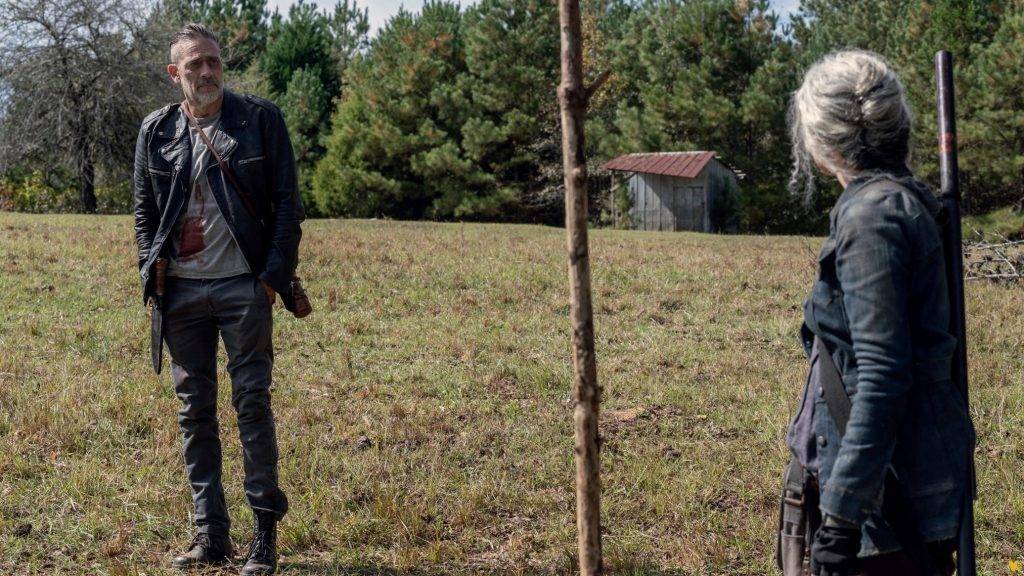 Il resto dell'episodio ci porta invece all'accettazione di Negan. Anche in questo caso non si tratta solo di autoaccettazione e ammissione del proprio io, ma anche dell'apertura verso gli altri.
E' ormai chiaro da tempo che l'ex leader dei Salvatori voglia e abbia bisogno di riscattarsi. Ha accettato di tutto: la prigionia, le punizioni, i lavori forzati, la missione segreta per conto di Carol. E' arrivato ad essere libero, ma non è davvero ciò che vuole. Lui non vuole andarsene, non vuole più stare da solo. Ad Alexandria ha trovato la sua dimensione e non è disposto a rinunciarci.
Così non gli resta che affrontare Daryl affidandogli la sua verità. Daryl non è irruento come era stato Aaron nel bosco dopo la battaglia per Hilltop, ma non è neanche così sciocco da accettare la maschera di Alpha come segno di fedeltà. Serve un'altra prova e la comparsa dei Sussurratori è propedeutica in questo senso.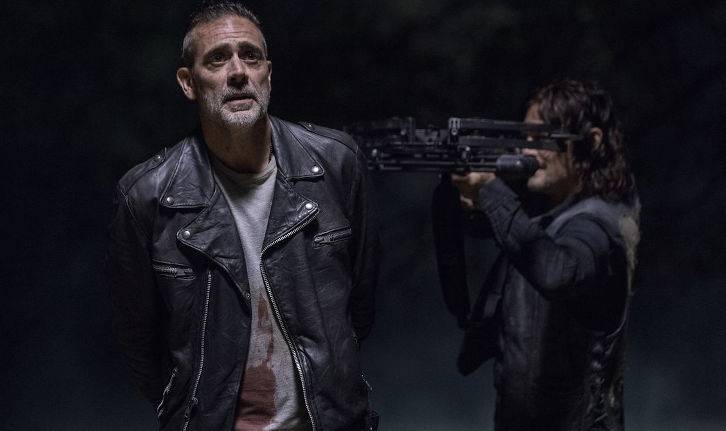 Rivedere Daryl in ginocchio davanti a Negan fa male, ma quando il nostro arciere accetta di farlo è solo perché ha già capito che in realtà, volente o nolente, può fidarsi dell'uomo in piedi davanti a sé. Così lo accetta e lo riporta a casa dopo una scena che amaramente ci ricorda un'alleanza profonda di cui sentiamo la mancanza.
L'episodio si chiude in maniera perfetta: ognuno torna a casa, ognuno insegue le sue convinzioni certo che porteranno a una conclusione importante. E mentre all'orizzonte spuntano zombie legati e costretti a far finta di essere persone normali, ecco che un nuovo bizzarro personaggio fa la sua comparsa nel mondo di The Walking Dead.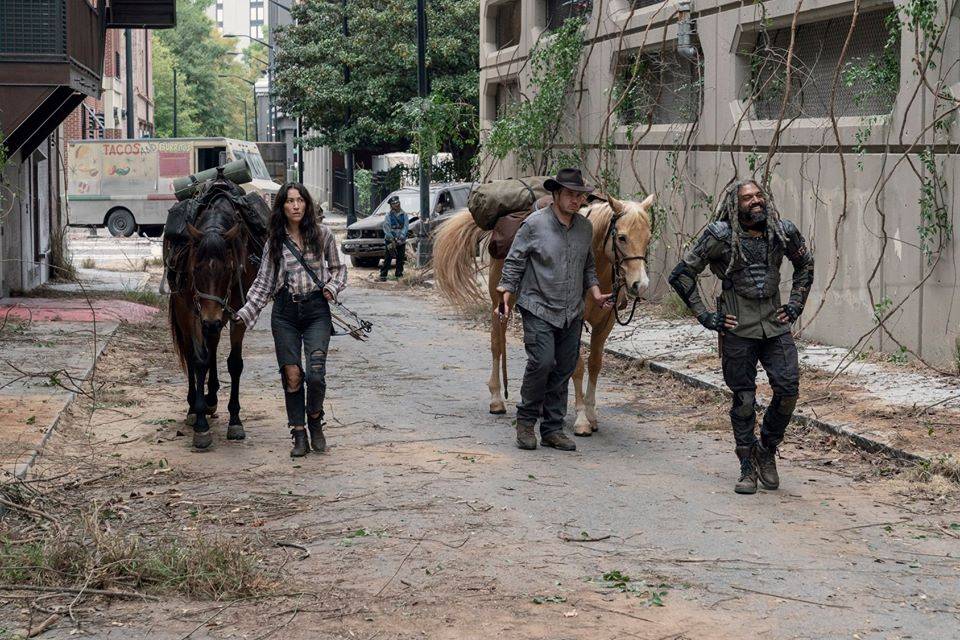 Vi invitiamo a passare dalla nostra gemellata The Walking Dead ITA Family sulla loro pagina Facebook.
Non dimenticatevi di passare anche dai nostri amici di: Caryl Italia e Dwighty Boy – Austin Amelio Italia, The Walking Dead Italia, FIGHT the Dead. FEAR the living – The Walking Dead gdr