Una delle serie più amate (ed odiate) degli ultimi anni è The Walking Dead. Come tutti sanno, è ispirata dall'omonimo fumetto ideato da Robert Kirkman, anche produttore della serie. Ci sono altre cose invece, che forse non tutti sanno. I più appassionati (o meglio ossessionati, come me) sicuramente conoscono ogni curiosità, ogni dettaglio. Altri invece semplicemente si godono la serie, senza farsi prendere dalla mania di voler conoscere tutto ciò che la riguarda. Che voi facciate parte della prima o della seconda categoria però, non potete non leggere queste curiosità davvero interessanti su The Walking Dead!
NIENTE DIXON NEL FUMETTO.
Abbastanza risaputo anche per chi non ha letto i fumetti, i fratelli Dixon sono un'invenzione dei produttori della serie, non esistono perciò all'interno del fumetto. Cosa meno risaputa è invece che all'inizio doveva esserci un solo Dixon (Merle) nella serie. Infatti Norman Reedus (aka Daryl Dixon) fece il provino per il ruolo di Merle, già promesso però a Michael Rooker. Norman piacque talmente tanto ai produttori che decisero di creare un altro personaggio apposta per lui, appunto Daryl. Non potevano fare scelta più saggia!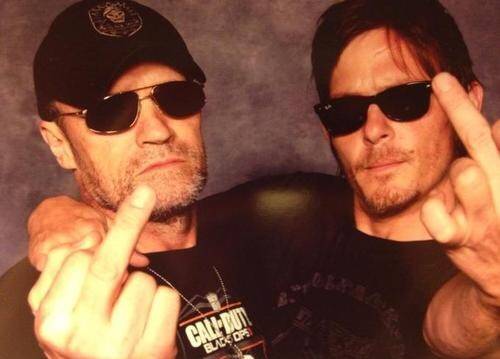 SHANE O RICK?
Rimanendo nel tema provini, c'è un altro attore che ha fatto il provino per un ruolo diverso da quello poi interpretato. Stiamo parlando di Jon Bernthal, cioè il caro vecchio Shane. Inizialmente infatti venne chiesto a Jon di fare il provino per Rick Grimes, invece poi venne preso per il ruolo di Shane. Quando, pochi mesi prima di iniziare le riprese, venne scelto Andrew Lincoln come Rick, fecero un ulteriore provino per vedere se i due "funzionassero" insieme. La risposta è stata più che affermativa, ovviamente.