Ci hanno fatto sognare. Ci hanno fatto ridere e a volte sospirare. Ci hanno fatto soffrire le loro pene d'amore e ci hanno fatto commuovere. Sono loro, i teen drama, la rappresentazione che il mondo televisivo ci ha dato della vita da adolescenti. Sono le serie televisive che ci hanno tenuto compagnia in un momento critico come l'adolescenza, il momento in cui ci siamo ritrovati davanti a mille perché. Eravamo alla ricerca di risposte: "Che cosa vuol dire innamorarsi? Qual è il valore dell'amicizia?" e i teen drama ci hanno dato la loro risposta, in modo del tutto particolare. Per questo c'è qualcosa di speciale in loro, qualcosa che da adulti ancora ricerchiamo. Ammettiamolo: chi in una giornata uggiosa o in preda alla nostalgia non ha avuto la tentazione di riguardare The O.C.?
C'è un motivo per cui lo facciamo, e non è perché il nostro gusto cinematografico non sia maturato: ecco perché anche da adulti continuiamo a guardare i teen drama.
Tempi spensierati
Personalmente, il mio teen drama preferito è e sarà sempre Skins. La trama semplice ma intricata, l'introspezione sui personaggi e il racconto delle loro bravate mi ha sempre intrigata un sacco, e per questo ci sono episodi o intere stagioni che periodicamente riguardo. Sono rimasta a riflettere sul perché continuassi a farlo, per poi rendermi conto che non ero l'unica che in preda alla noia si piazzava sul divano e iniziava maratone del suo teen drama preferito.
E questo perché?
Perché quando riguardiamo ciò che abbiamo visto per la prima volta molto tempo prima non ci stiamo godendo solo la storia e i personaggi, ma anche il ricordo di noi stessi. Quando ho guardato Skins per la prima volta avevo 14 anni, oggi sono passati 11 anni, ma ricordo bene tutta l'enfasi che vivevo durante ogni puntata. "Tony lascerà Michelle?" o "Come vivranno la loro rottura?", era ciò che mi chiedevo mentre ero incollata allo schermo. Credo che chi di voi si sia innamorato, tempo fa, di serie come The O.C. o Glee abbia vissuto la mia stessa sensazione, e che tutt'ora rimane indimenticabile la prima volta di Ryan e Marissa, o il momento in cui a New York Rachel e Finn si lasciano.
Ciò che vivevano i personaggi si rifletteva su di noi. Eravamo alle prese con la prima cotta, il primo amore non corrisposto (diventato brutale in una serie recentissima) o la prima amicizia profonda, e automaticamente il modo dei personaggi di vivere tutto ciò veniva paragonato a ciò che noi stavamo vivendo.
Ecco perché rivediamo i nostri teen drama preferiti: perché mentre li guardiamo, guardiamo noi stessi adolescenti.
Le prime scelte giuste o sbagliate, gli amici, i primi baci rubati: è come se rivedessimo com'era il nostro animo anni prima, con pregi e difetti. Sotto sotto questa è una dolce nostalgia, perché ricordiamo come si viveva quando il vero problema della vita era se ricambiare o meno il bacio di qualcuno.
Emozioni al 100%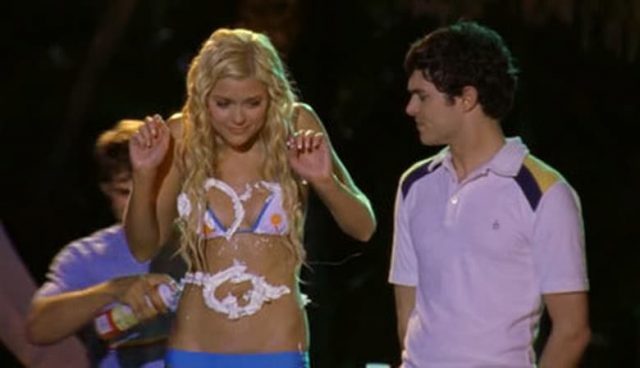 Le scelte sbagliate, i colpi di testa, la trasgressione, l'amore all'improvviso: rimane tutto lì, sigillato nelle nostre serie adolescenziali preferite.
Durante l'adolescenza succedono molte cose, e sono tutte vissute molto intensamente. Riguardandoci indietro, tutti noi abbiamo fatto scelte d'impulso che ripensandoci bene viene da pensare "ma cos'avevo in testa?". Tutto è vissuto al massimo e le emozioni sono molto molto amplificate. La prima volta che finisce una relazione è una tragedia, stile Bella Swan quando vede il passare delle stagioni dalla finestra di camera sua. Il primo bacio è di sicuro amore, e da lì mille fantasie sull'aver trovato la persona della vita. Ogni cosa nuova, ogni nuova esperienza ci lasciava a bocca aperta facendoci mormorare "WOW". Insomma, da adolescenti è molto difficile essere ponderati e dare il giusto peso ad alcune sensazioni. Ma dall'altro lato è questo il bello, giusto?
Che cosa sarebbe The O.C. se nelle puntate non avessimo rivisto i nostri amori adolescenziali?
Man mano che cresciamo diventiamo più ponderati e meno impulsivi. Impariamo a dare il giusto peso alle cose, o perlomeno ci proviamo.
Ma il teen drama rimarrà lo scrigno intatto di quell'impulsività.
È questo il principale motivo per cui li riguardiamo: da nostalgici cerchiamo ciò che ci ha fatto dire "WOW". Ma non è solo l'effetto WOW a farci tornare a queste vecchie serie. Si sa, ci sono teen drama di serie A e di serie B. Senza addentrarci in questi due macrocosmi, ci sono dei prodotti televisivi che oggettivamente a distanza di anni sono in grado di trasmetterci ancora qualcosa perché trattano temi importanti. Queste serie non ci fanno vedere solo l'amore o l'amicizia, ma anche la depressione, le prime esperienze con la droga, il divorzio in famiglia, l'essere diversi, e a volte persino la morte. Sto parlando di serie come 13 Reasons Why, The O.C., Smallville, Glee, Dawson's Creek e la stessa Skins, ma ce ne sarebbero molte altre.
In queste storie sono stati affrontati temi toccanti e per niente leggeri e il modo di toccare queste tematiche è fonte di ispirazione anche da adulti. Un esempio lampante è 13 Reasons Why, che per la pesantezza di alcuni temi facciamo quasi fatica considerare teen drama. Questa serie ci ha parlato di bullismo, gravidanze indesiderate, stupro e morte. Insomma, niente su cui valga la pena scherzare. La creatura Netflix può essere considerata quasi una "fonte d'ispirazione" per genitori, un monito per far capire quanto la vita adolescente possa essere complicata e sofferta.
The O.C. ci fa entrare nella vita di alcune famiglie non classiche, con i problemi reali che tutte le famiglie possono affrontare. Skins verte più sull'adolescenza come trasgressione, ma allo stesso modo affronta temi familiari (ad esempio il tradimento) per niente semplici. Glee parlandoci d'amore e amicizia ci ha messi spesso davanti a un interrogativo: "Cosa farò da grande?". Smallville ha trattato i consueti temi dei teen drama aggiungendo il soprannaturale, che si può leggere in chiave metaforica: come fa Clark Kent a venire a patti con la sua diversità, il suo essere speciale?
Ecco, tutti questi temi meritano a un teen drama il privilegio di essere guardato e riguardato.
I teen drama sono una rappresentazione della "prima volta" di tutte le esperienze umane che vanno ricordate.
Ed è questo il motivo per il quale anche se siamo cresciuti caschiamo sempre lì. È un misto tra nostalgia, ricordare com'eravamo da adolescenti e cogliere, ogni volta, qualcosa di nuovo.
E se è così chi ci rinuncia?