Tra tutti gli esperimenti fatti da Netflix negli ultimi anni potremmo dire con certezza che The OA è stato uno dei più coraggiosi. La serie scritta da Brit Marling (che ne è anche produttrice e protagonista) e Zal Batmanglij ha esordito sulla piattaforma il 16 dicembre 2016 ed è ora reduce dalla sua seconda stagione. The OA non è una serie facile da giudicare. Complessa per certi versi, sfaccettata, avvincente per quanto lenta (almeno nella prima stagione). Eppure è proprio in quella "lentezza" che si intravede il talento di Brit Marling. The American Conservative l'ha definita una delle più interessanti film-maker di nuova generazione, in grado di aspirare a qualcosa che vada oltre l'usuale produzione fatta a scopo puramente commerciale.
E infatti con The OA capiamo che alla Marling del commerciale interessa ben poco. Il fine "esplorativo" sembra essere quello ultimo della sua poetica.
Prairie Johnson, The OA (The Original Angel), tornata dal nulla dopo esser sparita per sette anni racconta a un gruppo di teenager quanto accaduto durante la sua scomparsa. Parla di quella che può sembrare "solo" un'esperienza dolorosa e traumatica con un tono che abbraccia tanto la sofferenza quanto l'accettazione. Ma prima di passare al racconto pratico The OA accompagna i suoi ascoltatori in un universo a loro sconosciuto: la dimensione dell'ascolto, dell'accoglienza. "Dovete lasciarmi entrare" dice loro. Tra le molteplici interpretazioni cui questa serie si presta si fa strada anche quella che vede Prairie semplicemente come una ragazza disturbata in piena psicosi post-traumatica. Ma anche in ciò risiede l'obiettivo di The OA: favorire una moltitudine di interpretazioni che nascano dalle molteplici sfaccettature dell'essere umano, in tal caso dello spettatore.
Brit Marling ci racconta con le dovute pause qualcosa che lascia fino alla fine il dubbio che si tratti solo di fantasie.
Con lei esploriamo i vari stati della nostra anima seguendo l'istinto di crederle o meno. Senza accorgercene viviamo quello che gli americani definirebbero lo slow burning: ci lasciamo affascinare dal potere seducente di questa serie, proprio come BBA e i suoi quattro studenti si lasciano affascinare da Prairie. The OA è riuscita a mettere al centro dell'universo il legame atavico con i nostri sensi e con l'abilità di connetterci tramite gli stessi ad altre persone.
In un mondo – o se preferite in una dimensione – dominata dal frastuono, dall'incomunicabilità e dalla violenza, ci siamo dimenticati del potere degli sguardi, dei movimenti, dei profumi. The OA, attraverso il racconto, porta i suoi compagni a "compiere il salto" a esplorare una dimensione in cui i sensi riacquistano importanza. In cui lei, Scott, Homer, Rachel e Renata ne hanno riscoperto il potere. Nella tragedia hanno dovuto imparare la sconosciuta sacralità dei movimenti. E a questo punto siamo noi a dover riscoprire in cosa credere.
Potrebbero essere solo farneticazioni di una psicopatica. Potrebbe essere la realtà multidimensionale descritta da The OA. O potrebbe essere metafora della nostra moderna solitudine.
La poetica della prima stagione di questa serie giace nella possibilità di decidere quale di queste strade percorrere. Un'opzione che va oltre la trama in sè e per sè. Oltre il concetto di multidimensione già esplorato in molte altre serie come Fringe, Counterpart, Stranger Things e in parte Black Mirror. In queste serie la concentrazione dello spettatore viene dirottata semplicemente su questa struttura alternativa della realtà. Mentre The OA punta a far vibrare altre corde.
Il coinvolgimento emotivo è alla base dell'esperienza visiva.
Lo spettatore non segue semplicemente un racconto. Non deve solo districarsi nel groviglio di ricordi, dimensioni ed esperienze al limite tra la vita e la morte, ma deve farsi coinvolgere dal "quadro completo" esplorato dalla stessa Prairie/The OA. La seconda stagione aggiunge sorprendente dinamicità al racconto. Infatti ci catapulta in un groviglio di ricordi e dimensioni che in parte spiega e in parte complica quanto raccontato fino a quel momento. Eppure più di un elemento ci suggerisce l'esplorazione del nostro Io, dei nostri sensi, delle connessioni che potremmo creare con la realtà. E lo fa attraverso la "metafora delle realtà multidimensionale".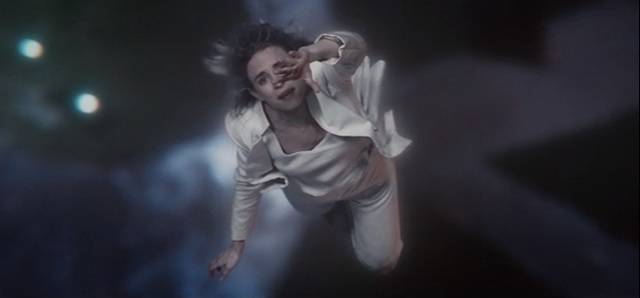 Potete seguire The OA con gli occhi di uno spettatore curioso di sapere dove i salti di Prairie/Nina vadano a parare. O potete seguirla con gli occhi della dimensione di voi stessi un po' in trappola in un mondo in cui raramente ci sentiamo davvero capiti.
Nel primo caso potreste essere annoiati dallo slow burning operato dalla Marling. Nel secondo sarete sedotti dalla sua poesia e affascinati dal pensiero che un salto di dimensione alle volte possa essere compiuto all'interno della vostra stessa realtà con un semplice cambio d'approccio. Magari in quello risiedono i nostri "cinque movimenti", solo che nella nostra realtà non hanno una sequenza precisa.