Il 6 dicembre 2019 The Marvelous Mrs Maisel ritorna finalmente su Amazon Prime Video con la sua terza e attesissima stagione, un anno dopo l'uscita della seconda.
Lo strabiliante show firmato Amy Sherman-Palladino, già creatrice del successo Una mamma per amica, fa incetta di premi, tra Golden Globe ed Emmy con The Marvelous Mrs Maisel, che, giunta alla sua terza stagione, detiene ancora standard di intrattenimento e comicità altissimi.
Come già largamente anticipato nella nostra visione in anteprima, anche la terza stagione della serie continua a sorprenderci e divertirci tanto quanto le due scorse stagioni. E ora, a visione completata non possiamo che affermarlo con maggior fervore.
Ci eravamo lasciati con sogni e speranze per un roseo futuro nel mondo della comicità per la nostra Midge, e nel nuovo capitolo di The Marvelous Mrs Maisel questi pronostici diventano realtà.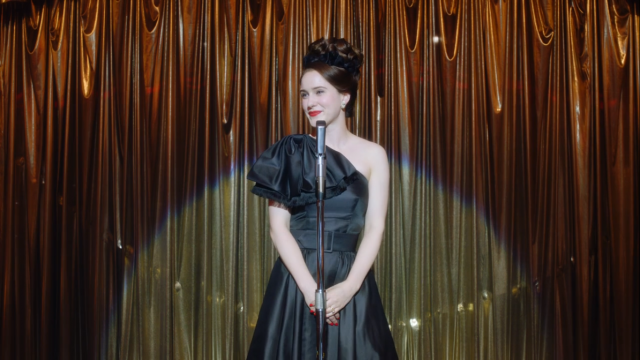 Se la prima stagione è stata rappresentativa dello slancio della carriera di Midge come aspirante comica, ora, due stagioni più in là abbiamo di fronte a noi una vera e propria comedian in carne ed ossa, con una carriera tra le mani che non si sarebbe mai immaginata di poter avere fino a poco tempo prima.
Lasciandosi il dottor Benjamin alle spalle Mrs. Maisel comincia il tour negli Stati Uniti che si era prefissata di compiere insieme a Shy Baldwin (Leroy McClain) e niente potrebbe andare meglio di così.
Le luci della ribalta la fanno brillare e i vecchi scantinati in cui si esibiva nella prima stagione ora sono solo un lontano ricordo. Addio ai vecchi locali logori e dalla tappezzeria scadente e benvenuti hotel e teatri rinomati in tutto il paese; finalmente, ora, i bellissimi abiti di Mrs. Maisel possono muoversi in un ambiente a loro più consono.
Midge non è però l'unica a fare uno slancio in avanti in questa stagione: Susie infatti vedrà un nuovo mondo davanti a sé con il quale farà presto i conti.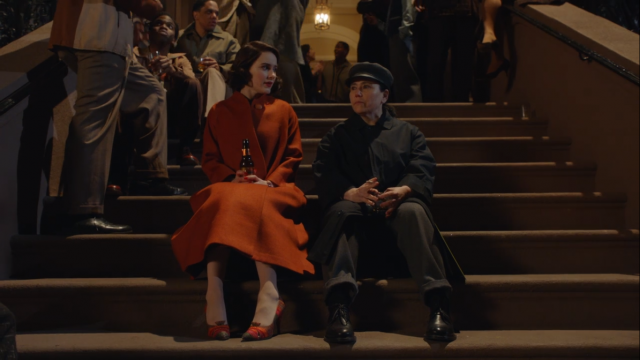 Manager di terz'ordine, Susie Myerson ha tra le sue mani non una ma ben due comiche affermate che – ironia della sorte – si detestano a vicenda. Divisa tra l'amore incondizionato che prova per la sua opera prima Mrs. Maisel e la fama riflessa dalla sua nuova cliente Sophie Lennon, Susie si troverà tra due fuochi.
Seppur in difficoltà per la spinosa situazione in cui si trova, una cosa di certo non le dà da pensare: l'agiatezza. Il tanto e desiderato lusso economico che prima faceva anche solo di una doccia calda un lontano miraggio, oggi la ciba di cocktail di gamberi a bordo piscina.
L'introduzione del personaggio di Reggie interpretato dalla special guest Sterling K. Brown (Randall di This Is Us) darà a Susie del filo da torcere spronandola ad ambire a diventare un agente di successo capace come lui.
Ad affiancare Midge anche in questa nuova stagione ci saranno gli strambi genitori Abe e Rose e l'ex marito Joel, metafore viventi della vecchia Midge e della sua vita prima della carriera da comedian.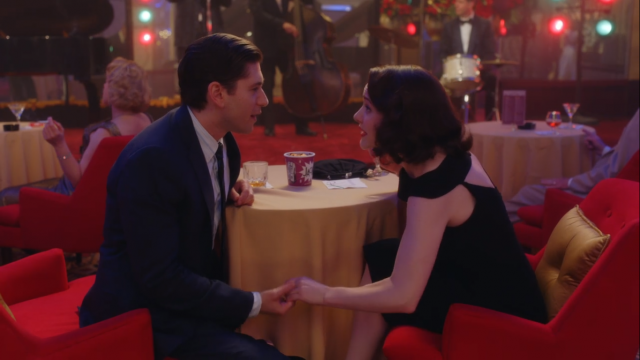 Seppur si consumi un breve ritorno di fiamma con il signor Maisel, niente sembra poter tornare come prima. Miriam è diversa e Joel vorrebbe riconquistarla proprio adesso che le sembra più distante. Come in una sorta di rimorso del tempo mancato trascorso quando lei era solo una moglie e una madre; attratto ancor di più dalla sua magnifica aura, come accadde per tutta la seconda stagione, Joel viene nuovamente relegato al ruolo di sostenitore, e non più amante.
Mr. Maisel si consolerà, e anche in fretta, con Mei. Cadendo, ci duole dirlo, in una scelta di sceneggiatura piuttosto scontata. Uscendo dalla vita di Midge, Joel esce anche dall'arco narrativo della serie, ritornando per qualche piccolo sketch non particolarmente interessante.
Il desiderio di emancipazione è forse una delle cose che più accomuna i coniugi Weissman alla figlia Miriam. Come lei infatti, anche i due genitori, dopo averci mostrato le loro peripezie in terra francese nella seconda stagione, ritornano con scelte e avventure altrettanto avventate. In una linea comica vivacemente presente in quasi tutti i protagonisti della serie, Abe Weissman in questa terza stagione ci fa divertire ma anche emozionare con i suoi ritrovati sentimenti rivoluzionari.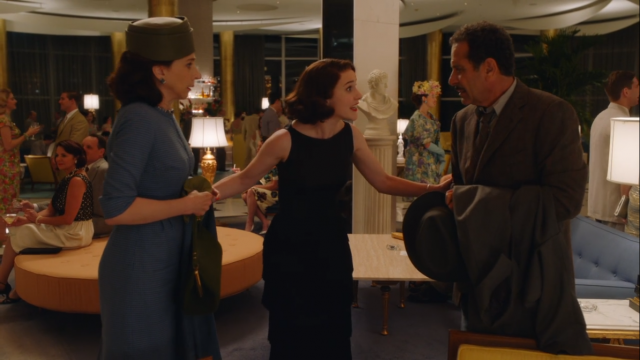 Di tutti i personaggi secondari, solo di uno in particolare ci interessano gli sviluppi come la quinta puntata di questa stagione ha potuto dimostrare tenendoci incollati allo schermo dalla curiosità: stiamo parlando di Lenny Bruce.
Il comico realmente esistito, dopo una prima stagione che lo vedeva molto più partecipe nella vita di Midge come suo mentore e fonte di ispirazione, lo vede comparire sempre più di rado nella successiva stagione e ancor meno in questa terza stagione, facendolo apparire più come una guest star piuttosto che come un membro effettivo del cast.
Tormentato e mai monotono, l'interpretazione di Luke Kirby del comico statunitense è una delle cose meglio riuscite dell'intera serie.
Quello che vediamo in questa terza stagione è un ennesimo punto di svolta nell'arco narrativo di Bruce e Miriam Maisel. Che tra i due ci fosse sempre stato del tenero era ormai diventato un pensiero ricorrente nei fan della serie che volevano vederli finalmente insieme, destinati ad amarsi follemente.
Un ballo, un intenso gioco di sguardi e un corteggiamento che si fa palese anche agli occhi della più incredula Midge. Arrivati sull'uscio della porta però la magia si spezza e quello che doveva essere un finale perfetto, si riduce a un 'Ora devo chiamare il taxi' che rompe l'atmosfera e ci riporta alla realtà.
Lenny: Hey, maybe someday, before I'm dead…

Miriam: It's a date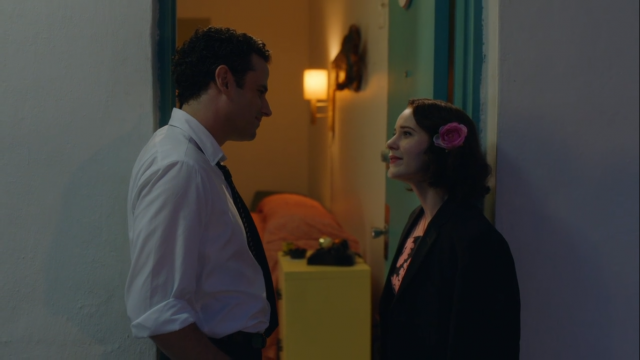 In una terza stagione che fa dell'affermazione di Mrs.Maisel come comica il focus principale su cui si basa l'intera trama, il finale ci lascia attoniti. La paura di fallire e le insicurezze di Midge si fanno sentire poco prima dell'esibizione all'Apollo, segnando negativamente i rapporti con Shy Baldwin ed inevitabilmente anche la sua carriera.
In una altalena di sentimenti arriviamo a pochi minuti prima della fine dell'ultima puntata senza più alcuna certezza su quello che accadrà. Proprio adesso che ci stavamo adagiando riceviamo uno scossone pronto a richiamare la nostra attenzione di telespettatori, forse troppo assuefatti anche noi dalle luci della ribalta e dal successo – apparentemente inscalfibile – della nostra beniamina.
Per quanto tempo ci dovrà servire però, una cosa possiamo affermarla con certezza: niente può fermare la nostra fantastica signora Maisel.