The Marvelous Mrs Maisel non sarebbe uno show così divertente se i suoi personaggi non contribuissero sensibilmente a innalzare il livello di comicità. Pensiamo ai genitori di Miriam, Abe e Rose: così deliziosamente bigotti e borghesi nella prima stagione, così innamorati e persi in un sogno a occhi aperti nella seconda e così pregni di voglia di reinventarsi nella terza.
Ma anche i genitori del fedifrago marito di Midge sono un vero scrigno di comicità: Moishe e Shirley, così affannosamente e meschinamente attaccati al denaro, con la loro saggezza spicciola da grandi lavoratori e la loro follia assoluta che esplode nella terza stagione, aumentando il chiasso delle nostre risate.
Per non parlare poi di Suzie: vera spalla comica nonché vero spasso della serie. Anche la manager di Miriam contribuisce a completare un quadro di comicità brillante su tutti i fronti: con il suo linguaggio sempre così volgare e inadeguato, la sua buffa ossessione per il cibo e la capacità di tirarsi fuori da qualsiasi situazione, solo come chi ha vissuto in strada può capire.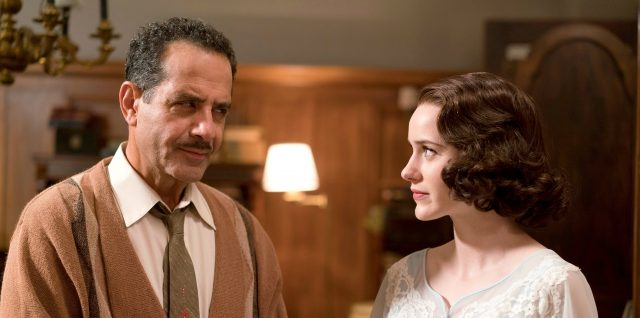 Ma un quadro comico non sarebbe completo senza l'elemento di tristezza: la comicità resterebbe semplice lazzo, vezzo di stile, senza una vena di malinconia.
In The Marvelous Mrs Maisel questo ruolo è affidato a Joel Maisel, marito e due volte ex marito di Miriam.
Di tutti i personaggi che compongono la serie, Joel è sicuramente quello che subisce la maggiore evoluzione: molto più di Miriam che, nonostante il salto da casalinga inesperta della vita a nascente star abbia fatto notevolmente maturare, nel finale della terza stagione è ancora drammaticamente alle prese con le conseguenze della sua inesperienza. Joel subisce una vera metamorfosi, da personaggio in qualche modo "antagonista" della moglie a suo più grande fan e supporter.
Ma la trasformazione più grande avviene dentro di lui, ed è quella che lo fa evolvere da mediocre maschio medio, gretto e interessato solo al suo successo e alla sua gratificazione, completamente incapace di coltivare il talento della moglie (addirittura incapace di accettare che lei ne abbia uno), in un vero uomo. Sensibile, disponibile alle esigenze della sua ex compagna, padre presente e supporter incondizionato, nonché spalla su cui piangere.
All'inizio della prima stagione Joel ci viene presentato così: un uomo senza particolari qualità, se non quella di avere una moglie perfetta. Una moglie che lui non ha mai visto struccata, coi capelli in disordine, o di cattivo umore. Una moglie che lui non conosce, in realtà, ma che conosce lui e che per questo è disposta a donargli tutto il suo incondizionato supporto. Anche se il suo sogno, la comicità, gli è decisamente preclusa: Joel non è brillante, non è spiritoso e non è sveglio. È bravo a mentire e a rubare i numeri degli altri: e la fiducia incondizionata della moglie le rendono impossibile dubitare di quel marito che lei appoggia con tutta se stessa.
Joel non ha colpe nell'essere un mediocre: la sua colpa, oltre al tradimento, è non aver mai saputo andare al di là della facciata di perfezione ottimamente confezionata che gli presenta sua moglie.
In questo modo lui avrebbe scoperto chi è davvero Midge e di cosa è capace molto prima che le circostanze, rese possibili dal suo tradimento, rendessero inevitabile il cambiamento nella moglie. E l'avrebbe amata per chi è davvero, non per chi le convenzioni sociali e il condizionamento familiare l'hanno resa ai suoi occhi. Proprio come Midge, Joel inizia a cambiare quando conosce cos'è veramente il dolore: non la delusione per l'impossibilità di raggiungere il suo sogno, ma il duro scontro con la realtà del fatto che sua moglie è molto più brillante e divertente di lui.
Sul finire degli anni Cinquanta, periodo in cui è ambientata The Marvelous Mrs Maisel, un uomo non si sarebbe mai posto il problema di dover competere con la moglie. La competizione tra i sessi era, prima che scoraggiata, resa del tutto impossibile da una società organizzata a compartimenti stagni in cui uomini e donne potevano confrontarsi davvero in pochissimi campi neutri, e il lavoro non era certo uno di quelli. Per un uomo di quei tempi, trovarsi a essere scavalcato dalla moglie nonché colpito nel suo ego e accoltellato proprio sulle sue debolezze non era facile.
La reazione di Joel al Gaslight, mentre nascosto guarda Midge esibirsi, è di dolore ma in un certo senso anche di orgoglio. Attraverso lei, Joel capisce di non averle combinate tutte storte nella vita. Almeno ha sposato una donna straordinaria, anche se non l'ha mai conosciuta davvero. E l'ha lasciata andare via. Dolore, rimpianto e orgoglio per il miracolo che si compie sul palco, per mano della donna che un tempo apparteneva a lui, innescano un cambiamento: "È brava!" ringhia mentre pesta i bifolchi che l'hanno insultata durante lo show. La trasformazione di Joel, per il momento ancora dipendente dallo stereotipo dell'uomo forte a protezione della donna, si evolverà col proseguire delle stagioni trasformandosi in vera complicità e un amore sotterraneo a cui lei saprà sempre di poter tornare.
Come un domino, l'evoluzione di Midge in The Marvelous Mrs. Maisel condiziona quella degli altri personaggi: i suoi genitori, i genitori di Joel, Suzie, e soprattutto Joel. La sua volontà di dimostrarsi degno di una donna che lui ha scoperto essere straordinaria lo porta a fare qualsiasi cosa per distinguersi, per dare un senso alla sua vita. Per allontanarsi dalla velenosa profezia di Suzie, quella fatidica notte al Gaslight: "Lei un giorno sarà una star e tu solo uno che potrà dire che una volta quella era sua moglie ma l'ha lasciata andare". Joel, cercando di dare un senso alla sua vita, scopre in sé un uomo diverso: non l'uomo egoista e meschino di un tempo, incapace di accettare di essere superato da una donna, ma l'uomo maturo ed equilibrato che cerca di rendere migliore la sua vita.
L'evoluzione del personaggio di Joel è venata di malinconia e rimpianto: niente di quello che fa sembra poterlo riavvicinare a Miriam, sempre più ingurgitata dal meccanismo spietato e rocambolesco dello spettacolo. Joel deve "accontentarsi" di amarla da lontano, mostrandole, quando lei gli concede la sua attenzione, di essere un uomo migliore. Midge e Joel si amano di più da quando sono separati rispetto a quando erano sposati: il matrimonio inibiva la loro vera natura, la libertà l'ha fatta fuoriuscire. Ma ormai è troppo tardi: lei diventerà una star, lui aprirà il suo locale e dovrà accettare il fatto di non potersi permettere di ingaggiarla, un giorno.
Joel Maisel, in una serie di stampo fortemente femminista come The Marvelous Mrs Maisel, ci dimostra che anche gli uomini hanno un ruolo nel raggiungimento della parità dei diritti. È la dimostrazione che la mascolinità tossica è frutto di condizionamenti sociali e pregiudizi sessisti e può essere sradicata. E che si può trasformare un uomo mediocre e meschino in un uomo nuovo: magari non straordinario, magari non geniale, ma degno di avere una donna come Miriam al suo fianco.