Tutti i fan in attesa di The Mandalorian 3 si rassererino! In questo sempre più prolifico anno di serie tv in continua produzione, la loro attesa sarà prolungata ma ampiamente ripagata, con un fine anno sicuramente soddisfacente ed entusiasmante. Il terzo volume della saga estrapolata dall'universo sconfinato di Star Wars non sarà disponibile ancora per molti mesi, ma prima di precipitare nello sconforto aspettate un secondo e finite di leggere l'articolo, ci sono molte novità in serbo per voi.
Anche se il prosieguo delle avventure del Mandaloriano ci farà attendere ancora qualche mese, l'universo targato Disney+ ha molte altre novità in cantiere. A partire dagli spin-off che si svilupperanno e intrecceranno nei prossimi anni con la saga dell'eroe interpretato da Pedro Pascal. A tal proposito, a dicembre 20202, si sono sbilanciati due dei nomi grossi dietro la produzione della serie di punta del canale streaming della Disney. L'iperproduttivo showrunner della serie, Jon Favreau, deus ex machina di film campioni d'incassi come Iron Man, Avengers: Endgame e Spider-Man: Homecoming e Kathleen Kennedy, portavoce e capo della Lucasfilm.
La stessa, infatti, aveva tratto in inganno i fan della serie anticipando la news che entro la fine del 2021 sarebbe uscito il prossimo capitolo della saga, ed è stato normale per gli spettatori credere che si trattasse di The Mandalorian 3.
Jon Favreau ha dichiarato infatti che entro la fine del 2021 verrà rilasciato dalla piattaforma il primo dei tre spin-off ordinati per fare da contrappasso alle avventure di Din Djarin e Grogu.
Si tratta di The Book of Boba Fett, che Favreau ha dichiarato essere già in fase di produzione in questo 2021 appena iniziato. Sarà questo il prossimo capitolo della saga di Star Wars che verrà sviluppato, proprio come con i film Marvel dello stesso showrunner, su più capitoli e livelli collegati tra loro. Pensato per ricongiungersi in un evento comune:
"Queste serie interconnesse, insieme a storie future, renderanno entusiasta un nuovo pubblico che abbraccerà i nostri fan più appassionati e raggiungerà il picco in un evento culminante."
Così ha detto in proposito a chi le chiedeva delle news su The Mandalorian la Kennedy, durante l'evento per gli investitori Disney dello scorso dicembre.
La produzione dello spin-off su Boba Fett era già stata svelata al termine di The Mandalorian 2, durante i titoli di coda. Easter egg che ormai è diventato un escamotage per farsi anticipare qualcosa sul futuro dei propri eroi, oltre che un appuntamento imperdibile per ogni fan di questo filone narrativo. Nella sequenza dei titoli di coda della seconda stagione di The Mandalorian, vediamo infatti Boba Fett e Fennec assalire il palazzo di Jabba The Hutt, deceduto durante Il ritorno dello Jedi, ora in mano a Bib Fortuna. I due attaccano le guardie, uccidono il temporaneo re e si prendono il trono. Non ci è stato rivelato molto sul resto della trama se non che i due protagonisti, mantenuta la parola data a Din Djarin, saranno al centro della conquista del pianeta di Tatooine e che la loro parentesi si svilupperà nello stesso spazio temporale di quello di The Mandalorian 3.
Sempre Jon Favreau ha dichiarato che The Mandalorian 3 è in fase di pre produzione e che verrà realizzata appena terminate le riprese della miniserie su Boba Fett e Fennec e il loro insediamento su Tatooine.
La serie su Boba Fett uscirà quindi a dicembre 2021, anticipando di pochi mesi la terza stagione di The Mandalorian, sulla piattaforma streaming Disney+.
Il secondo spin-off che la Disney intende ricavare dalla fruttuosa saga che ha appassionato milioni di fan nel mondo, è quella dedicata al personaggio di Ahsoka Tano, interpretata da Rosario Dawson e la serie Rangers of the New Republic, la quale mostrerà l'evento culminante di cui ha parlato Favreau.
La serie dedicata ad Ahsoka, lo Jedi interpretato dalla splendida attrice (che ormai sono anni che sguazza nell'universo Marvel, in un ruolo o nell'altro) è uno dei più attesi prodotti del multivero dedicato a Star Wars, specie dopo il suo ruolo nella seconda indimenticabile stagione della saga. Spetta a lei, infatti, rifiutare la presa in carico e l'addestramento dell'adorabile Bambino, a causa dell'ormai troppo affiatato legame con il Mandaloriano.
The Mandalorian 3: dove eravamo rimasti?
La seconda stagione della serie di punta della piattaforma streaming Disney si è conclusa con un colpo di scena clamoroso e davvero entusiasmante. Un momento indimenticabile per tutti i fan, quelli nuovi ma soprattutto per quelli di vecchia data e più nostalgici, della celebre saga di George Lucas. Se il primo volume delle avventure del Mandaloriano ha dato un'infarinatura generale (necessaria per introdurci in questo nuovo continente del pianeta Star Wars generato da George Lucas nell'ormai lontano 1977), il secondo ha decisamente movimentato le dinamiche narrative. Introducendo molti intrecci a cui gli showrunners dovranno dare risposta nei prossimi capitoli.
Nella seconda stagione abbiamo potuto assistere a come l'alleanza tra Din Djardin e Grogu, unita da obiettivi e visioni comuni, sia sfociata in una sorta di affettività molto più intima di quanto si aspettavano. Il rapimento del Bambino costringerà Mando a guardare dentro di sé e correre in suo soccorso. Accompagnato dai fedeli Cara Dune, Boba Fett, Fennec e Bo-Katan, si lancerà nella caccia a Moff Gideon per ritrovare il piccolo, scatenando uno scontro senza esclusione di colpi.
A sovvertire le sorti della battaglia e la salvezza del piccolo, sarà niente meno che l'arrivo dello Jedi più famoso dell'intera saga, Luke Skywalker, che prenderà in custodia il piccolo Bambino assumendosi la responsabilità della sua formazione e del suo futuro.
Il saluto tra i due protagonisti ha fatto scendere più di una lacrima e verrebbe da credere che le avventure dei due terminino con questo commovente e soddisfacente epilogo. Anche se, come ha fatto notare Giancarlo Esposito, niente è ancora detto.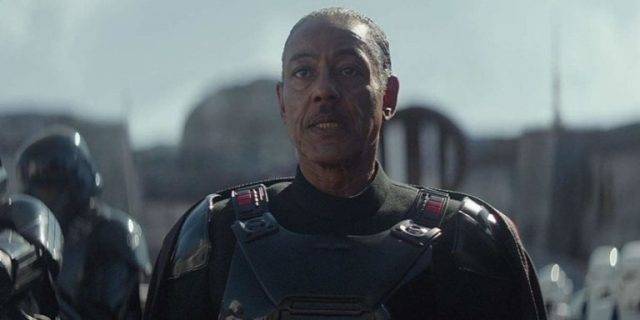 Il celebre attore, entrato di diritto nella memoria collettiva seriale grazie a Breaking Bad, ha dichiarato alla stampa – che lo ha intervistato per il suo futuro nel multiverso Disney – quanto segue:
"Siamo in un universo enorme, tutto da esplorare. Finora si è data un'idea della ampiezza e della profondità di quel mondo, che si comincerà a capire di più durante la terza e quarta stagione".
C'è anche chi sostiene che nel prossimo capitolo ci sarà più di un villain, oltre a quello interpretato da Esposito, e in molti si sono sbilanciati puntando tutto su Rae Sloane. Tuttavia resta da scoprire la fonte anonima che ha passato informazioni al personaggio di Esposito durante tutta la seconda stagione uscita a ottobre 2020.
Stagione in cui di carne al fuoco ne è stata messa parecchia e che i fan pretendono di veder venir cucinata a dovere, così da soddisfare il loro appetito seriale.
Veniamo al dunque: quando uscirà ufficialmente The Mandalorian 3?
Non c'è ancora un data di uscita ufficiale, né un teaser trailer al momento disponibile, il quale verrà rilasciato con ogni probabilità nell'estate 2021. Quello che sappiamo e che Disney+ ha fatto sapere è che il terzo volume della saga uscirà a Natale 2021, nonostante abbia anche detto che The Book of Boba Fett verrà rilasciato prima delle nuove avventure del Mandaloriano.
Tuttavia, probabilmente anche a causa dell'inizio delle riprese rallentato per la Pandemia, è stato comunicato da Jon Favreau che quasi sicuramente l'uscita del terzo volume slitterà in realtà alla prime settimane di febbraio 2022. Così che i due prodotti Disney possano passarsi il testimone, senza lasciare i fan di Star Wars a bocca asciutta per mesi, come invece capiterà purtroppo, per quasi tutto questo 2021.
Difficile credere che le due serie possano uscire simultaneamente, anche se non impossibile. Il futuro di Din Djardin potrebbe esserci mostrato anche subito dopo la miniserie dedicata al suo alleato, seduto sul trono che fu di Jaba the Hutt.
Sappiamo inoltre che anche la terza stagione di The Mandalorian, in arrivo a febbraio, avrà quasi sicuramente otto episodi come le precedenti, numero che ormai sembra essere diventato di fortuna nel panorama seriale. E già da alcune indiscrezioni, seppur senza sapere come verranno distribuite all'interno della trama o quando, nell'universo targato Star Wars, abbiamo la conferma della partecipazione alla terza stagione di alcuni attori.
Pedro Pascal, Giancarlo Esposito e Gina Carano sono dati per certi. Così come Katee Sackhoff nei panni di Bo-Katan e Carl Weathers in quelli di Greef Karga torneranno nella terza stagione. Ovviamente rivedremo nello spin-off Book of Boba Fett, Temuera Morrison nei panni del cacciatore di taglie e Ming Sen in quelli di Fennec Shand.
Ovviamente, visto il clamoroso successo del piccolo Yoda, i fan della saga si chiedono se rivedranno il loro adorato beniamino verde pallido, soprattutto dal momento che in questo multiverso la sua storyline sembra temporaneamente conclusa.
Venendo affidato alla guida di Luke Skywalker al termine della seconda stagione della serie, viene da pensare che se dovessimo rivederlo sarebbe in compagnia del suo celebre mentore ma dal momento che la comparsata di Luke nel finale di The Mandalorian 2 è stato realizzata grazie al ringiovanimento digitale, realizzato sull'autore Mark Hamill (indimenticato protagonista del celebre film), riesce difficile da credeva che si possa realizzare più di un episodio con i due che interagiscono a lungo con il resto del cast.
Non ci resta quindi che imprimerci nella mente il toccante salutò tra Din Djardin e il piccolo Grogu, aspettando con ansia i prossimi indizi che Disney+ rilascerà in questo 2021, sulle avventure del suo prolifico e seguitissimo multiverso galattico.