Rosaria Dawson tornerà nelle vesti di Claire
Ancora non ufficializzata nero su bianco da Netflix o dalla Marvel la presenza di Claire nelle prossime stagioni di Daredevil III e di Iron Fist II sembra cosa ormai certa.
Non credevamo certo sarebbe stato un personaggio soggetto a possibili tagli dell'ultimo minuti ma visti i tempi che corrono siamo ben felici di poter dire che il suo posto nella serie è al sicuro.
La dottoressa dei supereroi sarà ancora interpretata da Rosario Dawson nelle prossime collaborazioni Marvel Netflix.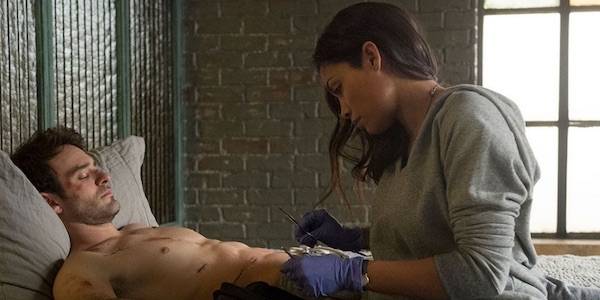 Claire era apparsa per l'ultima volta in The Defenders, serie in cui abbiamo visto all'opera l'insolita squadra di supereroi composta da Jessica Jones, Luke Cage, Daredevil ed Iron Fist.
Non si tratta ancora di fonti ufficiali ma stando a quando riportato da DiscussingFilm  , Claire farà certamente ritorno nelle prossime stagioni di Daredevil ed Iron Fist.
Salvo impegni particolari dell'interprete, Rosario Dawson appunto, non ci sarebbero motivi per cui il personaggio di Claire debba essere tagliato dalle prossime stagioni.
Si tratta infatti di uno dei personaggi secondari tra i più forti di tutte le serie Marvel/Netflix rilasciate fino ad oggi, fatta eccezione per The Punisher che ad oggi non ha ancora incontrato la dottoressa Claire. Chissà se ci sarà occasione in futuro!
Se sembra quasi certo che rivedremo Claire Temple in Daredevil ed Iron Fist, non possiamo invece ancora dire se tornerà anche nella seconda stagione di Jessica Jones (che è finalmente pronta al rilascio, e tornerà l'8 di marzo) e in Luke Cage II. Staremo a vedere.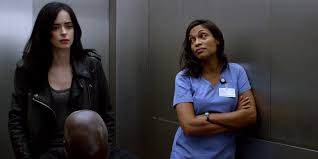 Non ci resta che attendere comunicazioni ufficiali da mamma Marvel e papà Netflix in merito al futuro del suo personaggio.
Nel frattempo Daredevil ha avuto qualche aggiunta nel cast, abbiamo parlato qui di chi saranno i nuovi volti che affiancheranno Murdock e Claire nella prossima stagione.
Restiamo in attesa di saperne di più!