Apparizioni demoniache, cappi al collo e raccapriccianti automutilazioni ci accompagnano in questo percorso tra le scene di terrore più sconvolgenti in assoluto. Quelle scene, cioè, che mai e poi mai riusciremo a toglierci dalla mente. E il tema sarà anche occasione per analizzare questi momenti e tentare di carpirne la forza iconica che li ha resi così devastanti per la nostra psiche. Non mancherà la recentissima The Haunting of Hill House che si è inserita a pieno titolo tra i migliori prodotti horror della tv grazie a qualcosa che l'ha resa unica. Siete pronti ad affrontare i vostri peggiori incubi?
1) Hannibal – Autocannibalismo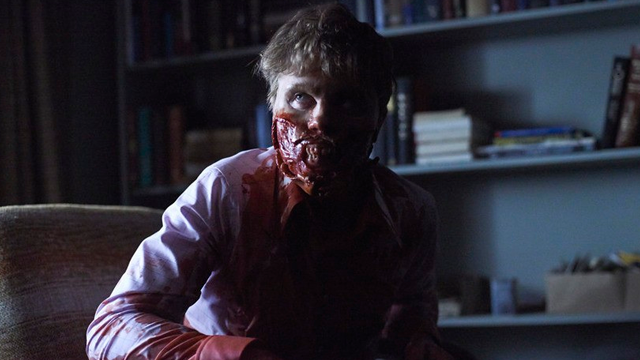 Violenza inaudita ma anche raffinatissima, marchio di fabbrica di Bryan Fuller. Nella 2×12, ancora una volta, realtà, sogno e apparenza ammantata di simbolismo si fondono in un viaggio negli abissi umani di rara tensione. Al culmine di questo percorso, una scena che nella sua calma apparenza svela un orrore tremendo. Mason che asporta e si ciba del suo stesso naso è l'apoteosi dell'irrazionale e del ridicolo. Una scena disturbante che ci colpisce nel profondo e ci accompagna a lungo nelle nostre più angosciose paure interiori.