Giunti ormai a metà del cammino di questa terza stagione di The Handmaid's Tale, la serie ci mostra le sue prime crepe strutturali. Sotto il suo occhio infatti è un episodio che punta a inquietarci con pratiche molto pesanti da digerire. Tuttavia non rispecchiano altresì una novità. Vedere le ancelle costrette a eseguire la sentenza di morte emessa contro eretici e traditori di Gilead non è cosa mai vista in questa serie. Non certo per uno spettatore che ricorda ancora con terrore i suoi primissimi episodi. Quando un uomo accusato di stupro venne lapidato dalle ancelle al fischio di Zia Lydia. In questo episodio di The Handmaid's Tale cambia solo la modalità d'azione. Niente parchi e pietre, ma un patibolo e una spessa fune collegata a un cappio.
E così Gilead miete altre vittime. Marte della Resistenza. E con esse ancelle costrette, ancora una volta, a rendersi assassine.
Un dovere richiesto da Dio a cui nessuno può sfuggire, dice Zia Lydia. Un concetto che l'espressione sarcastica quanto silenziosa di June commenta eloquentemente. Inizia quindi con una dose di – già note – fitte allo stomaco questo settimo episodio di The Handmaid's Tale. Ma decide poi di proseguire allentando pian piano i toni.
Riprende una storyline lasciata da parte per un paio di episodi: quella di Emily. La ritroviamo in Canada alle prese con un interrogatorio poco piacevole con la diplomatica svizzera incontrata da June nell'episodio precedente. L'avevamo lasciata alla prese con ciò che viene dopo Gilead. Il peggio sembrava passato con la fuga, ma la salvezza dai demoni, impressi indelebilmente nella sua memoria, è ancora lontana. In questo episodio vediamo Emily affrontare i propri. Doverli guardare in faccia attraverso le parole di un estraneo che descrive a voce alta quello che ha fatto a Gilead.
The Handmaid's Tale con questo dialogo ci apre nuovi orizzonti. Quelli che ci mostrano la cruda realtà vista dall'esterno. Dà vita così a un nuovo interrogativo: la violenza legittima altra violenza?
Nel caso di Emily forse avremmo detto sempre di sì senza alcun dubbio. E con molta probabilità lo diremmo anche ora. Ma attraverso un occhio che osserva i fatti fuori dalla follia del contesto di Gilead, la bolla in cui eravamo assieme a Emily sembra scoppiare. E tutto appare come quello che è: violenza. Violenza che fino al momento del suo compimento ci ha dato soddisfazione quanto ne ha data a Emily.
Ma per quanto il mondo potesse forse essere un posto migliore senza la guardia armata investita dalla donna e senza Zia Lydia, pugnalata con ferocia alle spalle, quella violenza risulta ora quasi non necessaria. O perlomeno non ai fini di difesa personale (Lawrence avrebbe fatto scappare Emily anche se la donna non avesse ferito Zia Lydia) ma "solo" frutto di uno sfogo, per quanto comprensibile e giustificabile. Il problema è che in un posto come Gilead la retorica fattibile in merito alla legittimità o meno della violenza si dissolve da sé.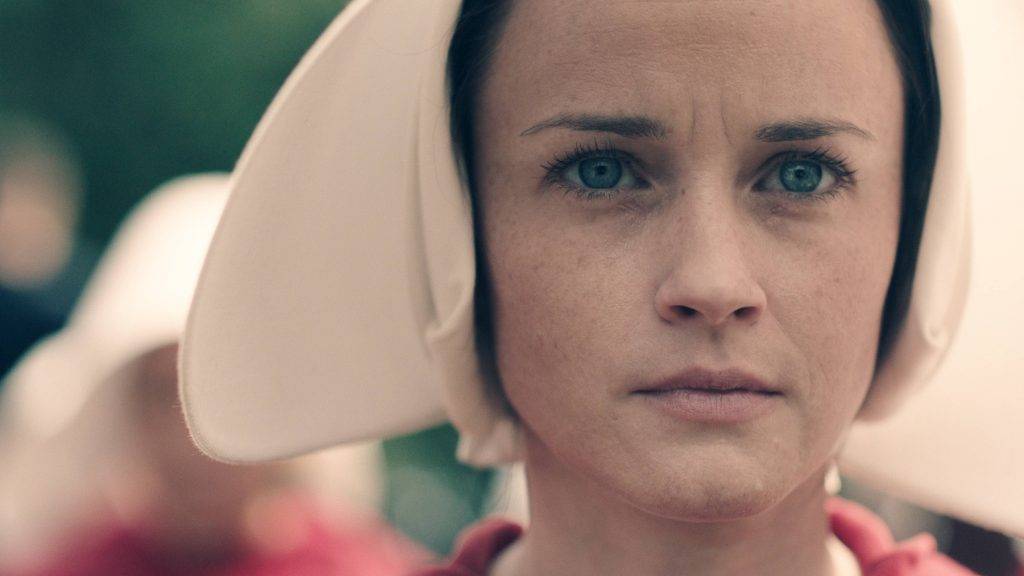 La protesta e il successivo arresto dei rifugiati americani in Canada è un ottimo pretesto per dar vita al dialogo tra Emily e Moira. Un discorso che ci fa riflettere su qualcosa che va ben oltre i segni delle violenze cui le due donne, e altri come loro, sono stati sottoposti. Perché tra quei segni ce ne sono alcuni indelebili: gli strascichi emotivi di chi ha dovuto trasformare se stesso. Di chi come Emily, Moira, June, e ogni singola ancella che ha dovuto tirare il cappio, si è macchiato di azioni che altrimenti non avrebbe mai commesso.
E per quanto tribunali esteri, e persone care ritrovate, possano non considerarli crimini, niente potrà cancellare quelle azioni dalla mente di chi le ha commesse. Bisogna conviverci, come si convive col mancato pentimento e con la consapevolezza che ciò, sì, rende diversi. Gilead rende diversi. Trasforma una timida ma brillante accademica come Emily in un'assassina senza scrupoli. Fa leva sulla disperazione per portare all'odio, alla vendetta cieca, alla follia.
Tuttavia se da una parte The Handmaid's Tale riesce ancora una volta a regalarci profonde riflessioni, dall'altra ci lascia alquanto perplessi.
La storyline che vede i Waterford a Washington, ancora alle prese con le trattative per riavere Nichole, è statica e inconcludente. Fred – personaggio a suo modo complesso nella sua storica debolezza – in questa terza stagione risulta completamente piatto. Le conversazioni con Winslow vogliono suggerire l'idea di un uomo visionario, e quelle con Serena di un uomo di polso, che non si piega dinanzi ai privilegi. Ma i fatti raccontati in queste tre stagioni danno più l'idea un uomo vittima dei propri impulsi in ogni campo della vita. Per di più in quest'ultima la sceneggiatura non supporta il personaggio, che pertanto non sembra crescere affatto. Continua invece la retromarcia di Serena, ora apparentemente tornata sui suoi passi anche per quanto riguarda il matrimonio con Fred. Nei primi episodi abbiamo assaporato una Serena spietata nei confronti di quel marito non all'altezza.
Ora invece The Handmaid's Tale ci mostra una Serena piccola come June l'ha definita. Facilmente impressionabile sull'onta di promesse fatte da un uomo che lei sa essere un debole.
E non è tutto qui. Quest'episodio assume a tratti toni persino imbarazzanti durante il ballo tra Serena e Fred. Un riavvicinamento poco realistico in un contesto scenico altrettanto poco realistico. Se già l'ambientazione da ballo anni '20 trasuda di stereotipi di genere che hanno poco in comune con l'oculata polemica sociale portata avanti sinora dalla serie, il tango ballato dalla coppia dà il colpo di grazia. Un ballo erotico e sensuale che non si associa affatto bene alle timorate anime di Gilead. O perlomeno timorate all'apparenza. Nemmeno nella trasgressiva capitale, in cui le Mogli hanno ruoli più rilevanti e si lasciano andare a vizi che sembrano sconvolgere l'ingenua provincialità di Serena. Un contesto intero che ha il sapore di un cliché già visto, che poco si addice all'originalità di The Handmaid's Tale.
L'episodio appare quindi abbastanza sottotono pur risalendo in parte con un inaspettato colpo di scena.
La consapevolezza che il tentato – ma fallito – incontro di June con Hannah non avrebbe portato a nulla di buono c'era. E dopo il crollo della signora Lawrence sembrava quasi che sarebbe stato il comandante suo marito artefice di qualche colpo basso ai danni di Ofjoseph. Invece quello che nei primi episodi sembrava essere il personaggio chiave di questa stagione continua a restare nell'ombra. Continua a sorvolare sui comportamenti di June. Ciò porta un po' a chiedersi quanto quest'uomo sia davvero dalla parte giusta o rispecchi solo una certa incoerenza della trama. Laddove infatti molte persone sono finite appese al muro per molto meno, June continua a scamparla indenne in modo a volte inspiegabile.
Chi invece sale alla ribalta mostrandosi come una delle note più dolorose di The Handmaid's Tale è la compagna di spesa di Ofjoseph.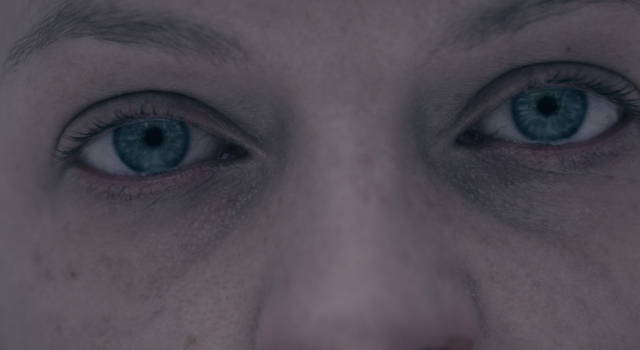 La donna, che sembra essere l'unica ancella davvero devota al sistema di Gilead, confessa di aver provocato lo scempio visto nella seconda tornata di "purificazioni". Qualcosa che nella mente di June va ben oltre la struggente immagine di una donna impiccata ingiustamente. Ma va alla ragione che l'ha spinta a rinunciare alla fuga per restare nell'inferno. Quella decisione che ora, durante le trattative con il Canada, potrebbe ritorcerlesi contro. L'inquadratura diretta sui suoi occhi vitrei e su quella singola lacrima che riga la sua guancia, focalizza perfettamente la nostra attenzione sul lungo respiro di June. Quello stroncato dalla verità, che porta con sé una rabbia cieca e devastante. E ancora una volta torniamo alla riflessione di Emily: in cosa le ha trasformate Gilead?
In qualcuno che potrebbe arrivare persino a uccidere una donna incinta a mani nude. Le condizioni delle ancelle e le conseguenze delle azioni della sua compagna di sicuro ci portano a empatizzare con June e a giustificare la sua rabbia. Chi non impazzirebbe? Ma in quel momento ci si dimentica che persino quella vista come una gran st****a è vittima di un sistema malato. E resta ora il terrore che dopo tale azione possa essere June la prossima vittima di Gilead. D'altronde la proliferazione di ancelle dalla bocca cucita enfatizzata a inizio episodio è un segnale tutt'altro che incoraggiante. E dopo questo finale, ancora più spaventoso.