Ormai prossimi alla metà del cammino The Handmaid's Tale torna con l'episodio più distopico di questa terza stagione. "Famiglia" si presenta come la serie di eventi consequenziali al colpo di scena cui abbiamo assistito nel finale dello scorso episodio (qui ne abbiamo parlato dettagliatamente). Ma anche come un episodio illuminante circa quella scatola nera che è Gilead. Scopriamo nuove dinamiche interne di cui non eravamo a conoscenza. Nuovi trascorsi di alcuni personaggi. E ci spostiamo assieme a June dalla "comfort zone" del suo distretto per conoscere la capitale della nuova repubblica, la vecchia Washington DC. Dijoseph ancora una volta è invitata nel pieno potere della sua non-libertà di scelta a partecipare allo spettacolo montato da Fred e Serena per riprendersi Nichole. Tutto per scoprire che le cose potrebbero essere anche peggiori di come la sua pelle ha conosciuto.
The Handmaid's Tale, che non fa sconti a nessuno, non perde occasione di mostrare questa dinamica tanto a lei quanto a noi.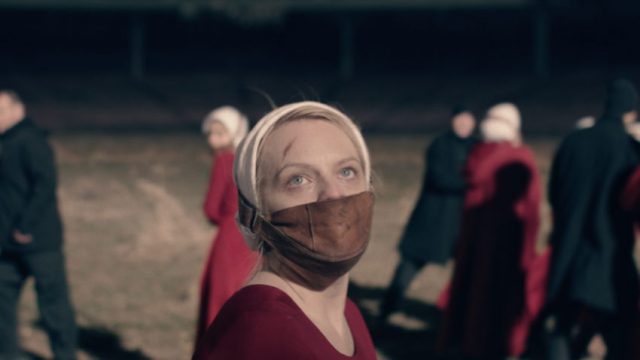 A Washington infatti capiamo assieme a June che anche un comandante potente come Waterford ha un capo da chiamare "mio signore". Uno tanto in alto da permettersi di dare paternali pacche sulle spalle a un uomo piegato su un tavolo da biliardo. E con ciò The Handmaid's Tale anche la magnitudo delle differenze di rango a Gilead. Di entità tanto grande da far sì che un comandante come George Winslow possa avere ben 6 figli (sicuramente quasi tutti strappati ad altri genitori come successo con Hannah). 6 figli laddove coppie come gli Waterford faticano ad averne uno. E permettersi nonostante ciò di avere ancora un'ancella che partorisca per lui il settimo. Capiamo quindi che a Gilead c'è un enorme divario tra i privilegi concessi persino tra le alte sfere. E un divario altrettanto vasto tra ciò a cui diverse ancelle possono essere sottoposte.
La scena che mostra il perchè del silenzio di Digeorge, ancella di Winslow, è una delle più turbanti dell'intera serie.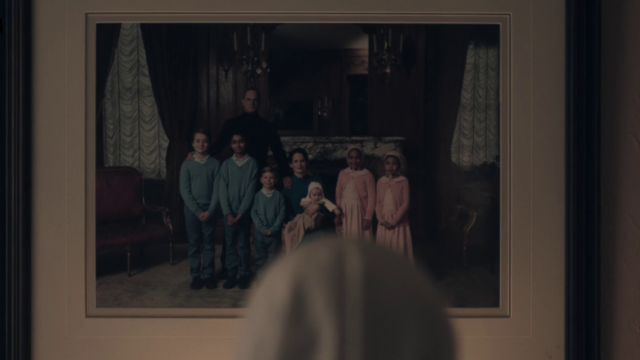 Dopo aver visto donne catturate, isolate dai loro cari, periodicamente stuprate per partorire "figli della patria" da cedere ad altre donne, vediamo donne messe a tacere. Non semplicemente in ginocchio, imbavagliate con ganci da far invidia ai migliori corsetti ottocenteschi. Ma zittite fisicamente da un filo d'acciaio tra le labbra. Qualcosa di tanto orribile da sconvolgere persino Zia Lydia, non certo una detrattrice delle maniere forti. A tanto può arrivare l'odio verso le donne insito nei creatori di Gilead, travestito da difesa dei valori tradizionali. Una convinzione che i potenti della nazione non nascondono neanche al resto del mondo. Ma con le dovute precauzioni, certo. Perché i fanatici religiosi che non contano nulla sono stupidi. Ma i fanatici religiosi che fanno politica no, e sanno distinguere tra ciò che si può mostrare e ciò che si deve "abbellire".
Nella prima stagione, infatti, The Handmaid's Tale celebra l'importanza di far credere ai paesi stranieri che le ancelle posseggano "libertà di scelta". Poco importava se e quanto poi essi girassero la testa dall'altra parte.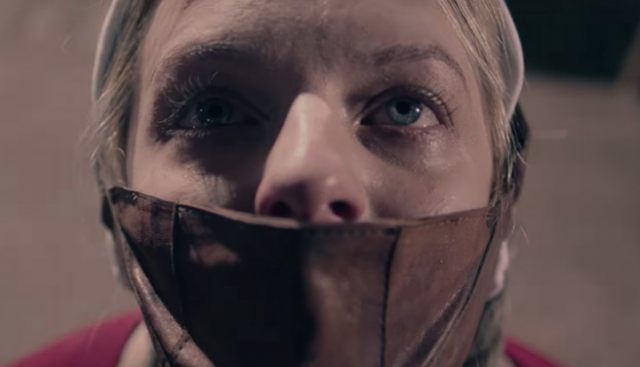 Ma in questo episodio abbiamo capito che, essendo Gilead un paese militarmente potente, i comandanti non nutrono più grande timore a mostrarle imbavagliate. Non finché possono sfruttare "la buona rappresentazione della preghiera" per giustificare tali atti. D'altronde la Bibbia è per i Figli di Giacobbe fonte inesauribile di giustificazioni e pretesti. "Benedetto sia il silenzio poiché permette di ascoltare meglio la voce di Dio". Pertanto mostrare l'unità familiare risulta fondamentale. Finché un paese estero non sospetta scricchiolii all'interno del sistema di Gilead, continua a temerne la potenza. Quella stessa potenza acquisita grazie alle crociate perpetrate durante il colpo di stato che ha abbattuto la vecchia Repubblica Federale degli Stati Uniti d'America.
Il fascino della distopia della serie risiede molto in questa capacità di mescolare un possibile futuro agli esempi del passato.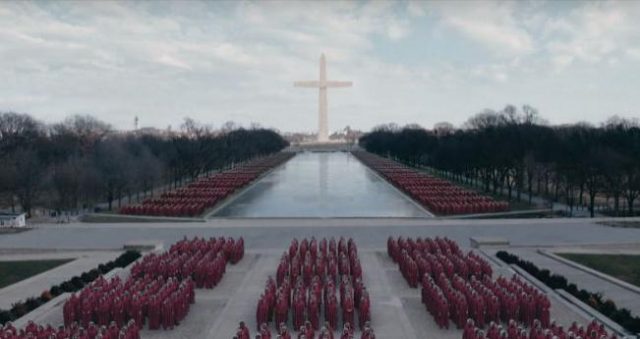 L'utilizzo del termine "crociate" ne è un finissimo esempio. E un ennesimo richiamo di questo episodio al ricorrente motivo religioso. Al suo utilizzo a scopi politici, e alle conseguenze della sua pratica estremizzata. Tutto ciò giocato su immagini potentissime: dalla trasformazione del famoso obelisco di Washington in croce, alla distruzione della statua di Lincoln, simbolo della libertà enfatizzata dagli Stati Uniti. Il gesto che vede il governo di Gilead lasciare lì la statua, ormai ridotta in pezzi, è perfetta metafora di ciò cui portato il nuovo sistema: la distruzione. Ossimoro curioso per un movimento che si proponeva di "ricostituire" il genere umano come ci ricorda Fred in questo episodio.
Il confronto tra June e Serena, minuscole ai piedi della statua, è una pugnalata al cuore. È la verità sbattuta sulla nostra faccia: la fiducia di June è stata tradita. Tradita da chi sembrava essere pronto a cambiare le cose. Ed è la verità sbattuta in faccia a Serena, una volta donna influente, proprietaria di una voce che aveva il suo peso. Ora invece messa a tacere. Impegnata unicamente a colmare il suo presunto vuoto interiore con la maternità.
E ancora una volta Serena antepone i suoi urgenti bisogni affettivi al bene di Nichole, e a quello di tutte le donne di Gilead. Lei compresa.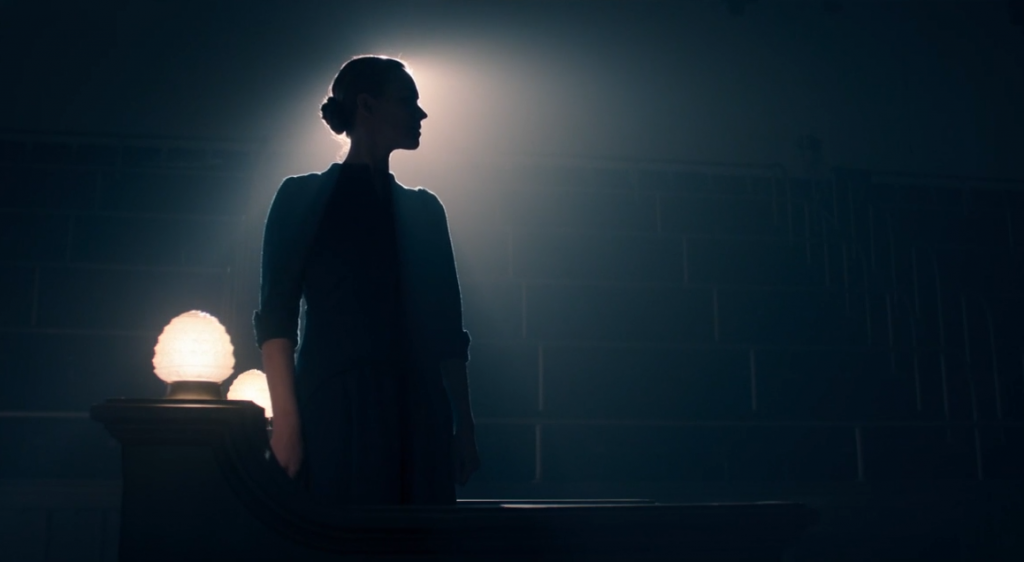 Se, come ammette lei stessa, è disposta a cedere "tutte le dita necessarie" per riavere Nichole, allora non possiamo che credere a un ritorno sui suoi passi. Un comportamento che risulta abbastanza incoerente con i primi episodi. Col suo battesimo in mare, preludio di quella che sembrava una rinascita. Con gli atti sovversivi compiuti come moglie e come donna. Col fuoco appiccato a quel talamo nuziale che aveva tradito le sue aspettative.
Un'incoerenza che tuttavia ci lascia credere (o sperare) che The Handmaid's Tale riserverà un imminente colpo di scena sul suo personaggio. Lo stesso colpo di scena che speriamo coinvolga anche Nick. In questo episodio infatti scopriamo anche quanto accaduto in quel gap temporale tra il suo avvicinamento al futuro comandante Pryce e la sua posizione di autista e Occhio. Nella prima stagione avevamo scoperto solo che Nick, nella vecchia società americana, era un ragazzo deluso dal sistema, con problemi familiari, che non riusciva a tenersi un lavoro. In un salto temporale lo abbiamo visto autista di un comandante e Occhio di Gilead.
Ora scopriamo che tra le due fasce temporali Nick servì come soldato. O sarebbe meglio dire come Crociato.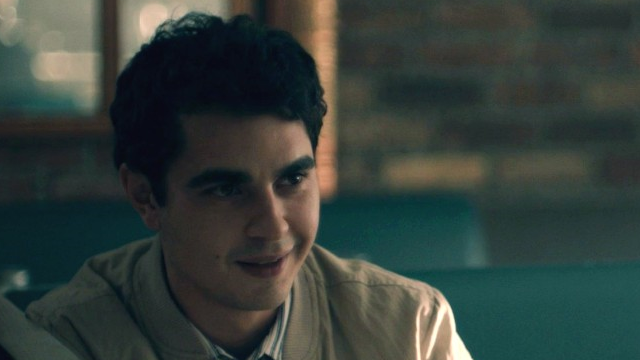 Non una sorpresa se si confrontano la posizione di partenza e quella d'arrivo del suo personaggio. Di certo uno shock per June, che nella sua solitudine si è aggrappata ciecamente a quella che credeva fosse una brava persona. Crolla così l'ultima delle sue certezze. Tuttavia l'informazione su Nick ricevuta dalla delegata svizzera manca ancora di un quadro generale che ci permetta di tirare le somme su questo personaggio. Altresì il suo percorso mostra con efficacia l'essenza di ogni movimento fanatico, che si serve dei deboli e dei disillusi per acquisire supporto. Che fa leva sulla loro delusione e le loro difficoltà per attuare quel lavaggio del cervello fatto di promesse di un futuro migliore per portarli dalla sua parte. È così che capiamo la differenza tra chi come Fred e gli altri comandanti ha usato la propria cultura per creare un mondo per sé stessi in cui valere qualcosa, e persone come Nick, manipolate per fare il lavoro sporco.
E poi ci sono le ancelle. Che non possono scegliere né di agire né di essere manipolate. Ma possono avere un potere ancora più grande: quello di un silenzio imposto.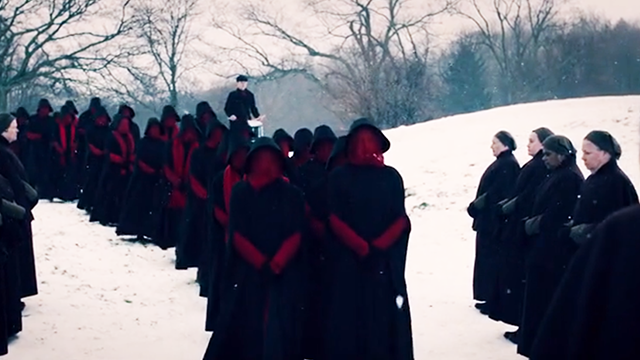 Starà ora a chi guarda da fuori decidere come interpretarlo. Un bavaglio sulla bocca, per quanto limitante, può essere un'immagine eloquente per un paese che deve decidere con chi negoziare. Non abbiamo mai saputo dalla prima stagione se il Messico avesse deciso o no di farlo con Gilead dopo la realtà mostrata loro. Staremo a vedere ora cosa accadrà col Canada. Un paese che ha tutto il diritto di temere ripercussioni militari, come lasciato intendere durante il colloquio con gli svizzeri. Che si trova però a decidere se quello che imbavaglia le proprie donne sia un paese nel quale valga la pena rimandare una bambina, pur rischiando uno scontro armato. Risonanze dal mondo reale provengono evidenti da questo episodio (e se ne è accorta la stessa protagonista!).
Non ci resta che aspettare di vedere fin dove la velata critica sociale di The Handmaid's Tale ha deciso di spingersi.