I fondamenti di teoria della sceneggiatura e della letteratura enunciano che una storia ben scritta ha, al suo interno, un personaggio principale, un'arena o ambientazione e un genere di riferimento. The Handmaid's Tale non fa eccezione: si tratta, d'altro canto, di una delle migliori serie degli ultimi anni.
Non abbiamo difficoltà a individuare il personaggio principale, June, circondata da una serie di attrici e attori fenomenali che interpretano i suoi compagni di sventura. Per quanto riguarda il genere, nelle serie di ultima generazione, è l'ultimo dei problemi: non si parla più di genere al singolare, semmai di un'ibridazione di generi che vanno a creare un insieme di situazioni e di spunti originali e realistici.
L'arena, non abbiamo dubbi, è Gilead. Questo mondo da incubo, che un tempo era gli Stati Uniti, in cui le donne sono sfruttate, uccise, vendute.
Il tema fondamentale di The Handmaid's Tale, ma in fondo la causa scatenante di ogni serie tv che si rispetti, è la tensione che si crea tra June e la sua arena, Gilead. Una tensione che, al momento, è irrisolvibile. June è intrappolata lì, per chissà quanto altro tempo, e se dovesse mai uscirne, probabilmente ciò decreterebbe la fine della serie.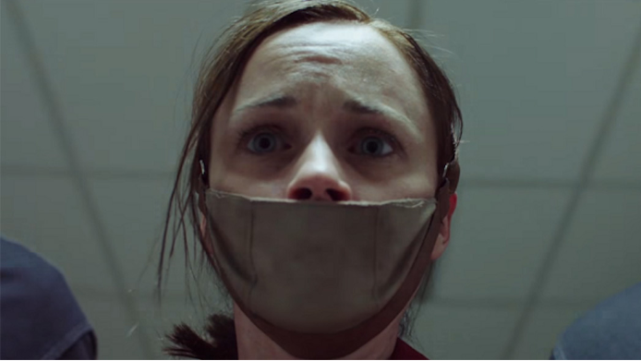 Perché, venendo meno la tensione, la serie collassa su se stessa. June è condannata a restare a Gilead il più a lungo possibile, a soffrire, a lottare, a cercare di scappare, per il diletto e lo sgomento di noi spettatori. Una volta attraversata l'arena, June smetterebbe di essere in tensione verso qualcosa, e The Handmaid's Tale avrebbe esaurito il suo messaggio di resilienza e di rivolta.
Quindi, cosa possiamo aspettarci da un personaggio che ha attraversato l'arena, che è uscito da Gilead?
Emily l'ha fatto. Nella prima puntata della terza stagione è finalmente riuscita a scappare, ad attraversare quel maledetto confine, rischiando la vita per portare in salvo se stessa e la figlia di June. Ora è in Canada, ha riabbracciato la sua famiglia e si sta riprendendo la sua vita. Non sarà facile, ma Emily è una tosta. Forse persino più tosta di June. Lei è una donna d'azione, che agisce di impulso, ma non sprovveduta. Il comandante Lawrence, d'altro canto, ha intuito le sue forti potenzialità e l'ha fatta fuggire.
Lo rinfaccia persino a June: "Lei è importante per questo mondo, può fare qualcosa di grande. Meritava di scappare. Tu non servi a niente". Una frase detta con rabbia, intrisa di meschinità e cattiveria, da un uomo che ancora non siamo riusciti a decifrare. Ma, in fondo, è vera. June appartiene all'arena, la sua permanenza a Gilead è determinante per l'esistenza stessa della serie.
Emily no, ha avuto un'altra chance. Ma cosa ne sarà del suo personaggio, una volta venuta meno la tensione da cui scaturisce la storia? Può davvero esserci un futuro, oltre l'arena? Gilead, in fondo, è un mondo chiuso e soffocante ma lo abbiamo visto più volte, in The Handmaid's Tale, essere capace di ribollire e creare intrecci incredibili da pochissimi elementi.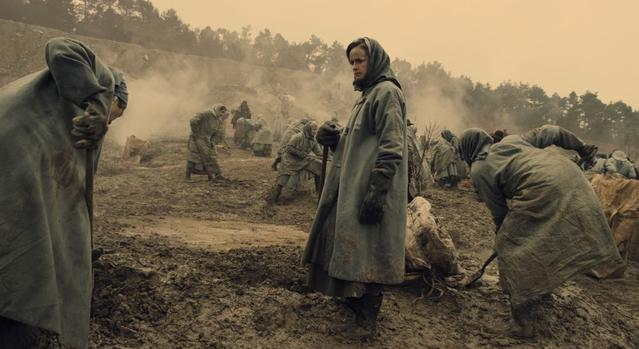 Diversamente l'arena oltre l'arena, il Canada, è una sorta di limbo, in cui si attende, si cerca di rimettere insieme i pezzi, si vive a metà. Paradossalmente, ai fini della trama, vivono più pienamente le ancelle di Gilead. Loro sì, che sono nell'occhio del ciclone. Loro sì che sono dove c'è l'azione.
Un personaggio vulcanico come Emily, deportato al di là del mondo conosciuto, rischia di perdersi. Di smarrire la sua ragione per esistere, di non trovare più uno scopo nell'economia di The Handmaid's Tale. Forse è ancora presto per dirlo, ma la storyline di Emily potrebbe non essere più così interessante, ora che è lontana dagli intrighi e dall'orrore di Gilead.
Per sopravvivere, ai fini della trama, Emily dovrà trovarsi qualcosa da fare. E, ci dispiace per lei, non può essere leggere favole della buonanotte al figlio e ricostruire un rapporto con la moglie. Questo tipo di azione evoca una forte empatia nello spettatore, ma non può durare più di un paio di puntate, a essere generosi. Poi, lo spettatore, vuole di più. Vuole tornare a vedere, metaforicamente, il sangue.
Dopotutto, Emily è stata fatta fuggire per questo. Non certo per il buon cuore di Lawrence, ma perché la sua presenza dall'altra parte continui ad alimentare il fuoco della storia a Gilead. In questo modo, Emily non romperà mai la tensione originaria con l'arena. Noi continueremo a trovare interessante il suo personaggio, e The Handmaid's Tale continuerà a esistere per come la conosciamo.
Giunta ormai alla sua terza stagione, The Handmaid's Tale deve cominciare, diciamo così, a quagliare. Deve iniziare ad arrivare al punto, in virtù del fatto che il suo perimetro d'azione, seppure ricco di spunti, è molto ristretto. Investire nella resistenza potrebbe essere la strada giusta per mantenere l'azione e non perdere l'attenzione dello spettatore. Emily potrebbe, e secondo noi dovrebbe, trovare la sua nuova collocazione lì, al fianco della costola esterna della resistenza.
Pensiamo che il destino di Emily fosse proprio questo, fin dall'inizio. La sua forte spinta pragmatica la porterà ancora una volta a cercare e a trovare la soluzione migliore per tutti. E, soprattutto, non ci priverà di un personaggio straordinario, che ci ha fatto scoprire un lato nuovo e incredibile della sua interprete, Alexis Bledel. Emily resterà in Canada, ma in realtà non è mai uscita da Gilead. E non può che essere altrimenti.
Perché non può esserci vita, in The Handmaid's Tale, al di fuori di Gilead.