Il quarto episodio della terza stagione di The Handmaid's Tale richiama le stagioni precedenti con la struttura narrativa che mette a confronto passato e presente attraverso i ricordi di June. O meglio: l'era pre-Gilead e quella del nuovo mondo creato dai Figli di Giacobbe. La sacralità del Battesimo rappresenta il filo conduttore di un episodio che si sofferma molto sulla percezione del primo dei Sacramenti. La narrazione di June ci permette di fare un confronto tra la solennità pomposa del fanatismo religioso di Gilead e l'informalità di coloro che un tempo potevano permettersi d'esser "non-praticanti". Nel primo caso, con il battesimo della piccola Angela Putnam, assistiamo a una cerimonia che sa di educazione al terrore e rituale di iniziazione. "Crescere un bambino nel timore di Dio" è un monito eloquente per definire le priorità di Gilead.
The Handmaid's Tale ancora una volta vuole farci riflettere sul senso della religione. E precisamente sulla differenza tra un'applicazione cieca e severa e il suo adattamento ai sentimenti umani.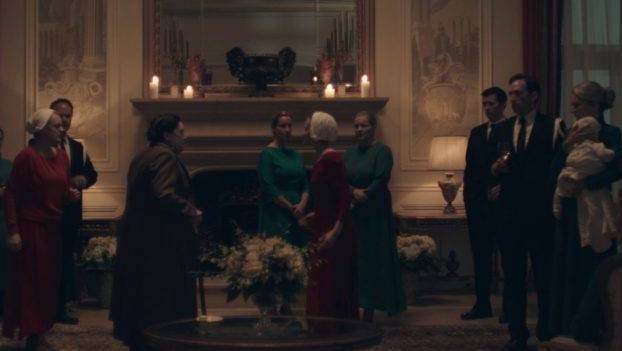 La cerimonia del presente si alterna infatti ai ricordi di June, che ci riportano a quello che fu il battesimo di Hannah. Ma soprattutto ci accompagnano attraverso la percezione di questo rito da parte di una persona che potremmo definire "comune". Una donna non-praticante, forse neanche credente, che decide di rispettare la secolare aderenza della società a cui appartiene a un rito ormai più parte di una tradizione che di una vera credenza. Un sentimento rimarcato dallo stesso Luke a fine episodio, quando assieme a Moira decide di far battezzare Nichole. "Una piccolina che ha bisogno di essere assolta da tutti i suoi peccati". Un richiamo alla nostra realtà. A come la maggior parte di noi non battezzi i propri figli davvero per purificarli dal male, ma più per un senso d'appartenenza a una società. Per quello storico umano pensiero "non ci credo, ma…", per dare al proprio figlio la figura di un padrino.
Un padrino che aiuti i genitori a crescere quel bambino nel timore di Dio, per Gilead. Un padrino che rappresenti una figura stabile e presente per la persona che sarà, nel mondo pre-Gilead. E nel nostro.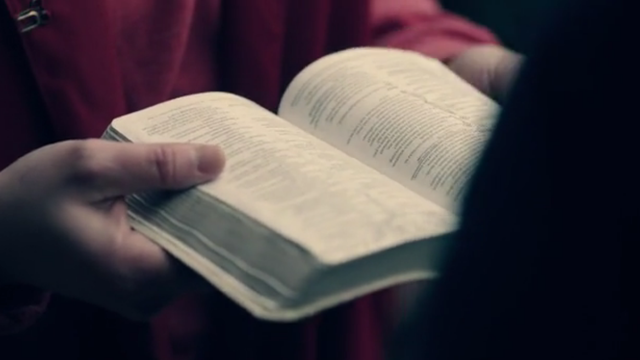 Ma la sacralità dicotomica del Battesimo rappresenta solo il tema di supporto di questo episodio. Il quarto capitolo di The Handmaid's Tale 3 pone l'accento sull'enorme onda d'urto che è capace di generare l'amore nelle sue forme più pure. Lo fa rimarcando il mancato rimpianto di June per non essere scappata quando ne ha avuto l'occasione. "Finché sono qui c'è speranza di rivedere Hannah". Solo lo sconfinato amore di un genitore potrebbe portare una persona a rinunciare alla salvezza pur di non abbandonare la possibilità di guardare anche solo da lontano il proprio sangue. Lo stesso tipo di amore senza ragioni che spinge Janine, seppur nell'incoscienza della sua pazzia, a rischiare ancora le peggiori delle pene. Tutto pur di riabbracciare la sua bambina. Richieste impensabili per lo spietato sistema di Gilead, come tornare a essere Diwarren, pur di stare accanto a sua figlia.
Un amore tanto intenso da fare risultare – forse – per la prima volta innaturale la reazione violenta di Zia Lydia verso Janine. Una scena dai toni crudi tipici di The Handmaid's Tale, che però mette in luce tutte le più sottili falle del sistema di Gilead.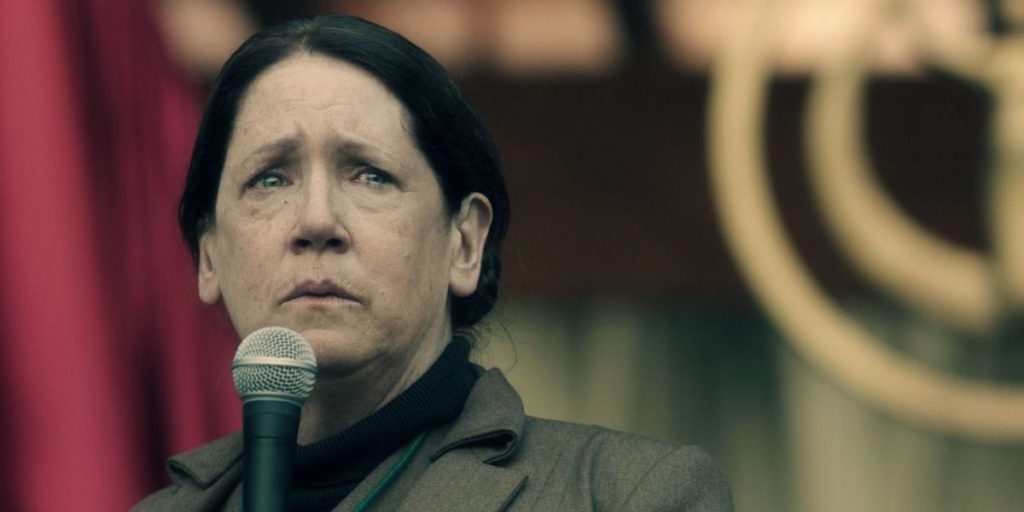 L'impossibilità di reprimere l'amore, e le conseguenze di un odio mascherato di conservatorismo e devozione. Un sistema che inizia a scricchiolare anche agli occhi di chi si è adoperato per crearlo. Serena Joy, una volta patite sul proprio corpo le conseguenze della repressione, ne coglie non solo l'ingiustizia ma il paradosso stesso. Donna forte e indipendente relegata al ruolo di corpo senza voce né influenza, confinata in casa alle prese con passatempi mai considerati. La sua epifania, combinata alle manipolazioni di una June che ha deciso di resistere, potrebbe essere la chiave per ribaltare "quel sistema di m***a". Ma la sua evoluzione è agli albori, e per ora abbiamo solo pochi ma importanti segnali. Una sigaretta offerta, un suggerimento su come vedere Hannah.
Non sappiamo ancora se Serena abbia indossato il vestito atto a recitare una finzione nella finzione di The Handmaid's Tale. Ma i segnali ci sono.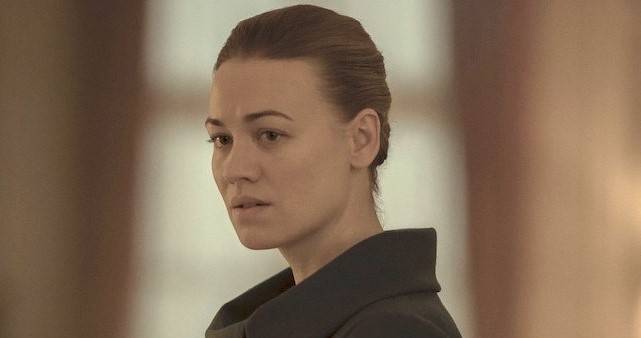 Intersezione tra le devastanti conseguenze di Gilead e la potenza dell'amore è invece la storia di Emily, esempio di un lieto fine dal gusto un po' amaro. Emily – interpretata da una bravissima Alexis Bledel – è di nuovo al centro di una delle più commoventi sottotrame di The Handmaid's Tale. Il tortuoso cammino affrontato l'ha riportata finalmente a casa: dalla sua famiglia. Ma non è tutto oro quello che luccica. Abbracciare le persone amate dopo anni di lontananza potrebbe sembrare la cosa più semplice del mondo, ma non dopo le prove che Emily ha dovuto affrontare. Il disturbo da stress post traumatico da cui è evidentemente affetta richiede che si prenda il suo tempo per tornare alla normalità. E anche un piccolo assaggio di questa, come leggere una storia della buona notte al proprio figlio, risulta quasi schiacciante.
La paura che tutto non sia più come prima e che i sentimenti siano cambiati sono qualcosa di arduo da affrontare. E uno spirito già pesantemente provato come quello di Emily necessita tempi d'assimilazione più ampi.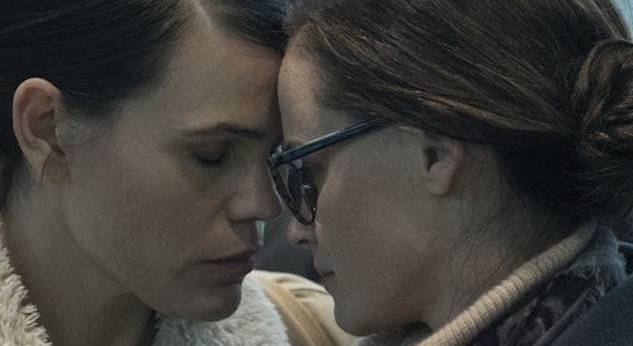 In questo episodio, The Handmaid's Tale vuole mostrarci di nuovo, come fu per Moira, le conseguenze del disastro. L'inquietudine che accompagna la nostra empatia con chi vive ancora sotto il regime di Gilead si mescola a quella per ciò che viene dopo. Scappare non è tutto. Alla lotta per la salvezza segue poi una lotta per la vita, per la riconquista della propria normalità. E chiedersi come possa tornare tutto normale dopo un'esperienza come quella delle ancelle, risulta spontaneo. Ma non può esserci altra scelta. Chinare il capo davanti alla follia di Gilead è impensabile. Quello spiraglio di luce che è il rinnovato rapporto tra June e Serena, ora unite nella perdita, è tutto ciò in cui riponiamo le speranze.
D'altronde, lo hanno capito gli stessi comandanti di Gilead: "Quelle intelligenti sono un problema".
Per fortuna.