The Flash è una Serie Tv che condivide lo stesso universo di Arrow. Introdotto nella seconda stagione dell'arciere, ora "the fastest man alive" è protagonista di una delle serie di punta della CW, la prima produzione a tema che (con tutte le attenuanti del caso) ha reso giustizia a un personaggio dei fumetti molto amato che in TV non ha mai avuto un grande successo. Per chi non lo sapesse, infatti, prima della Serie firmata Greg Berlanti, si tentò un approccio più maturo e decisamente meno scanzonato al mito di Flash, con una produzione che fu trasmessa solo per un anno sulla CBS e che poi, a causa di scarsi ascolti, fu cancellata miseramente.
Giunto alla quarta stagione, The Flash continua a mietere consensi ed è un dato di fatto che, ormai, la Serie Tv ispirata ai fumetti della DC è nettamente superiore ad Arrow.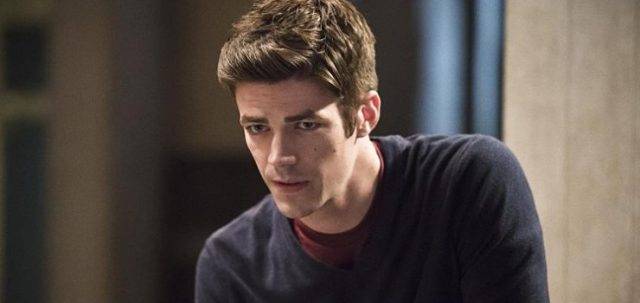 Grant Gustin, nel ruolo di un carismatico Barry Allen, è riuscito a regalare il giusto spessore a un protagonista dal grande acume, ma questo non significa che non venga riservato spazio per gli altri personaggi. The Flash è prima di tutto una Serie Tv corale che punta sul lavoro di squadra.
Ha le sue pecche, questo è pur vero, talvolta può risultare superficiale o forzata per determinati espedienti narrativi ma a conti fatti è la prima produzione a tema che, in quanto a profondità ed emozioni, può sfidare qualsiasi produzione ispirata al mondo dei fumetti (prodotta per un canale terrestre) perché parla il linguaggio dei giovani. The Flash è, anzitutto, una serie solare, un trionfo di luci e colori. Non è detto che tutte le Serie Tv (o i film, e i riferimenti non sono puramente casuali) con protagonisti dei super-eroi debbano essere brutali, violente e oscure. Sotto questo punto di vista The Flash si diversifica molto e trova, grazie a questo cambio di direzione, il modo di distinguersi dalla massa.
La Serie ha una fotografia luminosa e calda, caratteristiche che traspaiono non solo dai luoghi in cui gli episodi vengono girati (come gli Star Labs, la stazione di Polizia oppure il piccolo appartamento di Barry), ma anche dal look dei protagonisti, dai loro atteggiamenti e soprattutto da quell'inossidabile ottimismo con il quale affrontano le sfide di tutti i giorni. Diversamente dal #TeamArrow (che, seppur vincente anche lui per caparbietà e ilarità, troppo spesso viene messo di fronte a scelte etiche di grande impatto emotivo), quello capitanato da Flash è infatti più scanzonato, è meno competitivo, quasi si diverte a dare la caccia ai criminali e sperimentare nuovi aggeggi elettronici.
È un gruppo che rispecchia fedelmente le intenzioni e dello show, che cresce insieme al protagonista stesso e non passa mai in secondo piano, integrandosi alla perfezione nella storia. Questo particolare rende The Flash una serie corale appunto, cosa che in Arrow non potrà (forse) mai accadere.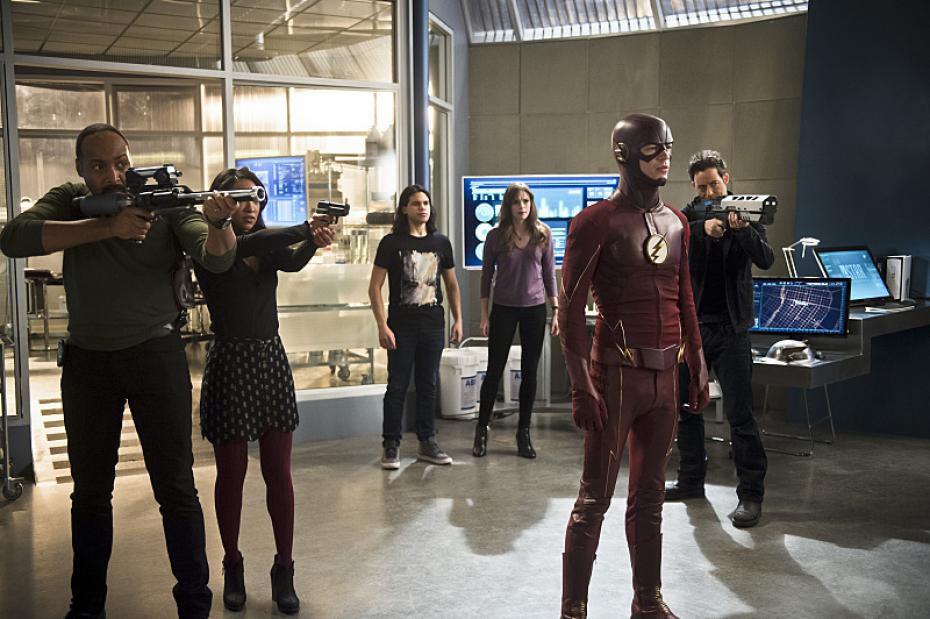 I rapporti interpersonali sono di vitale importanza in The Flash, soprattutto quelli che riguardano la famiglia. Essendo il protagonista orfano di madre e con un padre in prigione (almeno nella prima stagione), il detective West ha accudito e cresciuto il giovane Allen. Tematiche come i rapporti familiari che permettono alla Serie Tv di rimanere saldamente ancorata alla realtà dei fatti, è un espediente narrativo per dare spazio ai sentimenti dei singoli personaggi, per essere approfonditi, studiati e coglierne le sfumature.
Anche questa particolarità è presente in Arrow ma gli eventi ne hanno logorato le fondamenta. 
La Serie Tv dedicata a The Flash merita attenzione non solo per la concezione di un eroe bello sì ma umano e pragmatico, ma soprattutto perché Greg Berlanti non ha fatto altro che celebrare tutti i lati positivi di Smallville contestualizzandoli secondo gli usi e costumi della serialità moderna. È una produzione vicina alla generazione di oggi, a quelli che si emozionano con poco, a quelli che sono geek ma con la voglia di crescere, ma soprattutto è dedicata a quelli che non smettono mai di sognare, per quei giovani che nonostante tutto credono di poter realizzare le proprie aspirazioni.
E non solo si deve ringraziare Greg Berlanti ma il merito è soprattutto di Grant Gustin; l'attore è stato in grado di far suo il personaggio, tra momenti ilari ed estremamente drammatici. Orfano, fratello, amico, innamorato e anche villain. Grant Gustin ci ha regalato in questi quattro anni versioni diverse di un personaggio che acquisisce così tridimensionalità e con il quale possiamo entrare in empatia, diversamente dal "fratello maggiore" Arrow. Un no comment mi sembra qui dovuto riguardo la recitazione di Stephen Ammel.
Dove c'è un super-eroe, poi, si sa ci sono storie di avventure al limite dell'assurdo, personaggi con poteri misteriosi e così via. Lo sci-fi o il fantascientifico come dir si voglia, in The Flash è il motore stesso della vicenda, quella particolarità che ha distinto questa Serie dall'universo di Arrow e ne ha forse decretato il maggior successo. La Serie Tv si è sempre trovata a suo agio con il lato fantascientifico e l'incrociarsi con Arrow nei famosi cross-over non ha fatto altro che far intravedere tutti i difetti della serie 'madre'.
Grazie a tutti questi elementi The Flash finisce per regalare all'universo televisivo uno show che va ben oltre il mero intrattenimento.