The end of the f***ing world è una serie televisiva britannica andata in onda nel 2017 che sin
dalla sua uscita ha suscitato un incredibile successo di pubblico e di critica.
È di certo un prodotto ben confezionato, merito sicuramente di un'impeccabile regia. La serie presenta una fotografia curata, delle ottime ambientazioni, una sceneggiatura dal ritmo serrato che non risulta mai noiosa e dei personaggi tutto sommato ben caratterizzati. Per non parlare poi della splendida colonna sonora, in cui spicca We might be dead by tomorrow della cantautrice francese Soko (in questo articolo trovate le migliori colonne sonore delle serie Tv).
Ma cos'è che non funziona in The end of the f***ing world?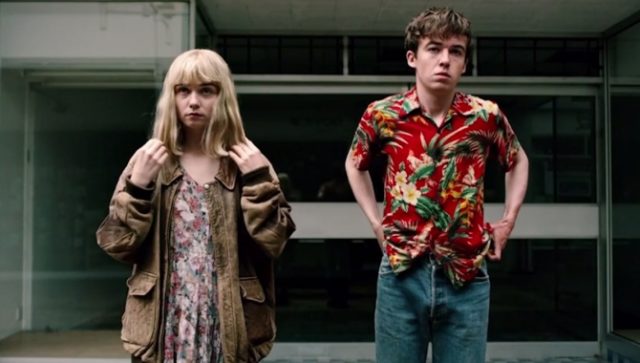 Se la confezione è ben curata, il problema è da ricercare nel contenuto, e quindi nella
sceneggiatura.
La serie presenta una prima stagione (la seconda deve ancora uscire) composta da
otto episodi da una ventina di minuti ciascuno che la rendono ideale da guardare in binge
watching. L'incipit della serie – che ha da subito catturato il mio interesse – vede come
protagonista un ragazzo di nome James alle prese con i normali problemi dell'adolescenza:
cercare il soggetto ideale da uccidere per soddisfare le proprie tendenze omicide. La scelta
ricadrà su Alyssa, una ragazza ribelle che si legherà a lui fin da subito.
Inutile dire che tutte le mie speranze di un prodotto che desse finalmente una rappresentazione inedita della figura dell'adolescente sono state del tutto disattese. Alyssa convincerà James a fuggire insieme e il ragazzo accetterà nella speranza di trovare la giusta occasione per ucciderla. Dopo una serie di disavventure, da aspirante serial killer James diventerà killer a tutti gli effetti quando si ritroverà a dover compiere un omicidio per salvare la vita di Alyssa. Questo evento segnerà il punto di non ritorno per i due ragazzi. Da questo momento in poi inizierà la vera e propria fuga accompagnata da un (ingiustificato) crescendo di violenza che raggiungerà il proprio culmine nel tragico finale.
Quello che in un film come Thelma & Louise funzionava perfettamente, qui risulta forzato. Nel film di Ridley Scott le due protagoniste diventavano il capro espiatorio di una società ingiusta nei confronti delle donne e profondamente maschilista. Insomma, nei loro gesti di rabbia e ribellione si facevano portavoce dell'intero genere femminile oppresso.                                                                                In The end of the f***ing world, invece, la storia di una fuga che si trasforma in una spirale di violenza senza possibilità di ritorno funziona meno.
Anzitutto, la storia non è particolarmente originale.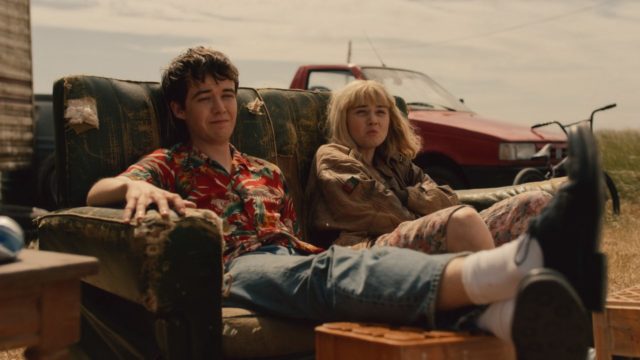 I due protagonisti, come dei moderni Romeo e Giulietta, – ho l'impressione che non sia un caso che il ragazzo dopo la sua "trasformazione" indossi una camicia a fiori proprio come Leonardo di Caprio nel film Romeo + Juliet – lottano in questo caso non per salvare il proprio amore impossibile ma per fuggire da una famiglia che non li capisce e da una società "inquadrata" a cui non sentono di appartenere.
Alyssa: Per me stiamo nella città più noiosa del pianeta!

James: Già… probabile.

Alyssa: Qui non c'è nessuno che non sia inquadrato!

James: Beh, sai… avere dei soldi li rende tranquilli.

Alyssa: Sei noioso anche tu?

James: No.
In secondo luogo, il problema è che la loro ribellione appare poco giustificata e appunto forzata.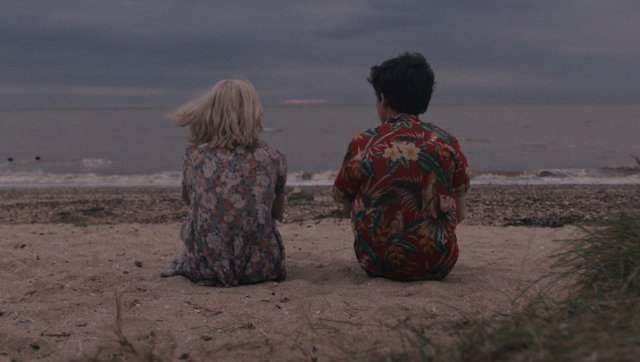 Se il ragazzo, poi, all'inizio della serie viene presentato come un potenziale psicopatico, nel giro di
pochi episodi questa (a mio avviso) allettante premessa viene completamente stravolta. James
finirà presto con l'affezionarsi e l'innamorarsi della ragazza, mentre le sue tendenze omicide
verranno del tutto abbandonate dopo aver ucciso per legittima difesa. Da questo momento in poi
non ci sarà più alcun accenno aq uello che poteva essere uno degli elementi più interessanti e originali della serie. La presunta psicopatia di James si è rivelata essere un espediente narrativo (che ci indirizza nella direzione sbagliata).
Ma quello che a mio avviso manca di più in questa serie è un'anima.                                        La profonda incongruenza e, a tratti, apatia dei personaggi finisce infatti col renderli antipatici e questo ci impedisce di empatizzare con loro. Quella che sulla carta sarebbe potuta essere una storia d'amore e di ribellione adolescenziale di profonda dolcezza raccontata attraverso uno sguardo intimista – aiutata anche da una splendida colonna sonora – ha finito purtroppo col risultare "apatica" proprio come i suoi personaggi.