Nel gennaio del 2018 usciva su Netflix The End of the F***ing World, la Serie Tv britannica acclamata dalla critica. Seppur molto breve nella sua durata, lo show riuscì a catturare l'attenzione del pubblico attraverso una narrazione atipica e un ritratto adolescenziale fortemente fuori dagli schemi. Si è parlato tanto di The End of the F***ing World e, sebbene risulti una serie intrigante, i suoi punti di forza trovano la loro massima espressione nell'epilogo nel quale convergono in una riflessione soggettiva, tipica di un finale aperto. Lo stesso finale è stato utilizzato nel fumetto dal quale la serie è stata tratta. Completamente in linea con lo stile narrativo usato per il piccolo schermo.
Recentemente è uscita la notizia (qui nello specifico) di un rinnovo dello show, il quale ci delizierà con una seconda stagione. Non sono mancate le reazioni dalla critica, dubbiosa sul risultato di un seguito costruito su una serie pensata come semplice prodotto auto conclusivo. Le domande sorgono quindi spontanee, prima fra tutte la più importante: Cosa dobbiamo aspettarci dalla seconda stagione di The End of the f***ing World?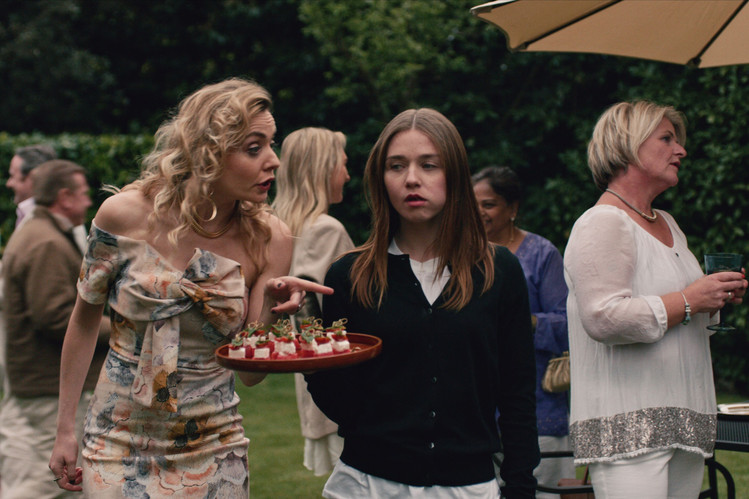 Nel suo epilogo lo show terminava con un colpo di pistola. Una corsa in  un ralenti di James, il quale fugge dai suoi crimini per un fine salvifico. Fugge dal suo passato per rincorrere un desiderio più grande di lui. Una strada percorsa come fosse un gioco, divenuta qualcosa di molto più profondo. James lo sa e corre, disperato, verso un mondo nuovo, sconosciuto ai suoi occhi. Insieme ad Alyssa corre per tendere la mano verso quell'orizzonte che diventa sembra più sfocato e lo schermo diventa nero: Bum! Il colpo di pistola colpisce lo spettatore in maniera forte, inaspettata. Talmente violenta da frantumare ogni convinzione dei nostri protagonisti e regalare un finale amaro ai suoi spettatori.
Tuttavia il suono onomatopeico, le immagini sfuggenti e un finale scritto in modo perfetto sono solo alcuni degli aspetti di un epilogo pensato ad hoc. Gli elementi sono vincenti ma non del tutto concreti, insinuano un dubbio nello spettatore, un vedo non vedo di una conclusione solo apparentemente perfetta. La nostra domanda sorge proprio su questi aspetti, un gioco tecnico voluto fin dall'inizio dal suo creatore e i produttori stessi.
Arrivando al dunque, The End of the F***ing World nella sua seconda stagione potrebbe riuscire a diventare quel racconto esistenzialista che tenta faticosamente di essere nella sua prima stagione. Il proiettile non colpirà mai James, la sua folle corsa potrebbe portarlo fino a quell'orizzonte così tanto bramato. Alyssa, seppur attraverso una differente strada, arriverà alla stessa meta del suo uomo. Riuscirà a fuggire da quella figura paterna che ancora una volta l'ha delusa. Ricomincerà a correre per poter anche lei tendere la mano e toccare il cielo.
Le strade dei due protagonisti saranno questa volta inizialmente separate. La loro esperienza diverrà ancor più formativa. Li attende un percorso di crescita individuale fortemente incentrata sulla solitudine e le sue conseguenze psicologiche nella mente di due adolescenti, i quali sono già per altro tutt'altro che "normali". Tornare, anche se per poco, nell'embrionale condizione dalla quale sono fuggiti, metterà di nuovo in crisi la coppia, la quale sperimenterà una crudeltà del mondo ancor più spietata. Passo dopo passo, confine dopo confine. Il colpo di pistola mancato non sarà una salvezza ma un tormento, il punto di non ritorno di un'ulteriore sfida, il demone di un mondo pronto a spezzarli fino al loro rinnovato incontro, più adulto e più sofferto.
Tuttavia tale speculazione è solo una speranza, il meraviglioso dipinto esistenzialista potrebbe essere un'utopia irraggiungibile. Una forzatura tipica di un successo inconsapevole e inaspettato. Il colpo di pistola potrebbe essere fatale per lo show, distruggendo una storia che tutto sommato si regge bene in piedi anche e sopratutto con il suo finale aperto.
Nera non è solo la commedia. Non è solo il frame conclusivo di una miniserie politicamente scorretta. Nero è il colore dal quale gli sceneggiatori devono fuggire, regalando allo spettatore un'amara desaturazione sulla vita. Una narrazione che non distrugga la concreta evoluzione dei suoi protagonisti ma che anzi ne esalti ogni loro sfumatura. In un racconto in grado di fuoriuscire dal confine auto conclusivo, limitante per le enormi potenzialità dello show.
In conclusione The End of the F***ing World potrebbe essere in grado di stupire e regalare ancora qualcosa di interessante. Le immagini potrebbero prendere una forma più concreta e distruggere ogni dubbio. Regalando al pubblico la perla definitiva che merita di essere lo show britannico di Netflix. Oppure potrebbe essere il disastro e distruggere una serie cristallina e spontanea nella sua tanto semplice quanto efficace conclusione.