Dopo averci fatto attendere per ben due anni, questo autunno arriverà finalmente la terza stagione di The Crown con tantissime novità, a partire dal cast, completamente nuovo e all'inedito periodo storico analizzato.
Questa lunga attesa finalmente finirà il 17 novembre 2019, data in cui la terza stagione verrà resa disponibile su tutte le piattaforme Netflix.
Alla fine della seconda stagione ci eravamo congedati con i regnanti nel 1964, alla nascita del quarto e ultimo figlio Edoardo.
La terza stagione farà un piccolo salto temporale, interessandosi degli eventi storici e biografici della Corona intercorsi tra il 1970 e il 1979.
Proprio in quegli anni si verificò il primo incontro tra Carlo e Camilla nel 1971 e il divorzio di Camilla nel 1979, liason, quella dei due celebri amanti, che verrà approfondita nella nuova stagione come ha confermato il consulente storico della serie Robert Lacey.
Se quindi le prime due stagioni si sono focalizzate principalmente sul matrimonio tra Elisabetta e Filippo, la terza stagione si concentrerà maggiormente sui figli della coppia, primo su tutti Carlo.
Parte della trama, sarà inoltre focalizzata sull'ascesa del primo ministro Harold Wilson e sulla fine del matrimonio tra Margaret e il tenebroso fotografo Anthony Amstrong-Jones.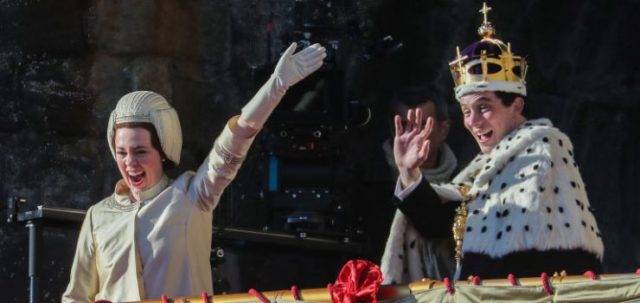 Come già annunciato, a cambiare non sarà solamente il periodo storico, ma anche e soprattutto il cast principale al completo.
L'idea iniziale di The Crown è sempre stata quella di fare un cambio del cast totale una volta ogni due stagioni, in modo da poter rappresentare al meglio i cambiamenti fisici dei suoi protagonisti, pertanto gli attori che vedremo in questa nuova stagione ci terranno compagnia anche per la prossima.
Ad interpretare la regina Elisabetta II non vedremo più Claire Foy ma il premio Oscar Olivia Colman, allo stesso modo, ad interpretare il principe Filippo non sarà più Matt Smith ma Tobias Menzies. Così come la principessa Margaret, ora interpretata da Helena Bonham Carter.
Insomma, adesso non ci resta che aspettare il 17 novembre, che saranno mai in fondo tre mesi di attesa adesso?