Trovandomi a recensire il nuovo episodio di The Big Bang Theory, mi sono trovata parecchio in difficoltà. Non so da che parte iniziare, né tantomeno come definire la puntata. Premetto che ho lasciato passare un paio di giorni per permettere a più persone possibili di guardarla per poter controllare le valutazioni degli utenti su TV Time. Volevo che il risultato fosse il più veritiero possibile e devo ammettere di non essere rimasta molto sorpresa. La 12×14 si è aggiudicata un 6.0/10, in calo considerato che neanche mezz'ora dopo era diventato un 5.8/10. Di gran lunga l'episodio con il punteggio più basso nella storia della serie (sì, sono andata a controllare).
Di certo non siamo ignari delle critiche mosse alla sitcom relative al suo crollo di qualità. Ma è sempre difficile generalizzare, soprattutto con una comedy con così tanti episodi. Parte del feedback negativo, o quantomeno non negli standard a cui eravamo abituati, è dovuto al particolare momento che noi fan stiamo vivendo. È l'ultima stagione e ce ne siamo fatti una ragione. Sappiamo che abbiamo gli episodi contati e siamo costretti a vedere un episodio che risulta essere leggero e scollegato dalla trama principale della serie. Ovviamente la cosa non ci è piaciuta.
Ma vediamo cosa ha reso questo episodio così poco piacevole.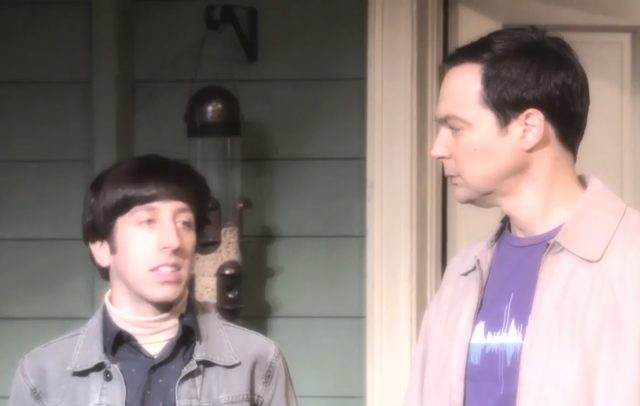 Per cominciare, come già detto, non accade assolutamente nulla. Quando si parla di nulla cosmico ci si riferisce proprio a questo. Da un lato troviamo Leonard. Il dolce e tenero Leonard che non sempre viene apprezzato e che abbiamo imparato ad amare per la sua umiltà e perché non ha mai preteso di essere al centro dell'attenzione. Bene, in questo episodio di The Big Bang Theory  si comporta diversamente. Leonard si stanca di questo trattamento quando tutti si interessano a un meteorite che sta studiando Bert, invece che al suo nuovo laser. Da lì partono diversi tentativi di ricerca di attenzione da parte del fisico sperimentale che arriva perfino a sognare di rubare il meteorite per romperlo con il suo laser e venir infettato da un virus alieno.
Cose dell'altro mondo. 
Dall'altro lato, è stata leggermente più interessante la storyline di Howard e Bernadette, alla quale si è poi aggiunto Sheldon. La coppia ha un nuovo vicino che non rispetta però le regole e fa costruire un balcone che dà direttamente sul loro patio. Il Dr. Cooper, da maniaco delle regole quale è, aiuta i suoi amici a risolvere la situazione. Certo, ha fatto piacere vedere Sheldon di nuovo così fissato con qualcosa. Ma è stato abbastanza? No. Nemmeno Stewart e Denise, notoriamente due uragani, sono stati all'altezza. Sicuramente le risate che ci hanno fatto fare i due hanno influito poco sulla riuscita o meno dell'episodio che, a dirla tutta, è da record per la valutazione più bassa nella storia della serie. Ma non esiste solo TV Time.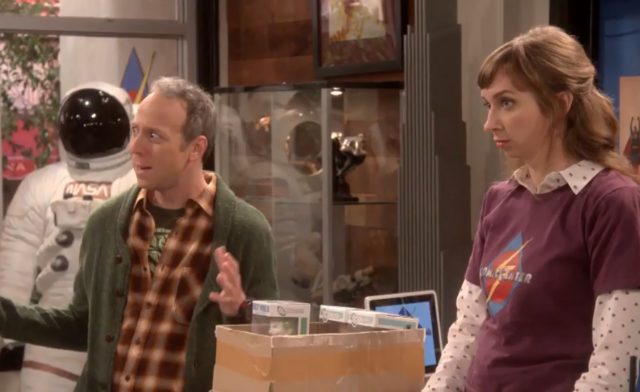 Io ho sempre difeso The Big Bang Theory a spada tratta.
Quando la gente ha cominciato a esprimere il suo disappunto, non concordavo. Sicuramente ho riconosciuto quelle differenze che hanno reso le prime stagioni migliori delle ultime. Ma non ritenevo che bastasse quello a condannarla. Ecco, questo episodio è strano, un'anomalia. Non ha convinto del tutto. È stato il primo che ha fatto riflettere sulle critiche che sono state mosse alla serie. Vero è che siamo vicini alla fine e pensare a questo adesso ha poco senso.
Mancano solo 10 puntate alla fine di The Big Bang Theory.
Dal trailer che abbiamo potuto vedere ci sarà da leccarsi i baffi. Sicuramente questo episodio è stato solo un caso isolato che, viste le circostanze, ha pesato di più sul giudizio del pubblico. Ma non affrettiamoci a dare tutto per perso e godiamoci il resto della stagione.