I fan di Star Trek lo aspettavano da tanto e finalmente il sogno si è avverato! Dopo Leonard Nimoy e Will Wheaton, anche William Shatner, il Capitano Kirk, sarà una guest star di The Big Bang Theory. Non abbiamo ancora una data precisa, ma l'episodio in cui apparirà il Capitano sarà di certo quello a tema Dungeons & Dragons. Non è la prima volta che vediamo i nostri protagonisti impegnati nel famoso gioco fantasy, ma di certo gli sfidanti famosi faranno una grande differenza.
Shatner non sarà l'unico ad essere coinvolto nella battaglia finale del gioco di ruolo; con lui troveremo altri nerd del mondo televisivo: Kevin Smith, Joe Manganiello e ancora una volta Wil Wheaton, l'arcinemico di Sheldon. In particolare Manganiello è talmente tanto un fan di D&D da aver coinvolto anche la moglie, Sofia Vergara, nella sua passione e ha trasformato una parte della cantina di casa sua in un area di gioco.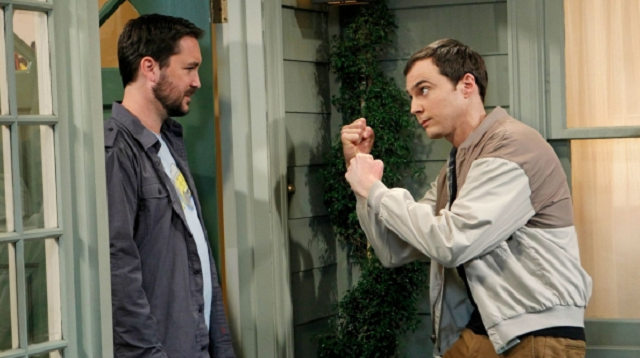 Shatner ha confessato di essere stato contattato anche in passato per partecipare a diversi episodi di The Big Bang Theory.
Come mai non l'abbiamo mai visto? In alcune occasione l'attore ha affermato che:
Volevano farmi interpretare un ruolo che non mi sembrava adatto a me. Non era giusto.
Si dice che Shatner avrebbe dovuto portare in scena una parodia di se stesso, cosa che probabilmente non gli è andata a genio. Questo crea solo una maggiore aspettativa per la sua comparsa delle prossime settimane: se questa volta ha accettato, cosa dobbiamo aspettarci da lui?
La presenza di tutte queste guest star di alto livello, condensate in pochi episodi, ci conferma che The Big Bang Theory vuole una conclusione esplosiva, che i fan possano ricordare con entusiasmo anche negli anni a venire. Dopotutto da una sitcom così seguita e amata non potremmo aspettarci niente di diverso.