Quando ci si trova dinnanzi a una serie tv come The Americans si possono avere principalmente due reazioni. La prima, più superficiale, potremmo dire "di pancia", è quella di farsi scoraggiare dai tempi drammaturgici. Troppo lenta e compassata, piena di silenzi, con dinamiche interpersonali che attraversano episodi e stagioni. Noiosa. La seconda, più profonda, è la consapevolezza razionale e critica di trovarsi immersi in un prodotto tecnicamente magnifico. Sceneggiatura, regia, fotografia e ovviamente recitazione a un livello raro. Non solo tra le serie tv.
Come sarà stato chiaro chi vi scrive è un estimatore incondizionato di The Americans. Il caso ha voluto che il primo pezzo scritto per Hall of Series fosse proprio su questo ammaliante prodotto della FX (qui, se vi va, l'articolo). Eppure anche io nell'elenco di pregi tecnici che vi ho elencato ho colpevolmente mancato i costumi.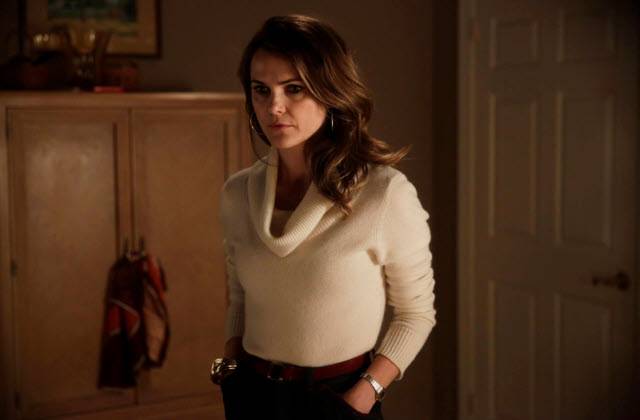 Le ragioni per questo sono probabilmente riconducibili al fatto che The Americans non rientra tecnicamente nelle serie che consideriamo "in costume". Anche se è ovvio che tutte le serie sono "in costume", ma non divaghiamo. La distanza temporale degli anni '80 rispetto all'oggi è ancora troppo breve (seppur tre decadi si fanno sentire!) quindi siamo portati a non sottolineare a pieno questo elemento. Oggi voglio provare a porre rimedio a questo. E per farlo cercherò di portare alla vostra attenzione, come avrete facilmente intuito dal titolo, un singolo, ma determinante esempio: Elizabeth Jennings.
Quando si assapora The Americans non si può evitare di rimanere ipnotizzati dall'immacolata meraviglia che è Keri Russell. Che con il partner, nella vita e in scena, Matthew Rhys forma una coppia straordinaria. L'attrice inizia a interpreta Elizabeth Jennings a 37 anni, chiudendo la serie a 43: in questo lasso di tempo sfoggia un'infinità di mise, acconciature e trucchi superbi.
Da una parte è una mamma di due figli e dall'altra una spia del KGB che prende, letteralmente, a calci in culo chi le capita a tiro con una splendida criniera di capelli castani lucidi. E lo fa con una costante e glaciale eleganza. Imperturbabile.
Siamo soliti associare agli anni '80 oscenità come body, maglie larghe, spalline enormi e scaldamuscoli, ma nessuno degli abiti più appariscenti del decennio gioca un ruolo principale in The Americans. Sopratutto non per Elizabeth che utilizza, per nascondere la propria identità, sia ai propri figli che all'FBI, una serie straordinaria di parrucche, trench e occhiali senza pretese pur mantenendo sempre uno stile piuttosto sofisticato.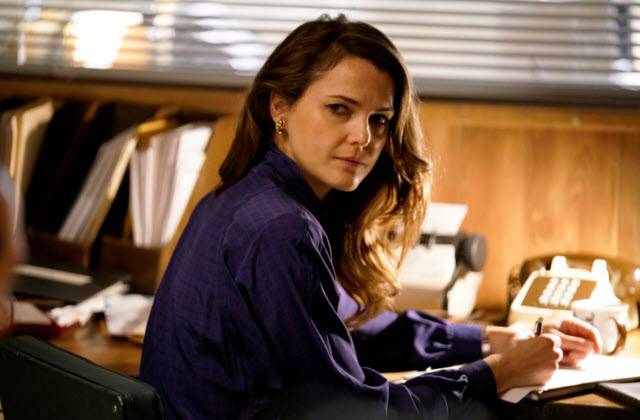 Lo show è ambientato, nella sua prima stagione, in Virginia nel 1981. Il che significa che non ci sono ancora spalline, capelli folli o dichiarazioni di stile, potremmo dire, offensive. Nel 1981 si era ancora molto più legati a un'atmosfera da fine anni '70 e il lavoro della costumista Jenny Gering si è mosso partendo proprio da questa considerazione. Il resto l'ha fatto Keri Russell. Il personaggio di Elizabeth Jennings è impreziosito da eleganti jeans a vita alta, graziosi maglioni di mohair e trench chic, tutti elementi che evidenziano la figura incredibilmente snella dell'attrice e che lei ha saputo valorizzare con una padronanza della sua gestualità e della sua presenza scenica in modo superbo.
Più Nancy Reagan che Madonna, per intenderci. Il gusto di Elizabeth non distoglie mai l'attenzione dalla sua propensione alla violenza. Per esempio, nella prima stagione, indossa con straordinaria padronanza una giacca da moto, in pelle "Rosso Valentino", che su di lei esalta contemporaneamente sia la sua eleganza che la sua ferocia. In altri episodi sono piccoli dettagli che esaltano la sua figura. Come le cuciture a spalla trapunte e alle tasche con cerniera che riescono a dare un tocco femminile alla pelle di agnello nera. Il tutto abbinato a vestiti sobri ed essenziali. In ogni occasione si veste per uccidere.
Elizabeth porta in scena, in modo squisitamente naturale, tutta una pletora di stivali alti fino al ginocchio, camicette di seta e catene d'oro. Tutti elementi che oggi si potrebbero trovare in uno dei tanti "negozietti vintage" di una metropoli come New York. O di molte città del Vecchio Continente. Articoli occasionali o replicati a mano con tessuti migliori.
Quello che resta come costante nel corso delle sei stagioni di The Americans è però la squisita raffinatezza con la quale Keri fa muovere la sua Elizabeth. Un taglio di capelli classico, bei tessuti e, con il suo portamento, rivediamo in lei quel tipo di donna sexy a cavallo della fine degli anni '70 inizio degli '80 che ha conquistato generazioni e pellicole. Lo sguardo e la presenza che riportano alla mente attrici iconiche di quegli anni come Faye Dunaway o Charlotte Rampling. Donne sexy, si diceva, ma che non necessitavano di scioccare o di essere esuberanti per lasciare il segno. Questa è Elizabeth Jennings.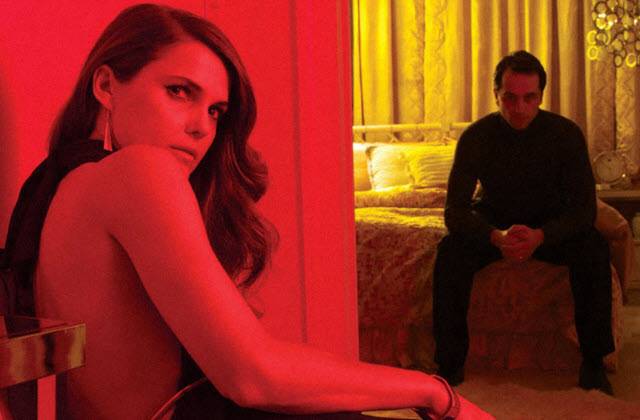 Nei travestimenti necessari per il suo ruolo di spia poi si muove tra parrucche altamente acconciate, occhiali, sopracciglia allungate e ogni sorta di abbigliamento provocatorio o monile che impreziosiscono i nostri schermi e sguardi.
L'abbigliamento in The Americans è parte integrante la drammaturgia della serie. Non è orpello o vezzo. Risulta invece un elemento essenziale e determinante la costruzione stessa dei personaggi. E su tutti quello di Elizabeth. Che siano abiti da casa, scelti oculatamente per non dare nell'occhio, o vestiti eleganti e raffinati degni di un ricevimento in Ambasciata, Elizabeth li porta con una raffinata consapevolezza. Una padronanza del proprio corpo e delle sue espressioni che vengono esaltate e celebrate dai suoi abiti. Un'eleganza naturale e innata da mozzare il fiato. Elizabeth lo sa. Non se ne cura in modo civettuolo. Per lei è solo un altro strumento nelle sue mani per uccidere il nemico. Per raggiungere il suo scopo. Tanto quanto la bellezza della tela nella rugiada lo è per il ragno.