4) La morte di Jax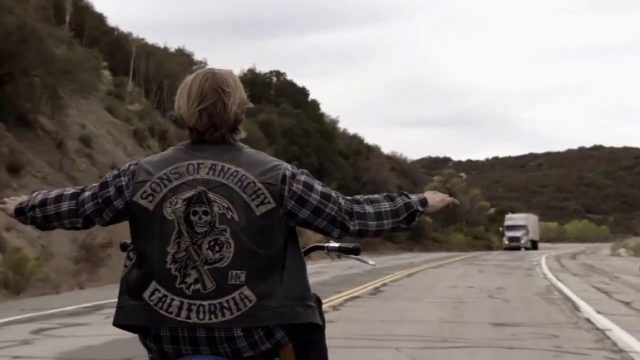 La scena conclusiva di questa incredibile serie televisiva è una di quelle davvero impossibili da dimenticare.
L'immolazione finale di Jax che lo consacrerà (forse) da criminale a eroe è difficile da guardare. Come tutti i sacrifici che abbiamo dovuto vedere in questo capolavoro televisivo, quello di Jax contro quel camion è un frangente che ci ha segnato l'anima.
Abbiamo tempo per digerirlo, un'intera puntata in cui vediamo come tutti i cattivi alla fine ricevano ciò che meritano e come il cerchio alla fine si chiuda per permettere a quelli che restano di prendere una strada diversa da quella sanguinosa già percorsa.
Gli ultimi momenti di Jax sono strazianti e liberatori allo stesso tempo, interminabili e inevitabili perché la fine la intuiamo non appena parte in sella alla sua moto seguito dalle auto della polizia.
Il resto lo fanno le note di Come Join the Murder dei White Buffalo.
5) La morte di Opie
Non potevamo non ricordare la morte che più di qualunque altra in Sons of Anarchy ci è sembrata atroce, ingiusta e immotivata.
L'esecuzione del fedele e leale Opie Winston – a causa dell'ennesimo colpo di testa di Tig e della sete di vendetta di Pope – è stato il momento più amaro e doloroso di tutta la serie, persino più duro della fine di Jax che se non altro ci ha "concesso" qualche minuto in più per accettare la sua scelta.
Il sacrificio di Opie ci ha semplicemente spezzato il cuore, commuovendoci e facendoci infuriare nello stesso istante.
Eh sì, molti di noi non l'hanno mai superata.