Sons of Anarchy è sempre stata considerata da molti come una delle serie più iconiche e difficili da dimenticare prodotte negli ultimi anni.
"Colpevole" un direttore d'orchestra sublime come Kurt Sutter che ha saputo dare ai suoi strumenti un vigore e un'intensità che si sono rivelati impossibili da poter estrarre dal cuore di tutti quegli spettatori che hanno assistito, estasiati, alla sua opera.
Jax, Gemma e Opie (il personaggio più compianto) sono solo alcuni dei nomi che si sono impressi indelebilmente nell'anima di chi li ha conosciuti, perché la loro storia, come quella di tutti quelli che sono gravitati loro intorno, è una di quelle storie tragiche ed emozionanti che ci hanno turbato e commosso profondamente.
Per essere tali, però, certe storie hanno bisogno anche e soprattutto di efficaci antagonisti, e in questo settore Sons of Anarchy è difficile da battere.
Perché anche i più buoni in Sons of Anarchy finiscono per cadere. L'amore puro di una madre come Gemma può diventare tossico se trasmesso da chi i limiti non se li sa porre, così come l'amore verso i membri dei SAMCRO deraglia spesso su binari scorretti e sleali, se trova giustificazioni ai propri tormenti.
Clay Morrow è la stazione perfetta dove questi due binari dirottati finiscono per incontrarsi.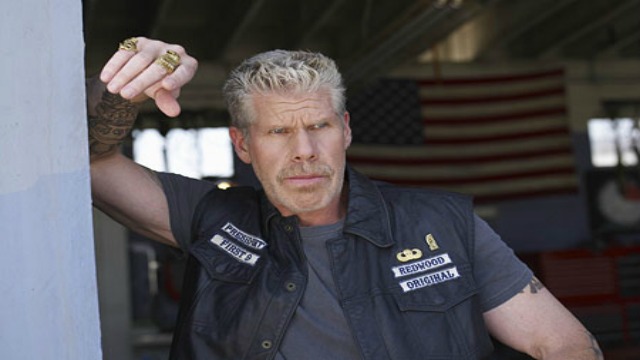 Quando iniziamo la serie conosciamo Clay come un leader forte e carismatico, rispettato e seguito fedelmente dai suoi fratelli. Ammirato da quel figlio che finirà per minacciare la sua leadership fin da subito, fino a sottrargliela.
Amato da una donna che gli perdona tutto in nome di una corona e di una lealtà che verrà tradita solo nel momento in cui diverrà lei stessa una delle sue vittime.
Clay Morrow non è sempre stato un mostro, ha saputo essere un buon leader fino a quando non ha visto la minacciosa alba dell'era di Jax comparire all'orizzonte. Lo abbiamo visto fin da subito macchiarsi di crimini orrendi come quello di Donna, ma anche lo stesso Jax ha preso decisioni impulsive e fallimentari quando ha sentito l'insopportabile odore del tradimento aleggiare nell'aria.
Spesso, i fan di Sons of Anarchy si sono trovati a perdonare errori di Jax che non avremmo perdonato ad altri protagonisti.
E con il suo animo ferito e passionale ci ha convinti ad amarlo ad ogni scelta che ha fatto, giusta o sbagliata che fosse. A Clay non abbiamo mai perdonato niente invece.
Il soldato che, come lui stesso si è definito mentre tentava la carta del perdono con la sua Gemma, quando si pone un obiettivo lo persegue a qualunque costo. Senza fermarsi a valutare le conseguenze delle sue scelte forse influenzate dal peso del comando che ha retto per troppo tempo e che gli ha dato l'illusione di essere indiscutibile.
Il leader indiscusso che non accetta opposizione; il capobranco ormai stanco e invecchiato che non vuole lasciare troppo spazio alle leve più giovani; il marito che tradisce ma che non accetta di essere tradito a sua volta.
Un re che per amore della sua corona si ritrova a distruggere corte e castello senza nemmeno rendersene conto.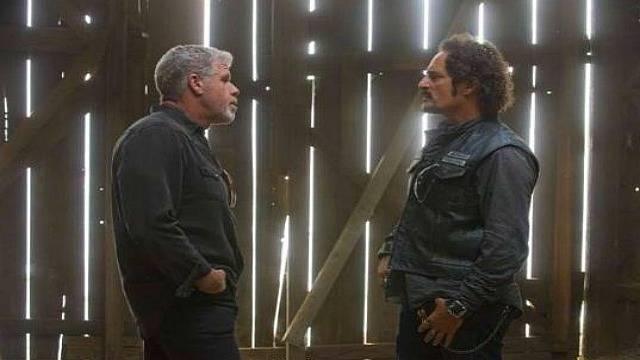 E come tutti i personaggi di questa splendida tragedia moderna non fa che commettere errori per poi tentare di risolverli finendo per crearne di nuovi. Errori che, proprio come per gli altri suoi fratelli, lo condurranno a una morte a cui non tenterà nemmeno di sottrarsi.
Un'esecuzione che accetterà inerme ma a testa alta, come un vero SAMCRO, fissando negli occhi quel figlio a cui ha tolto padre e trono ma che ha comunque amato.
Anche se nel caso di Clay l'amore è qualcosa di difficile da offrire. Perché quel ruolo lo ha sopraffatto al punto tale da fargli dimenticare che essere leader di un gruppo significa avere a cuore soprattutto il benessere di quel gruppo. Che la compassione non ha niente a che vedere con la debolezza e che ciò che ci appartiene non è mai nostro fino in fondo se lo dividiamo con gli altri, e i SAMCRO sono un'unità indivisibile nel bene e nel male.
L'errore individuale di uno finisce per ripercuotersi inevitabilmente sull'intero gruppo. Ogni membro è la tessera di un domino che non può sentirsi mai al sicuro finché le altre vacillano.
Un domino che smette di travolgere ogni pedina sul suo percorso solo quando le tessere più instabili, come Clay e lo stesso Jax, vengono rimosse per sempre.