# #
Chiunque mi conosca un minimo o chiunque abbia seguito i miei articoli su Sherlock qui su Hall of Series sa quanto profondamente io ami questa Serie. Forse perché con i racconti di Doyle ci sono cresciuta, forse perché è scritta per quasi tutto il tempo così bene da lasciarmi estasiata e allo stesso tempo da crearmi enormi complessi di inferiorità (perché, diciamocelo, non riuscirò mai a scrivere così bene), forse perché ha saputo conquistarmi a suon di battute brillanti e recitazione sopraffina come nessuna Serie è ancora riuscita a fare. E io di Serie – e di Serie di alta qualità – ne guardo più di quante mi piaccia ammettere. Ma non posso farci niente, sono una drogata di storie e le Serie me ne offrono in quantità massiccia presupponendo, alla fin fine, 'poco' impegno da parte mia. Tempo, tanto tempo – che spesso non ho!! – ma poco impegno.
# #
Certo, Sherlock BBC non è mai stata una Serie perfetta, temo che nessuna Serie lo sia davvero.
E forse nemmeno nessun libro. Ci sono sempre dei difetti, disseminati qua e là, spesso nascosti talmente bene da non essere quasi percepiti. Ed è giusto che sia così:
se la perfezione venisse raggiunta, non ci sarebbe altro a cui aspirare, no? Perché la perfezione non si può superare, al massimo imitare.
Invece un qualcosa di molto buono, ma non perfetto, si può superare. Ed è proprio qui che nasce la competizione, che spinge ognuno di noi a fare del nostro meglio.
# #
Ma sto filosofeggiando – e non è proprio il campo mio, per cui torniamo a cose più concrete. Sherlock è un'ottima Serie, forse addirittura eccellente, ma ha dei difetti, ovvero tutta una serie di dettagli che potevano essere gestiti meglio. E mi piange il cuore nel pensare che la maggior parte siano ancora più evidenti proprio in questa quarta stagione che abbiamo aspettato così a lungo.
1) I CASI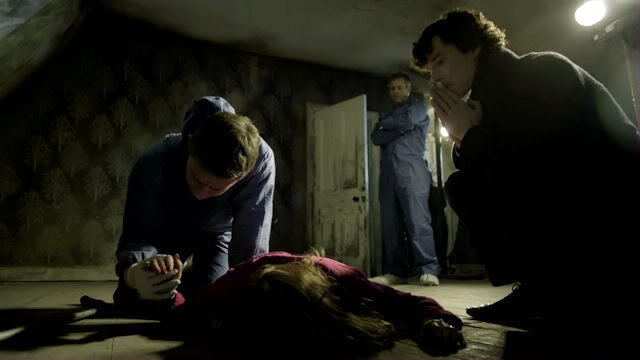 Se fossimo in una serie stile The Affair o Big Little Lies, ovvero in un drama a sfondo crime, i casi di Sherlock sarebbero costruiti 'bene'. O meglio, sarebbero passabili proprio perché non il fulcro della Serie, non il fulcro della puntata. In The Affair, così come in Big Little Lies, non ci importa davvero né chi è morto né chi sia l'assassino, perché alla fine le cose su cui concentrarsi sono altre, ovvero la costruzione sopraffina dei protagonisti, la loro psicologia, gli intrecci tra i personaggi…
E questi elementi sono così presenti in Sherlock che molti – tra cui la sottoscritta – lo considerano proprio un drama a sfondo crime. Ma, a prescindere da quello che noi fan possiamo pensare, la BBC lo inserisce tra i crime drama e ciò fa giustamente accrescere l'aspettativa per quanto riguarda i casi.
E invece sono (quasi tutti) costruiti talmente male che qualunque giallista ve li potrebbe smontare in pochi minuti. E in alcuni casi lo possiamo fare anche noi. Prendiamo come esempio A Study in Pink. Anche per chi non ha letto il canone (anzi, forse soprattutto per chi non l'ha letto) è evidente fin da subito che il colpevole sia il tassista. Gli indizi sono notevoli:
ci hanno fatto vedere le vittime camminare per strada e a una di loro è stato addirittura detto esplicitamente di 'prendere un taxi';
è un taxi a fermarsi da Angelo e ci sono diverse inquadrature della nuca del tassista;
Sherlock si chiede 'chi caccia in mezzo alla folla', 'di chi ci fidiamo anche se non conosciamo'.
Insomma, è talmente palese che mi sono chiesta come possa sembrare credibile che Sherlock Holmes non ci arrivi, specie per come è descritto nel romanzo di Doyle (dove capisce praticamente subito che l'omicida doveva essere un vetturino). Per non parlare del fatto che poco prima c'è stata la scena in cui Sherlock ha spiegato a John come è arrivato a dedurre che è un reduce dell'Afghanistan, semplicemente guardando per pochi secondi lui e il suo cellulare.
Insomma, siamo al limite del nonsense. E credo che anche gli autori lo sappiano, perché la loro prima idea era proprio quella di rendere Sherlock consapevole dell'identità dell'assassino fin da subito, come tutti noi possiamo vedere nell'unaired pilot, presente nei contenuti extra dei dvd. Il cambiamento è dovuto davvero solo a esigenze di tempo? (Il pilot dura 60 minuti e tanto sarebbero dovute durare le puntate, che dovevano essere 6 ogni stagione, prima che la BBC dettasse loro il format delle 3 puntate da 90 minuti.) Perché sarebbe bastato aggiungere forse un paio di altre scene, oltre a quelle del garage e delle vittime ed era fatta…