Se Sex and the City 30 anni fa ha rivoluzionato il modo di raccontare l'amore, il sesso e l'amicizia puntando all'emancipazione femminile quasi più del '68, Sex Education oggi ha restituito all'educazione sentimentale in tv una dimensione meno patinata e più alla portata di tutti, soprattutto delle nuove generazioni.
«C'era una volta una giornalista inglese che venne a New York»
Era così che iniziava il primo episodio di Sex and the City. Era il 1998 quando Carrie e le sue amiche hanno fatto la loro prima comparsa sul piccolo schermo. In 6 stagioni hanno dimostrato alle spettatrici di mezzo mondo che essere single non era una colpa da scontare finendo puntualmente al tavolo dei bambini ai matrimoni, ma anzi voleva dire essere la vera regina dei party.
Quattro protagoniste, quattro diversi tipi di donna: dalla romantica all'esuberante, dalla stacanovista alla festaiola. Tutte ugualmente alla moda, in carriera, estranee da ogni sottomissione maschile, che pur inseguendo l'amore nella sua forma più romantica erano disilluse dalle relazioni di coppia. Carrie e le altre ammettevano i loro fallimenti amorosi senza vergognarsene, per ritrovarsi più indipendenti e meno fragili una volta superato il dolore della fine di una storia.
Quando nel 2000 Sex and the City è arrivata in Italia, ogni giovane donna in possesso di una tv si è spinta oltre il tasto 6 del telecomando – andava in onda su TMC, diventato poi La7 – pur di vedere l'ultimo outfit di Carrie o il nuovo sex toy di Samantha. Un'intera generazione ne è rimasta affascinata e ha giocato a identificarsi in un uno o nell'altro personaggio. Ci si sedeva virtualmente con loro nei bar più alla moda di New York per partecipare alle loro avventure, far parte delle loro discrete ribellioni e lente evoluzioni.
Sex and the City è stata la prima serie a infrangere i tabù con la forza dell'ironia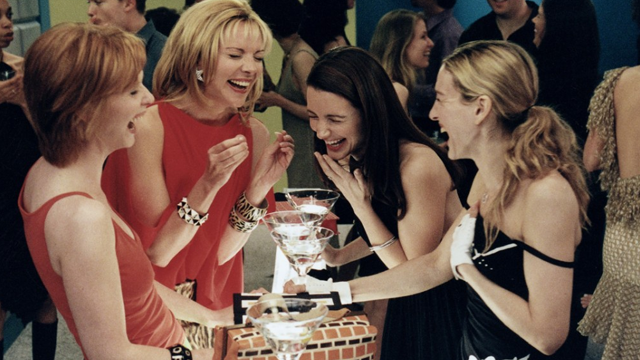 Mixare sapientemente concetti come amore, sesso e amicizia non è stato facile. Create da Darren Star – non a caso lo stesso autore di Beverly Hills 90210 e Melrose Place – le protagoniste di Sex and the City sono state criticate per essersi avvicinate pericolosamente a rappresentare soltanto un cliché dell'abitante medio di Manhattan: bello, giovane e in carriera.
A salvarle una sapiente scrittura. Un'ironia intelligente e sfrontata che per la prima volta nella storia delle serie tv arrivava da un gruppo di donne che parlava non dal club del libro o dal circolo di cucito, ma in ristoranti di lusso dove si ritrovavano a ridere delle loro esperienze con gli uomini. Consce che la strada verso il Principe Azzurro fosse costellata di innumerevoli rospi da baciare.
Carrie e le altre rivendicavano il diritto che anche le donne potessero avere una vita sessuale e che ne potessero parlare apertamente. Relazioni con uomini molto più giovani, desiderare una gratificante vita sessuale, tanto da lamentarsi e scaricare gli amanti incapaci di soddisfarle. E poi vibratori, bondage, masturbazione femminile, ma anche infertilità, cancro al seno, menopausa e mestruazioni: considerando che ancora oggi ci si scandalizza per una pubblicità di assorbenti che gioca sulla rappresentazione degli organi genitali femminili con metafore visive, 30 anni fa si deve dare atto a Sex and the City di aver contribuito a normalizzare l'idea del sesso.
La parità dei diritti passa anche dal letto.
Ascoltare i racconti di quattro donne alla ricerca dell'anima gemella e insieme anche del loro piacere sessuale, era una piccola rivoluzione. Primo perché non erano gli uomini a parlare, secondo perché cambiava la prospettiva, concentrandosi sull'appagamento femminile e non esclusivamente su quello del maschio. Le quattro protagoniste, episodio dopo episodio, hanno raccontato le forme di relazioni sentimentali e sessuali di inizio millennio. Oggi magari non sarebbe stato così scandaloso, ma all'epoca era decisamente controtendenza per una televisione via cavo.
L'educazione sentimentale nel 2020
Negli ultimi 20 anni però le cose sono cambiate. Le donne sono diventate Prime Ministre e hanno condotto Loveline (storico programma di MTV su sesso e sentimenti). Nessuno beve più Cosmopolitan e il negozio di scarpe di Manolo Blahnik a New York ha chiuso i battenti.
Allo stesso modo, si sentiva la mancanza di una serie che avesse la stessa forza nel trattare temi sentimentali che coinvolgessero attivamente lo spettatore, facendolo ridere ma anche riflettere sulla realtà odierna. Una società nuova in cui a parlare di amore, sesso e amicizia non sono più solo le donne in ristoranti di lusso, ma gli adolescenti nei corridoi della scuola. In questo panorama si è imposta la serie Sex Education.
La serie racconta di Otis, un adolescente figlio di una sessuologa che ascoltando le sedute della madre assimila tutto quello che c'è da sapere sul sesso. Inizia così a dar consulenza ai propri compagni di liceo, sopperendo alla scarsa didattica prevista a scuola e mettendosi in società con la bella e problematica Maeve.
Fin dal titolo si capisce subito che il sesso è un argomento importante per la serie, trattato in modo intelligente e originale. Non c'è censura, ma neanche un uso eccessivo solo per chiudere facilmente i buchi narrativi. Ogni personaggio cresce nella storia definendo se stesso durante i problematici anni adolescenziali e trovandosi a sperimentare anche la propria sessualità.
Non manca l'approfondimento di temi delicati e contemporanei come l'omosessualità, la lotta al bullismo, il bodyshaming, il revenge porn, le molestie e le malattie sessuali. Nel racconto non ci sono pregiudizi o luoghi comuni, ma un'abbondante e sapiente ironia con cui tutto viene condito. Pura esplorazione sociale mai volgare od ovvia. In questo si sente molto l'eco delle sagaci battute di Carrie Bradshaw e delle sue amiche.
Perché dopo Sex and the City dovreste guardare Sex Education
Sex Education corregge i difetti del suo predecessore.
Se in Sex and the City le minoranze erano sotto rappresentate e raccontate con stereotipi – vedi i poveri Stanford Blatch ed Anthony Marentino – nello show di Netflix l'omosessualità viene affrontata in modo più naturale. Eric, il miglior amico di Otis, è gay: bullizzato, pestato e insultato per questo. Il suo è il personaggio che evolve più di tutti gli altri nelle due stagioni. Diventa forte, sicuro e fiero di sé, senza nascondersi ma anzi mostrando come sia possibile sconfiggere i pregiudizi e far pace con la propria natura.
Scritta benissimo, divertente, onesta e quasi sempre in grado di affrontare temi attuali con uno sguardo onesto e mai troppo paternalistico. Quando un prodotto è fatto così bene, risulta interessante a ogni tipo di pubblico a prescindere dell'età anagrafica.
A ogni adolescente contemporaneo basterebbe aprire internet per sopperire alla scarsità di informazioni sessuali. Cosa che era impossibile negli anni '90, quando le ricerche si facevano in biblioteca e non su Google. Però neanche oggi si può leggere sul web cosa è il dolore dopo essere stati lasciati o rifiutati, o peggio: affrontare un aborto da minorenni. Più che un'educazione sessuale, si dovrebbe approfondire la propria educazione sentimentale, rendendola più attuale e contemporanea.
Sex Education porta sullo schermo la vita di tutti i giorni nella sua imperfezione. Lontana dalla patina glamour delle serie americane o degli influencer più famosi. E siccome, in fondo, questa è la vita di tutti noi, identificarsi con gli sfigati di un imprecisato liceo dell'Inghilterra è veramente facile.