Era il 1998, quando la HBO mandava in onda, per la prima volta in TV, Sex and the City, la Serie TV più glamour di tutti i tempi. Carrie, Miranda, Samantha e Charlotte, mettendo a tacere stupidi luoghi comuni sul gentil sesso, non hanno solo cambiato il modo di vedere l'intero universo femminile, ma hanno anche riscritto le regole dello stile, ispirando ed influenzando le donne di tutto il mondo.
Sara Jessika Parker, in particolare, è riuscita ad emergere all'interno dello show, e non solo come la protagonista Carrie!
Era lei stessa, infatti, a scegliere il più delle volte i propri outfit rendendo, fin dal primo momento, la nostra Carrie Bradshaw un'icona della moda, capace di rendere immortali stilisti (allora sconosciuti) come Manolo Blahnik, diventato poi famoso in tutto il mondo. Carrie ha lanciato dei veri e propri trend negli anni '90 ma non solo! Ancora oggi, i suoi look continuano a farci sognare, ed alcuni, più di altri, hanno decisamente lasciato il segno!
Vediamo i migliori, e facciamolo tutto d'un fiato, con una full immersion, giusto per non rovinare il momento e goderci "lo scintillio" …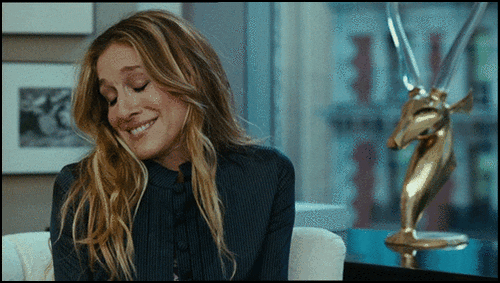 1. L'inconfondibile …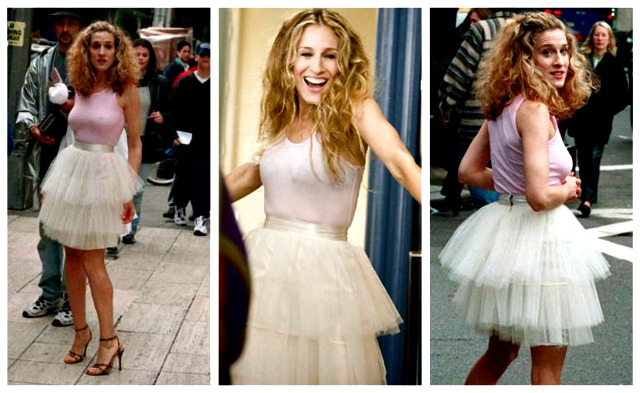 In questa gallery non poteva mancare lui …
Lo abbiamo visto la prima volta che la sigla è andata in onda, e ci ha accompagnati fino alla fine.
Il tutu bianco di Carrie Bradshaw è un must! Una fan di Sex and The City lo riconoscerebbe tra mille.
2. Fantasia in verde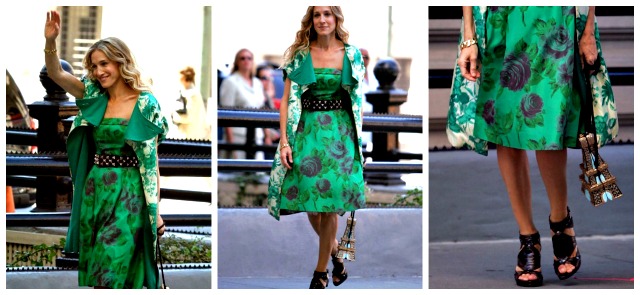 Carrie lo indossa il giorno in cui va a vedere la casa che Mr. Big decide poi di comprare per loro.
Una fantasia sui toni del verde impreziosita da un dettaglio che non passa di certo inosservato: la borsa Tour Eiffel di Timmy Woods, così tipicamente Bradshaw!
3. Ultima notte a Parigi
Ricordiamo tutti le ultime ore passate a Parigi, la nostalgia di casa e l'incontro con Mr. Big.
Carrie decide di lasciare Petrovsky e di tornare a casa, e lo fa, come sempre, in grande stile.
4. Carrie is back!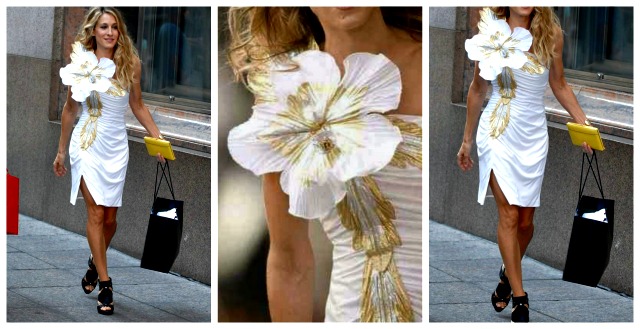 Quando è stato annunciato, dopo anni della fine della Serie TV, che Sex and the City sarebbe diventato un film, beh! Tutte ci aspettavamo un ritorno di Carrie Bradshaw sugli schermi molto simile a questo!
È il vestito che riapre le danze!
E, ammettiamolo, è stato amore a prima vista!