Ormai è ufficiale, il revival di Sex and the City si farà! La celebre serie cult targata HBO riapre i battenti pronta ad accettare la controversa sfida dei revival, che non sempre ha portato molta fortuna alle serie che si sono cimentate con il ritorno sulle scene.
Sappiamo già che l'indimenticabile quartetto non verrà ricomposto, a causa della ormai dichiarata rivalità tra le due protagoniste più amate, Sarah Jessica Parker e Kim Cattrall. La notizia non può che dispiacere a tutti i fan della serie, soprattutto dal momento che se Sex and the City ha insegnato qualcosa alle generazioni che l'hanno seguita con affetto è proprio stato il valore e il contributo di una vera amicizia.
Non sappiamo ancora molto sulle dinamiche che riguardano la trama del revival, sappiamo solo che la nostra curiosità e la voglia di immergerci ancora nelle atmosfere newyorchesi create da Candace Bushnell sono altissime.
Ripercorriamo nell'attesa il viale dei ricordi, attraverso le 30 iconiche citazioni più amate tratte da Sex and the City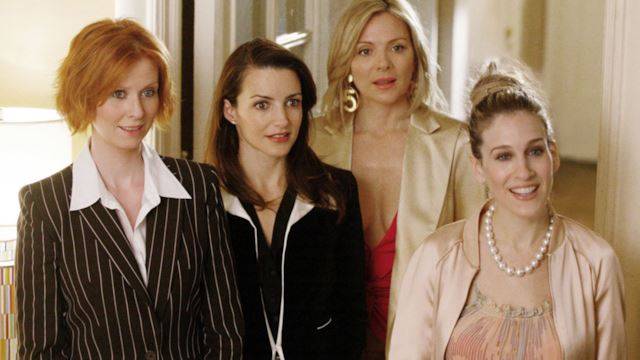 1. I miei soldi li voglio là dove li posso vedere: tutti appesi nel mio armadio.
2. L'uomo avrà scoperto il fuoco, ma la donna ha scoperto come giocarci.
3. New York è l'immagine del sesso: c'è chi lo fa, chi cerca di farlo, chi non riesce a farlo. Per forza la città non dorme mai, è troppo impegnata a cercare di farsi scopare.
4. C'è un momento in ogni rapporto in cui il romanticismo lascia spazio alla realtà.
5. Forse sono i nostri errori a determinare il nostro destino. Senza quelli che senso avrebbe la nostra vita?
Partiamo da una delle voci fuori campo più amate di sempre del panorama seriale. Quelle riportate sopra sono solo alcune delle citazioni più iconiche di Carrie Bradshaw, paladina della ricerca dell'amore, dell'indipendenza personale e della solidarietà femminile.
Carrie è il filtro attraverso cui guardiamo il mondo entusiasmante descritto negli episodi della serie. La sua frizzante ironia, il suo romanticismo e il piglio acuto con cui traduce i rapporti sentimentali moderni, sono stati per molti un vero fare nel buio.
Tra le sue citazioni più iconiche, i riferimenti alle difficoltà di coppia, specie quelle meno ovvie, sono sempre le più pungenti, così come il suo amore per New York. Eterno, dichiarato, il più romantico che viva nello show.
6. A volte, anche se non sei sicura della tua direzione, puoi trovare la tua strada verso qualcosa di fantastico
7. Ogni giorno milioni di persone soffrono per la monogamia, non c'è cura conosciuta.
8. Perché l'unica cosa che non abbiamo riesce sempre a rovinarci quello che abbiamo?
9. Dicono che gli opposti si attraggono, ma non dicono mai per quanto tempo.
Passiamo a un'altra amatissima voce dello show, quella di Samantha.
10. Vuoi davvero cambiare il tuo uomo? Beh! sta attenta, tesoro… se tiri il filo sbagliato, ti si disfa tutto il maglione.
11. Se sembra troppo bello per essere vero, probabilmente lo è.
12. Normale è il punto a metà strada tra quello che vorresti e quello che hai realmente.
13. Gli uomini tradiscono per lo stesso motivo per cui i cani si leccano le palle: perché ci riescono.
Samantha Jones è senza alcun dubbio la fonte più divertente ed irriverente di citazioni di tutto lo show. Se le frasi migliori di Carrie sono indirizzate verso i rapporti d'amore e la sua amata città, quelle di Samantha vertono spesso e volentieri sul sesso e sul potere.
Pur essendo lei quella del gruppo con meno relazioni sentimentali sul curriculum, è tuttavia quella con l'ottica più lucida ed efficace su di esse. Una vera fonte di saggezza anche se sempre politicamente scorretta.
14. Se sei single il mondo è il tuo buffet personale.
15. Il sesso è il barometro di quello che succede in un rapporto.
16. Puoi dire a un uomo "ti odio" e farci una grandiosa scopata. Prova a dirgli ti amo e non lo vedrai più.
17. Ho esaurito gli uomini da scopare. Quindi o mi sposo o mi trasferisco.
18. Con gli ex c'è sempre una gara. Si chiama: "Chi dei due morirà disperato?".
Samantha è una che quando si tratta di lanciare bombe non si tira di certo indietro… ma anche Miranda Hobbes non scherza.
La più cinica e arguta tra le protagoniste dello show HBO quando ci si mette con la lingua taglia più di un coltello. Miranda è spesso quella da cui le amiche aspettano il giudizio peggiore, la critica che non vogliono sentire ma che le rimette inevitabilmente in riga, costringendole ad aprire gli occhi. A volte guadagnandosi qualche brutta litigata con le persone a cui tiene di più.
19. Gli uomini che vogliono sposarsi sono quelli a cui manca la mamma.
20. Non ci sono trentenni disponibili sulla piazza di New York. Giuliani li ha fatti sloggiare insieme ai barboni.
21. Se un uomo ha più di trent'anni ed è single ha qualcosa che non va. È darwinismo: la natura li elimina affinché non propaghino la specie.
22. Gli uomini sono come i taxi: quando sono disponibili la loro luce si accende. Un bel giorno si svegliano e decidono che sono pronti a sistemarsi, avere bambini, eccetera eccetera… e accendono la luce. La prima che incontrano… bum… è quella che sposano.
23. Sanno ricostruire il motore di un jet, ma quando si tratta di donne… Che c'è di misterioso? È un clitoride non la sfinge!
Senza alcun dubbio tutti i fan di Sex and the City concorderanno nel dire che se Samantha è l'irriverenza, Miranda il cinismo e Carrie l'ironia, Charlotte non può non rappresentare il romanticismo. La sua eterna ricerca dell'amore perfetto, idilliaco, raffinato e socialmente invidiabile, ha divertito più di uno spettatore, dal momento che il suo sogno a volte naif tentava di realizzarsi in una delle più spietate metropoli del mondo.
24. Non puoi costringerti a sentirti bene, l'unico modo per dimenticare qualcuno è sentirsi veramente male, piangere con le amiche e poi passare le giornate a ripercorrere nella mente tutte le cose che odiavi di lui.
25. Io credo che avere tutto sia avere qualcuno di speciale con cui dividerlo.
26. Anche dalla relazione peggiore si impara qualcosa.
27. Gli uomini non riescono a dire "Mi sono sbagliato", loro mandano i fiori.
28. Il gioco è fondamentale: è l'unico modo per trattare con gli uomini.
Tanto romanticismo e speranza nella voce di Charlotte insomma, ma stiamo pur sempre parlando di Sex and the City e anche lei è una wild girl in fondo, e il sesso per Charlotte conta moltissimo. Tanto che durante un periodo di astinenza regala una delle perle più memorabili dello serie.

29. La mia vagina è depressa.
Sesso, risate e amore, Sex and the City è questo e molto altro ma soprattutto è una serie che parla di amicizia. Quella che rimpiazza legami familiari poco consistenti e cura cuori spezzati. Ed è proprio con una delle citazioni più famose di Carrie che lo spirito della serie viene racchiuso in poche parole, che vengono tramandate di bocca in bocca per convincere nuove generazioni ad appassionarsi alle avventure delle quattro ragazze più famose di New York.
30. Non conta chi ti ha spezzato il cuore o quanto ci vuole per guarire, non ce la farai mai senza le tue amiche.