Sex and the City è un mantra, una religione che molti di noi hanno seguito fin dalla sua nascita. Tacco 12, maglioncino coordinato, quattro amiche e una vita da mandare avanti nella città di New York: tutto in questa serie urla l'iconicità e si pone l'obiettivo di raccontare uno spaccato di vita di quattro donne che si sollevano al di sopra di tutto e pestano, con il loro nuovissimo stivale in pelle, tutto quello che le avvilisce e lede la loro individualità.
Questa serie è davvero riuscita a vivere dentro al tempo grazie anche alla sua migliore attrice non protagonista: la moda. Carrie Bradshaw è il nostro Dio della moda anche vent'anni dopo e il nostro santino nella stanza accanto all'armadio può solo confermarlo. Lo mettiamo lì, accanto ai nostri vestiti, e pensiamo che possa spronarci a fare un abbinamento con i fiocchi senza paura di osare, perché tanto abbiamo la sua benedizione. L'abbiamo, giusto, Carrie?
Sex and the City sta ufficialmente tornando sui nostri schermi con un revival, ma quello che abbiamo visto negli anni passati non siamo ancor riusciti a dimenticarlo. Eppure, nonostante tutto questo tempo, siamo certi che qualcosa vi sia sfuggito. Tranquilli, ci siamo qui noi!
Scopriamo insieme 7 curiosità sull'iconica Sex and the City, e fateci sapere di cosa non eravate al corrente!
1) Carrie, Miranda, Charlotte e Samantha quasi (mai) amiche fuori dal set!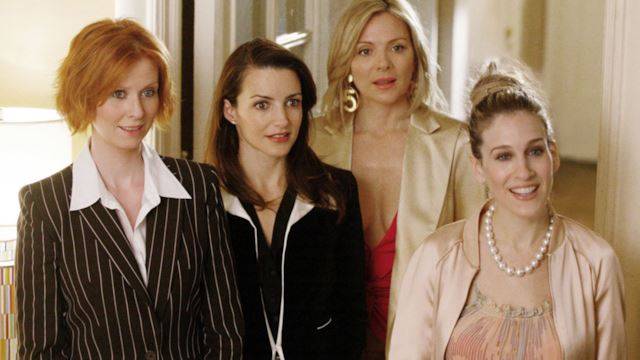 Guardando questo splendido quartetto potremmo pensare che l'amicizia che hanno costruito le attrici sul set di Sex and the City sia reale e forte, e che proprio per questo motivo la complicità durante la loro recitazione non sia stata per nulla forzata.
Niente di più sbagliato.
Le quattro attrici protagoniste sono sempre state chiare sull'argomento: colleghe con un rapporto civile si, amiche mai. Nonostante gli anni che hanno condiviso insieme, non si sono mai legate fino al punto da definirsi amiche e ciò che potrebbe stupirvi ancor di più è che i battibecchi non sono mai mancati. Sarah Jessica Parker e Kim Cattrall in questo senso sono l'esempio lampante: più volte hanno avuto idee totalmente opposte sul futuro della serie. A quanto pare, come riportato dal New York Post in un articolo del 2009, Parker e Cattrall ormai non si parlavano più durante la produzione del secondo film "mettendo tutti a disagio sul set del film", poi rilasciato nel 2010.
Tra le due le cose sono peggiorate per via dell'annullamento del terzo film: la Cattrall non era convinta della sua produzione e questo intoppo, pian piano, portò alla sua cancellazione definitiva. Questa deluse profondamente Sarah Jessica Parker.
Ma non è finita qua. Nel 2018 una tragedia colpì Kim Cattrall: il fratello si tolse drammaticamente la vita. L'attrice in questo momento così doloroso ricevette messaggi solidali da tutti i fan e da tutti i colleghi di lavoro, ma di fronte al gesto solidale di Sarah Jessica Parker non riuscì a mantenere la calma. L'attrice – con un post su Instagram – si disse vicina al dolore della Cattrall. A questo gesto, direttamente sul proprio profilo, Kim Cattrall rispose così:
"Mia madre oggi mi ha chiesto 'Quando ti lascerà in pace quell'ipocrita di Sarah Jessica Parker?'. Il tuo continuo protenderti è un doloroso promemoria di quanto fossi crudele allora e di quanto tu lo sia ancora. Lascia che sia MOLTO chiara, se non lo sono già stata abbastanza. Non sei la mia famiglia. Non sei mia amica. Quindi sto scrivendo per dirti un'ultima volta di smetterla di sfruttare la nostra tragedia per ripristinare la tua figura da brava ragazza".
Insomma, nulla lascia presagire che tra le due possa arrivare il sereno. L'unico modo che abbiamo per vederle sorridere insieme è premere play e guardarci una puntata di Sex and the City.
2) Il lieto fine di Sex and the City non è stato apprezzato da tutti
Sex and the City nasce con un'idea ben precisa: raccontare le vicende di quattro donne che, in maniera indipendente, si fanno spazio nella loro vita professionale e personale. L'amicizia che le lega è al centro di tutto e riesce perfettamente a mettere in scena l'obiettivo della serie di narrare la storia focalizzandosi sul punto di forza della serie: dimostrare che possono contare su loro stesse senza alcun bisogno di nessuno.
Proprio per questo motivo il finale che vede Carrie e Mr.Big sposi non ha convinto tutti. In particolar modo il creatore della serie, Darren Star, si è mostrato perplesso riguardo agli ultimi episodi della serie perché vede in loro un tradimento i sensi del vero obiettivo di Sex and the City. L'intento, infatti, era quello di mostrare delle donne indipendenti e forti che non avevano bisogno del matrimonio per sentirsi complete, ma il finale ha coinvolto anche questo aspetto tradendo, secondo il creatore, l'iniziale volontà. Qui le sue parole:
«Penso che lo spettacolo alla fine abbia tradito il vero obiettivo, ovvero mostrare che le donne possono trovare la felicità anche senza il matrimonio».
E voi che ne pensate di queste parole?
3) La forma fisica delle attrici di Sex and the City
Nel 2016, Cynthia Nixon – l'avvocato Miranda – ha rivelato una novità che non è piaciuta a nessuno. Durante le riprese della Serie Tv Sex and the City le attrici avevano l'obbligo di tenersi in forma per lo show. Dieta, allenamento, pochissimi sfizi verso il cibo: tutto doveva essere perfetto per evitare che le attrici potessero, anche minimamente, sforare il peso ideale secondo i creatori. Questa notizia ha creato davvero molti malcontenti e ha lasciato i fan davvero delusi da questa politica così superficiale che vuole parlare di donne solo sotto un determinato tipo di taglia. Comunque le cose – tranquilli – sono cambiate: ognuno, adesso, può presentarsi come realmente è senza politiche limitatrici.
4) La scena che coinvolgeva l'attentato alle Torri Gemelle mai andata in onda
Sex and the City racconta la propria storia fornendo un'altra protagonista alla serie: la città di New York. Qualsiasi cosa accada lei è lì ed è amata dalla sue protagoniste, in particolar modo da Carrie. L'11 settembre 2001 la città – ma anche l'intero mondo – venne sconvolta dall'attentato alle torri gemelle. Questo episodio, così drammatico, ha segnato profondamente l'America e l'ha costretta a fermarsi un secondo per vivere quell'enorme lutto che mai riuscirà a superare davvero.
Molti prodotti, negli anni successivi, hanno cercato di omaggiare le due torri e la città di New York con film e Serie Tv. In Sex and the City l'ultimo episodio della quarta stagione – dal titolo New York anima mia (I Heart New York) – è un omaggio alla città. In quella puntata era presente anche una scena – mai andata in onda – che aveva l'obiettivo di accennare alla tragedia appena accaduta: Carrie veniva fermata da degli agenti di polizia mentre cercava di salire in metropolitana, chiusa però al pubblico per via di un allarme.
5) A passeggio per New York… sulle tracce delle protagoniste!
Sex and the City vanta un vero e proprio viaggio all'interno della città di New York. Ogni singolo angolo della città può raccontare un'esperienza per le quattro amiche della famosa serie. Proprio per questo motivo ogni giorno vengono organizzate delle visite guidate a bordo di un autobus che partono dalla 58ª strada e seguono i passi delle protagoniste dai loro appartamenti al luogo di lavoro, fino ai loro negozi, bar e ristoranti preferiti.
6) Una delle protagoniste è stata molestata sul set di Sex and the City
Il set di Sex and the City, purtroppo, è stato lo scenario di un gravissimo evento. Sarah Jessic Parker, infatti, è la protagonista di questa spiacevolissima vicenda che è riuscita a raccontare solo molti anni dopo l'accaduto. Qui le sue parole:
Sono stata molestata sul set di Sex and the City. Non mi sentivo completamente nella posizione di parlare, non mi sentivo potente come l'uomo che si comportava in modo inappropriato. Credo che non c'entri niente quanto tu sia evoluta e moderna. Nonostante il mio ruolo, non mi sentivo completamente nella posizione di parlare, non mi sentivo potente come l'uomo che si comportava in modo inappropriato. Soltanto successivamente l'ho comunicato ai produttori. Gli fu detto: 'Se continui così, lascerai lo show… ora ti diamo un biglietto, un biglietto di sola andata per lasciare la città e non tornare più'. In poche ore cambiò tutto.
Grazie all'intervento dei produttori la situazione cambiò, ma ciò che non potrà mai cambiare è sicuramente il ricordo di questa vicenda dentro l'attrice, ormai scalfito indelebilmente.
7) Kristin Davis odia profondamente un episodio di Sex and the City
Al personaggio di Charlotte – in Sex and the City – sono state regalate le avventure più imbarazzanti che si possano mai immaginare, e queso lo sa bene Kristin Davis.
L'attrice – durante un'intervista – ha rivelato che questo però non è stato solo un aspetto divertente, ma che per certi versi a volte si sia rivelato un vero e proprio incubo. In particolare, Kristin, ricorda davvero con odio e disagio l'episodio di Sex and the City Are We Sluts? Qui le sue parole:
Ho un episodio di cui conservo un pessimo ricordo. C'è stata una volta in cui questo ragazzo con cui ho fatto sesso ha dovuto gridarmi degli sgradevoli appellativi in faccia. Lo odiavo davvero, davvero. L'ho odiato così tanto.
Per Kristin Davis era davvero imbarazzante sentirsi dire certe cose in piena faccia da un estraneo e, immedesimandoci in lei, riusciamo perfettamente a comprendere il suo stato d'animo.