Quando una serie tv conquista il pubblico con la complessità dei suoi personaggi, la coerenza delle sue storyline e un pool di autori dalla penna magica, è inevitabile che non rimanga semplicemente un mucchio di episodi o una manciata di stagioni da vedere e rivedere fino a impararle a memoria (o quasi).
Nella maggior parte dei casi, infatti, quelli che sembravano essere personaggi destinati a rimanere soltanto ologrammi oltrepassano lo schermo del pc o della televisione e si ritrovano a invadere la dimensione del fumetto, rivestendosi di carta, inchiostro e nuove parole. Ebbene sì, sono stati svariati negli anni i fumetti nati da alcuni dei serial più amati e diventati cult tra le generazioni più diverse. Prodotti più o meno curati che, spesso, hanno aiutato a creare sviluppi narrativi paralleli a quelli pensati per il piccolo schermo, soddisfando (o, nel peggiore dei casi, facendo indignare e nemmeno poco) i fandom più esigenti. Da Stranger Things a Sherlock, da Penny Dreadful a I Simpson, ecco le strisce, i manga e gli artbook nati dalle trame e dagli intrecci che più hanno appassionato addicted e non solo.
1. STRANGER THINGS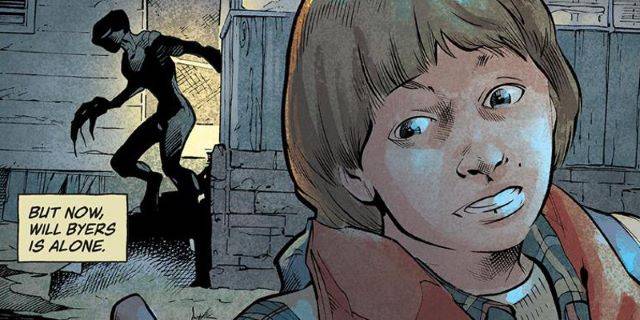 Tre stagioni all'attivo, numeri da capogiro e un'influenza che ha avuto i suoi effetti addirittura sul mondo della moda (ne abbiamo parlato poco tempo fa proprio qui). No, non stiamo parlando di Game of Thrones ma di Stranger Things, entrata di diritto nell'Olimpo delle serie destinate a rimanere più o meno eterne. Missione a cui, senza dubbio, hanno contribuito (e continuano a contribuire) anche le graphic novel focalizzate su aspetti specifici della trama o su nuove, entusiasmanti avventure. Nate da una partnership tra Netflix e la Dark Horse Comics, fanno parte di una linea editoriale pluriennale di storie ambientate nel misterioso mondo di Undici e dei suoi amici. In Italia è stata inaugurata a giugno 2019, con l'uscita de Il Sottosopra, scritto da Jody Houser e illustrato dal disegnatore italiano Stefano Martino. Il volume (che raccoglie in un unicum le quattro uscite pubblicate singolarmente in America) ci teletrasporta nell'arco temporale degli eventi della prima stagione di Stranger Things, facendoci vivere ogni singolo momento dalla prospettiva di un Will ancora intrappolato nel Sottosopra.
La cupezza dei colori e il tratto dei disegni riescono perfettamente a trasmettere l'angoscia degli intrecci e le continue evoluzioni e involuzioni della trama.
Per un risultato che, a dirla tutta, non fa rimpiangere la serie tv. O, meglio, le rende giustizia. Ma non è tutto: negli Stati Uniti la casa editrice ha pubblicato anche The Game Master, numero speciale in occasione del Free Comic Book Day, e una seconda miniserie in quattro parti intitolata Stranger Things: Six, tutta focalizzata su uno degli esperimenti precedenti ad Eleven, la giovane Francine, dotata di poteri di precognizione. Una produzione frenetica e prolifica, insomma, che arriva sino a febbraio 2020, data d'uscita del romanzo a fumetti Stranger Things: Zombie Boys, scritto da Greg Pak, disegnato da Valeria Favoccia e composto di 72 pagine fitte di corsi e ricorsi tutti da scoprire e divorare in attesa della quarta stagione di Stranger Things.