Amare consapevolmente una Serie Tv è meglio di amarla senza sapere perché?
Questo quesito marzulliano mi tormenta da giorni e sono arrivata alla conclusione che, in realtà, non penso proprio di poter dare una risposta definitiva: al massimo posso parlare per me e dare la mia personale opinione sui fatti.
Quando si ama consapevolmente una Serie Tv è un po' come bearsi nella sicurezza che ti dà una relazione fissa: tipo quando hai una relazione stabile e duratura e ormai conosci tutto della tua dolce metà. In questo tipo di rapporto, ci si ama a trecentosessanta gradi, indiscutibilmente, di un amore sereno, talmente solido che ci fa accettare anche i difetti del nostro partner.
O, nel nostro caso, della nostra Serie Tv.
Io, per esempio, da ormai sette anni ho una relazione stabile e duratura con The Walking Dead: è il mio porto sicuro, dove mi rifugio alla sera, quando, dopo una lunga e faticosa giornata, mi siedo sul divano e me la godo in tutta tranquillità.
Ha dei difetti?
Certo che sì, ma nessuno è perfetto, quindi il mio amore per The Walking Dead è inossidabile, immarcescibile, inaffondabile. Mi piace sempre, anche quando non mi piace tanto e mi sento sicura sul fatto che continuerò a guardarla fino a che non finirà (a meno che non mi facciano fuori Daryl, ma quello è un altro paio di maniche…). Questo è un amore che non si mette mai in discussione, perché ne apprezzo ogni aspetto, accettandone i limiti e mancanze: so che ne ha, ma mi va bene lo stesso.
Potrebbe deludermi e dedicare un'intera puntata a Tara Chalmers, interessante come una zucchina bollita, o parlare per un'ora di un caseificatore zen che vive con una capra e io, comunque, lo continuerei a guardare, perché so che, prima o poi, tornerà in sé e mi regalerà una puntata da restare incollati allo schermo della televisione.
Quando, invece, si ama una Serie Tv senza sapere il perché, è un po' come essere innamorati della persona sbagliata.
Sei lì che soffri come un cane e ti chiedi: ma perché sono così scemo che continuo a correre dietro a questa sottospecie di ominide? Eppure sei lì che corri, pur continuando a darti dello scemo. Ti delude, ti tradisce, ti tratta male, ti fa sentire come se non meritasse il tuo amore: ma non puoi amarla di meno, perché, un tempo siete stati bene e ancora oggi, ogni tanto, riesce a regalarti un'emozione sincera.
Ad esempio, il mio odio/amore per Glee.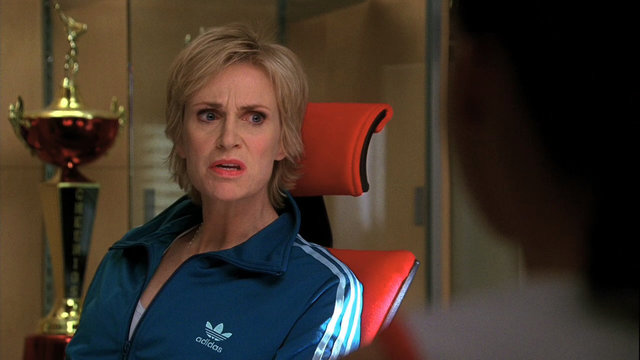 Una Serie Tv che ho amato immensamente, che poi mi ha fatto uno schifo totale, che poi a tratti mi ha appassionata di nuovo, che mi ha commossa moltissimo, che mi ha fatto venire l'istinto di gettare la tv dal balcone, che ho comunque guardato fino all'ultima puntata, anche se non so dire il perché.
Non so spiegare cosa ancora mi tenesse legata a qualcosa che avrebbe dovuto finire due stagioni prima e che aveva una trama così piena di buchi che era diventata irritante macchietta di se stessa.
Forse per dovere morale, o forza d'inerzia, oppure, molto più semplicemente, perché ero curiosa di sapere come sarebbe andata a finire.
Si tratta innegabilmente di un rapporto faticoso, complicato, fatto di alti e bassi, ma pur sempre di un rapporto. Quindi sta tutto nel fatto se si preferisce vivere una relazione costante, sicura, confortante e duratura o una fatta di cocenti delusioni e momenti di altissima esaltazione.