Negli ultimi dieci anni il mondo della serialità è cambiato profondamente. Piattaforme per lo streaming, rilascio degli episodi in blocco, stagioni più corte e una nuova ricerca della qualità anche in generi diversi da quello notoriamente "nobile " del drama hanno portato a una rivoluzione non solo del modo di produrre e fruire televisione, ma soprattutto del modo di concepirla, della sua funzione. Se prima le serie tv, con qualche importante eccezione, volevano principalmente intrattenere, senza altre pretese che offrire una fuga dalla realtà, adesso le dinamiche sono mutate profondamente e con queste anche la natura e la qualità della serialità. Uno dei generi che ha sofferto maggiormente di questo cambiamento è quello del procedural crime o police procedural, di cui sono esponenti illustri pilastri del passato come "CSI", "Law and Order" (entrambe di nuovo sugli schermi con dei revival il cui successo è legato all'effetto nostalgia), "Criminal Minds", "Bones", "Castle" e "The Mentalist" e di cui sopravvivono più o meno illesi soltanto "NCIS" e "Law and Order: Special Victim Unit".
Il genere crime non ha smesso di proliferare in televisione e anzi, continua ad attirare milioni di spettatori ogni mese, tuttavia più di ogni altro tipo di produzione seriale ha cambiato forma, si è evoluto in modo non solo da sopravvivere nel nuovo spietato panorama mediatico, ma di diventare anche uno dei generi di maggiore successo.
Al giorno d'oggi sono infatti soprattutto le miniserie a conquistare il cuore degli appassionati del genere crime, perché permettono, grazie alla loro durata sì limitata ma comunque sufficiente a garantire uno sviluppo dettagliato delle vicende orizzontali, di approfondire un singolo crimine o comunque una sola trama per più puntate senza per questo allungare inutilmente il racconto. Negli ultimi anni abbiamo visto trionfare nel circuito dei premi alcune di queste serie, come la recentissima Omicidio a Easttown (di cui vi abbiamo parlato qui), The Undoing e Big Little Lies, ma anche diventare veri successi commerciali prodotti inizialmente di nicchia come L'uomo delle castagne e Alias Grace, che grazie al passaparola sono diventate note al grande pubblico. Altre serie, pur non limitandosi a una sola stagione, utilizzano stratagemmi narrativi che di fatto le assimilano a miniserie, come le antologiche American Crime Story e True Detective, o i prodotti che, come The Killing e How to Get Away with Murder, dedicano singole stagioni o porzioni comunque limitate della propria corsa a determinati omicidi o misteri. Se non possiamo negare un generale innalzamento nella qualità del genere crime, non possiamo tuttavia mancare di sottolineare come tutte queste nuove produzioni, pur condividendone le tematiche, hanno di fatto soppiantato il genere del police procedural, un tipo di narrazione che sembra ormai aver salutato la sua età dell'oro e che è sempre più spesso relegato alla seconda serata o a canali monotematici che si limitano a trasmettere le repliche delle solite serie appartenenti al genere che ormai abbiamo visto tutti decine di volte.
Eppure non importa che le repliche di "CSI" o di "Bones" continuino ad andare in onda da anni ininterrottamente e che buona parte del pubblico conosca a memoria la risoluzione di ogni caso, perché la verità è che ormai la loro funzione è cambiata, senza per questo diventare meno importante.
Infatti, se vogliamo assistere a un mistero travolgente, così coinvolgente da tenerci incollati allo schermo fino alla risoluzione spesso scioccante del caso, allora ecco che ormai è istintivo per il pubblico dei crime buttarsi sulle miniserie o sulle serie antologiche, non di certo sui police procedural vecchio stile, quelli presenti fin dalle origini della serialità che seguono uno schema narrativo che vede predominante la trama verticale (il cosiddetto "caso della puntata") piuttosto che di quella orizzontale che, anche qualora sia presente come per esempio in Castle o Bones, procede lentamente, solo qualche sporadico episodio vi viene realmente dedicato. I casi di puntata dei police procedural raramente sono davvero originali, una volta che abbiamo guardato anche distrattamente qualche episodio siamo in grado di individuare il colpevole dopo i primi dieci minuti e col procedere delle stagioni spesso questi casi assumono contorni sempre più assurdi, tanto che anche con la sospensione del realismo che applichiamo quando guardiamo la televisione e che ci permette di accettare senza troppi problemi che esiste un mondo – fittizio – in cui il colpevole del crimine più efferato viene catturato nel giro di una puntata, fatichiamo a non alzare gli occhi al cielo davanti all'ennesimo colpo di genio dei vari detective infallibili che pullulano in queste serie.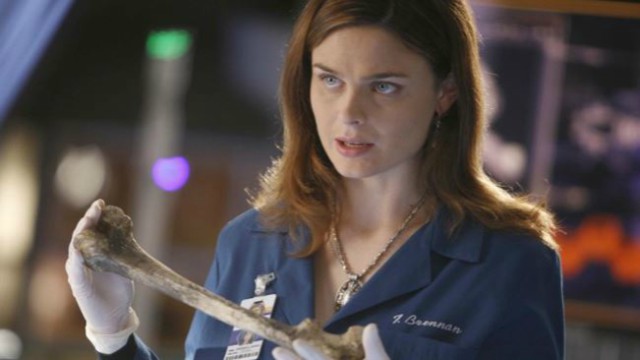 Non è per restare coinvolti o per guardare un televisione di qualità che continuiamo a guardare le solite repliche dei procedural e forse è questa la ragione per cui ormai la loro età dell'oro, che li vedeva in cima a tutte le classiche delle serie più popolari, è ormai alle nostre spalle. Guardiamo i procedural perché soddisfano il nostro bisogno di ordine, perché anche solo seguendoli distrattamente mentre ci dedichiamo ad altro riescono in qualche modo a stabilire un clima di puro relax che deriva dalla solida certezza che l'episodio si svolgerà esattamente come ci aspettiamo, che il colpevole verrà catturato, che possiamo anche lasciare la televisione accesa e andarcene per poi tornare e scoprire che tutto è andato esattamente come ci aspettavamo. Questo discorso non si applica allo stesso modo a tutti i procedural – pensiamo per esempio a Criminal Minds, che rispetto alla media si distingue per toni più cupi e una struttura narrativa differente che rivela presto al pubblico chi è il colpevole e si concentra piuttosto sulle mosse dei protagonisti per catturarlo – eppure non è sbagliato affermare che l'universo in cui le loro storie si sviluppano è estremamente ripetitivo, ordinato, segue schemi noti e permette a chiunque di seguirne puntate a caso senza sentirsi perso, mentre il pubblico più affezionato rimane incollato allo schermo non tanto per i casi da risolvere quanto piuttosto per il senso di familiarità che prova ormai alla vista dei protagonisti, del loro lavoro, delle loro marginali vite private.
Guardare un police procedural al giorno d'oggi è un gesto di parziale evasione, è l'equivalente dii mangiare un gelato quando siamo tristi o di farci un bagno caldo quando siamo stressati, una sorta di inaspettato ombrello che possiamo utilizzare per proteggerci dalle angosce quotidiane e dal peso schiacciante che a volte assume la vita di tutti i giorni. È un conforto semplice e fruibile da chiunque, abbastanza accattivante da coinvolgerci ma sufficientemente prevedibile da non richiedere sforzi eccessivi di attenzione o concentrazione, è familiare e scontato ma questo non è un difetto, bensì un marchio di fabbrica del genere, che è capace di rinnovarsi (come dimostrato dalle evoluzioni di questi ultimi anni) ma non per questo sceglie di farlo, perché sa che in fondo è anche di questo che il pubblico aveva, ha e avrà sempre bisogno: ordine, problemi facilmente risolvibili, senso di chiusura. E allora glieli regala, ancora.
LEGGI ANCHE – Non solo procedural: le 5 migliori docuserie crime che puoi trovare su Netflix