Il fantasy è un genere complicato: se viene trattato col giusto riguardo, se gli viene fornita una trama costruita a puntino e se viene fornito di personaggi accattivanti, psicologicamente ben approfonditi e dinamici, allora si hanno tutti gli elementi per una serie tv che può davvero spaccare, basti pensare all'eclatante successo di Game of Thrones (sì, ok, non è che dovete sempre ribadire l'inesistenza dell'ultima stagione, dai). L'altro lato della medaglia, tuttavia, può mostrarci un fantasy abbozzato, condito da personaggi piatti e trame buttate al vento, con più buchi di uno scolapasta. Ecco, allora, che anche gli amanti del genere si ritrovano a sbuffare o a voler addirittura lanciare tablet o televisione dal balcone. Se avete visto qualcuna di queste 5 serie tv, che secondo noi sono le peggiori serie tv fantasy, probabilmente avete avuto anche voi la tentazione di farlo, perché con tutto l'amore per il genere, di queste serie avremmo fatto volentieri a meno.
1) Luna Nera
Luna Nera è una delle poche (per ora) produzioni Netflix italiane presenti sul catalogo della piattaforma streaming. Recentissima (ma col senno di poi, forse il fatto che sia uscita proprio nel 2020 avrebbe dovuto far scattare un campanello d'allarme), era stata attesa con grande curiosità. Questi sei episodi tratti dall'omonimo romanzo di Tiziana Triana avevano un compito davvero importante: accendere i riflettori su un genere che in Italia è spesso ignorato o bistrattato. Purtroppo la serie ha fallito.
Innanzitutto, la recitazione non si è sempre dimostrata all'altezza, complice anche la scelta di molti attori al debutto. I dialoghi sono risultati un po' scialbi e, pur con interessanti potenzialità di trama, lo sviluppo è stato piuttosto debole. Difficile, poi, entrare in empatia coi personaggi, forse per farlo sarebbe servito qualche episodio in più. Ma soprattutto… il fantasy? Si sono visti davvero pochi elementi propri del genere, con effetti speciali non del tutto convincenti. Forse, ecco, ne avremmo fatto a meno (qui trovate la recensione completa).
2) The Shannara Chronicles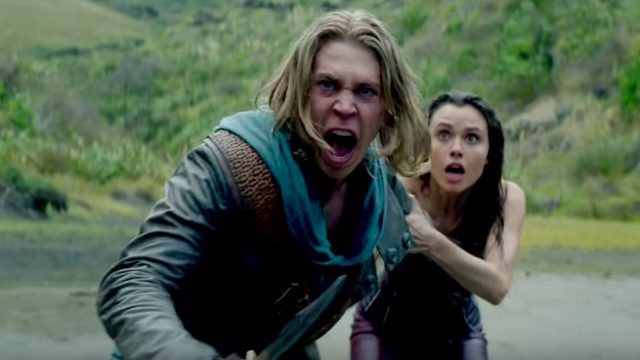 Una delle serie tv più attese del 2016 dai grandi appassionati di fantasy, The Shannara Chronicles aveva fatto sognare in grande: chi ha letto i romanzi di Terry Brooks da cui è stata tratta, ha sicuramente sognato qualcosa di epico. La serie avrebbe avuto tutte le carte in regola per diventare un fenomeno alla Game of Thrones. E invece non è andata per nulla così, tanto che la serie è durata soltanto per due stagioni. Cosa è andato storto?
La produzione di MTV ha fatto una serie di scelte piuttosto discutibili nel tentativo di rendere la storia più appetibile, sortendo poi l'effetto opposto. La trama ben costruita e dettagliata dei libri è stata volutamente "svecchiata" dal suo carattere antico e solenne che in realtà regalava fascino all'opera. Il danno maggiore, però, è forse stato quello di cambiare la caratterizzazione dei personaggi per raggiungere un pubblico teen, ben lontano da quello di riferimento dell'autore della Saga. A questo si aggiungano episodi filler – veramente troppi – e cliffhanger che non hanno lasciato sbalordito nessuno.
La cancellazione era inevitabile, così come l'apparizione in questa lista delle peggiori serie tv fantasy.
3) Emerald City
Questa serie tv statunitense che probabilmente non avrete mai sentito nominare è stata cancellata dopo 10 episodi, e per fortuna. Prodotta per la NBC, si collocava nel grande scenario dei remake: l'idea era quella di trarre i punti salienti de Il Mago di Oz di Frank Baum e creare una nuova trama accattivante. Siccome avete capito l'andazzo dell'articolo, sapete già che anche in questo caso sarebbe stato meglio star fermi e lasciare in pace il famoso classico.
Un budget probabilmente basso ha reso inevitabile la povertà di scenografie e costumi, eppure si sarebbe potuto chiudere un occhio se il problema fosse stato solo questo. La trama è confusionaria, con tinte dark forzate – tentativo di rendere la serie meno infantile – e la caratterizzazione dei personaggi… non c'è. La protagonista stessa è insipida, non ha particolari tratti che la rendano unica e non si interroga nemmeno una volta su tutto quello che sta succedendo, nonostante prima di arrivare a Oz vivesse nel mondo normale.
Si consiglia la visione del doppio episodio pilot a chi soffre di insonnia.
4) Mortale
Tra le peggiori serie tv fantasy troviamo sicuramente Mortale ("Mortel" in lingua originale).
Si tratta di un fantasy francese prodotto da Netflix reso disponibile sulla piattaforma nel novembre 2019. Il pilot, seppur ricco di vari elementi potenzialmente interessanti, appare come una lunga introduzione di personaggi e situazioni. La trama – che verte attorno alle vicende di tre adolescenti alle prese con la magia voodoo – presenta delle carenze e spesso alcuni filoni narrativi non sono sviluppati a dovere. In compenso, ci sono delle sottotrame che si sarebbero potute evitare.
Per quanto riguarda i personaggi, risulta difficile trovarne di simpatici o davvero interessanti. E se è certo che la serie affronta varie tematiche di grande rilevanza e presenta allo spettatore situazioni ansiogene che dovrebbero tenerlo incollato allo schermo… è altrettanto certo che la realizzazione appiattisce il tutto e non regala molti motivi per proseguire con la visione.
5) Once Upon a Time In Wonderland
Once Upon a Time è una serie fantasy molto amata – seppur calata nel finale – che ha tenuto compagnia agli spettatori per anni, strappando sempre un sorriso, qualche lacrima e molto interesse. Non si può proprio dire lo stesso per il suo spin-off. Ispirata alle vicende di Alice in Wonderland di Lewis Carrol, la serie andata in onda tra il 2013 e il 2014 ha lasciato molto perplessi anche i fan più accaniti del filone originale.
Gli effetti speciali lasciano a desiderare, così come le motivazioni che spingono i personaggi a compiere scelte e lanciarsi all'avventura: sembra una brutta copia di Once Upon a Time, dove però ogni personaggio aveva la sua storia ben dettagliata che dava un movente comprensibile e sensato a ogni azione. Sia Alice che la Regina di Cuori – che dovrebbero essere il fulcro di tutto – appaiono come spente, senza grande caratterizzazione. Per non parlare del Bianconiglio, creato al computer e totalmente inespressivo. A questo aggiungiamo una trama piuttosto banale e il gioco è fatto. Via, nel cestino dei 10 peggiori spin off delle serie tv.