# #
Gli spin-off, si sa, possono essere un'arma a doppio taglio.
Quando una serie è molto amata ed ha un folto seguito di fedeli, è legittima la scelta dei produttori o dei network di dar vita ad una nuova serie TV dalla costola della madre. E molte volte ci riescono!
# #
Tra gli esempi lampanti di successo figurano senza dubbio Better call Saul, Torchwood, Agent Carter, The Originals. Essi si servono di personaggi amati dal pubblico, che nella serie originale spesso hanno dei ruoli secondari, e li inseriscono in contesti che sono sia capaci di rimandare all'opera madre, quindi assicurarsi l'affezione dei fan, sia in grado di differenziarsi e costruire una storyline solida e coinvolgente, che sappia stare in piedi da sola.
Non sempre è questo il caso; spesso si prova a spremere il successo di uno o più personaggi che però si scoprono non funzionare fuori dal loro habitat. Altre volte ad essere preso in prestito è l'universo di una serie popolare, in cui si inseriscono nuovi personaggi; qui il rischio è di fallire a plasmare dei protagonisti che possano idealmente reggere il confronto, e quindi sopperire alla mancanza degli originali.
# #
Gli spin-off di cui vi parleremo sono nati da serie TV amatissime dal pubblico, ma che hanno avuto vita breve ed un successo molto blando. Insomma, roba che potevano anche risparmiarsi!
The Lone Gunmen (The X-Files)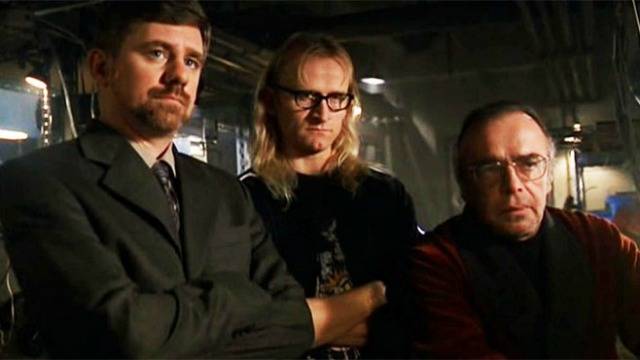 Lo spin-off di X-Files segue le vicende dei Lone Gunmen (Pistoleri solitari), il trio di cospirazionisti che spesso hanno accompagnato le indagini di Mulder e Scully.
Nella serie originale appaiono per la prima volta nella prima stagione, in occasione di un avvistamento UFO ricollegabile ad attività militari, aiutando i due agenti ad infiltrarsi in una base e scoprire la presenza di un alieno morto.
Amati dai fan in quanto trio di nerd, che è successivamente stato di ispirazione per altre serie, e spirito ironico della serie stessa, da soli non hanno resistito molto: infatti The Lone Gunmen è andata in onda nel 2001 per soli 13 episodi.
Sebbene il rating all'inizio fosse molto alto (la prima puntata ha registrato 13 milioni di spettatori), gli ascolti sono precipitati fino ai 2 milioni dell'ultimo episodio, finito oltretutto con un cliffhanger che perlomeno è stato risolto nella nona stagione di X-Files.
Le indagini del trio, tuttavia, si discostavano da quelle di Mulder e Scully, i quali indagavano principalmente episodi sovrannaturali, o riguardanti gli extraterrestri e gli UFO. Loro infatti si occupavano di svelare le cospirazioni dei governi, il terrorismo, lo spionaggio di massa; non a caso il nome "Lone Gunmen" si riferisce alla sentenza della Commissione Warren, che ritenne Lee Harvey Oswald il solo responsabile dell'assassinio di Kennedy.
Un fatto molto interessante riguarda il pilot della serie, in cui il governo degli Stati Uniti inscena un attacco terroristico dirottando un aereo contro il World Trade Center, proprio pochi mesi prima dell'11 settembre.
Coincidenze?