Quando ci affezioniamo a una serie famosa, come Gossip Girl tra gli esempi che tratteremo, è davvero difficile accettare cadute di stile o cambiamenti improvvisi nella trama e nel cast, ma ancora più difficile è trovarsi, dopo tante stagioni, di fronte a un finale deludente.
Ore, lacrime ed emozioni spese davanti allo schermo del pc, in attesa di un epilogo all'altezza delle aspettative rovinato dalla fretta di concludere o ancor peggio dal tentativo di non deludere nessuno, ma col risultato di deludere poi tutti. Nel corso degli ultimi anni sono diverse le serie incappate in questo irrimediabile danno. Pensiamo alla più famosa Game Of Thrones (di cui vi abbiamo già parlato tra le serie che si sono sabotate con la stagione finale), ma ne esistono anche altre, forse meno mainstream ma altrettanto sofferte.
Da Sherlock a Gossip Girl, ecco 5 Serie Tv con un episodio finale davvero deludente
1) Sherlock
La trama racconta le vicende avventurose di Sherlock Holmes e il Dr. Watson nella Londra del ventunesimo secolo. La serie è un libero adattamento dei romanzi e dei racconti di Conan Doyle, le cui avventure si svolgono nella Londra odierna.
Serie particolarmente acclamata, Sherlock è riuscita a trattare le vicende di uno dei personaggi più conosciuti e intriganti della letteratura inglese senza snaturarlo. La sua figura, i suoi tormentoni e la celebre frase "elementare Watson" sono impressi nell'immaginario collettivo, e i suoi creatori Mark Gatiss e Steven Moffat sono riusciti a pieno nell'intento di creare una serie amata da un pubblico molto ampio.
Ma come avrete intuito, e come certamente saprete, la serie si trova in questa lista per un motivo ben preciso: l'ultimo episodio.
Arrivati già stremati alla fine del terzo episodio della quarta stagione (la costruzione narrativa è estremamente complicata), ci aspettavamo che il finale per quanto complicato ci lasciasse soddisfatti e ripagati delle fatiche. A muovere le intricate fila delle vicende conclusive è Eurus Holmes, la sorella a lungo perduta di Sherlock, che lo sottopone a una serie di manipolazioni e torture psicologiche. Con l'aiuto di Watson, però, l'astuto detective riesce ad avere la meglio e i due decidono di ricostruire la loro vita e continuare con le indagini in comune. Anche se per ora non ci sono grandi speranze, non è detto che la serie Sherlock non possa tornare e che questo sia stato solo un finale provvisorio. Speranza che nutrono i fan delusi da una conclusione molto al di sotto delle aspettative.
2) Dexter
Non ha bisogno di presentazione la serie il cui protagonista è il serial killer più famoso di sempre.
Dexter e il sangue sono legati da sempre. Lui, ematologo del Dipartimento di Polizia di Miami, il sangue lo interpreta, lo legge, e lo sparge. Da bambino uccideva gli animali, e avrebbe anche ucciso delle persone se non avesse avuto rispetto del giudizio dei genitori. Solo dopo un attento discorso con il padre, cosciente delle anomalie psicologiche del figlio, Dexter si convince che il suo scopo nella vita sarà quello di seguire un fantomatico codice etico ed "eliminare solo persone cattive", più specificatamente dei serial killer.
Il successo della serie sta proprio nella costruzione del personaggio, e in particolare nel suo rapporto con la morte, con sé stesso e con gli altri. Costantemente in equilibrio tra il bene e il male, rappresenta un'indole a tratti superficiale e una malattia mentale che ci ricorda molto Patrick Bateman di American Psycho. E dunque cosa può essere andato storto in una serie che sembrava non poter commettere errori?
Dopo la fine della puntata gli utenti si sono particolarmente arrabbiati, e un'analisi ha dimostrato come ben il 27% dei soggetti intervistati reputava come deludente e al di sotto delle aspettative il finale. Il detective, che come abbiamo detto a sua volta è "un serial killer dei serial killer", si è congedato dai suoi fan con un episodio particolarmente complicato, per molti troppo. Gli eventi assurdi che si verificano (come l'abbandono del figlio a un'altra assassina, poi il sopravvivere a un uragano e il farsi una nuova vita altrove) sono stati reputati troppo da "stupido" per un personaggio intelligente e con una mente brillante come il protagonista. Probabilmente l'esigenza di dare una conclusione definitiva e frettolosa ha prevalso sul buon senso.
3) Gossip Girl
Forse una delle serie che ha fatto arrabbiare di più, Gossip Girl ci ha offerto un finale davvero assurdo.
Teen drama per eccellenza, Gossip Girl ha dato il via al mondo del pettegolezzo online e per mesi e anni tutti hanno provato a replicarlo (gruppi spotted, app per il gossip della propria città e via dicendo). Nonostante le tematiche adolescenziali trattate, come ad esempio le continue lotte tra ragazze per essere la queen o avere le attenzioni di un ragazzo, o su come organizzare un party perfetto e che vestito scegliere in quella determinata occasione, non manca di intrattenere lo spettatore con cliffhanger che spingono a proseguire curiosamente la visione.
Le vicende narrate ruotano attorno alle vite di alcuni giovani dell'Upper East Side: Serena Van Der Woodsen, Blair Waldorf, Chuck Bass e Nate Archibald che trascorrono le giornate giocando a fare gli adulti, tra eventi mondani, alberghi e intrighi, il tutto sotto l'occhio vigile del misterioso scrittore di Gossip Girl.
Come ben sapete, alla fine il mistero portato avanti per così tante stagioni viene finalmente svelato, lasciando però interdetti molti spettatori: come ha fatto Dan Humphrey a essere il famoso blogger che, in maniera anonima, spargeva dicerie e malelingue su tutti gli altri personaggi che lo circondavano? Ma ancora più assurdo è che Serena lo perdoni e ancor peggio lo sposi. Un misto di contraddizioni e assurdità che non intendiamo perdonare a una serie che ci ha accompagnato per così tante stagioni.
4) The 100
Quando è arrivata, questa serie ci ha fatto sognare. Un teen drama a tema fantascienza in grado di incollarci allo schermo come solo Gossip Girl e poche altre erano riuscite a fare prima.
Gli umani, lontani dalla Terra dopo una guerra nucleare che l'ha decimata, inviano cento giovani delinquenti a ricolonizzare il pianeta. Qui i ragazzi affrontano prove, paturnie amorose, intrighi e segreti.
Le ultime tre stagioni sono le più significative, perchè gli stessi protagonisti si rendono conto degli errori che hanno commesso e lottano per un cambiamento tutt'altro che facile da raggiungere. Ma anche in questo caso il finale non è stato all'altezza delle aspettative.
Ci sono state molte morti in questi anni, Game of Thrones prima di tutti ci ha insegnato a non affezionarci ai protagonisti, ma forse la morte più "sentita" dal pubblico è stata quella di Bellamy, uno dei personaggi più amati dell'intera serie tv. Questa decisione ha fatto infuriare molti fan che hanno addirittura richiesto nuove puntate. Di fatto, Bellamy non ha avuto la morte che meritava. Morire da solo contro tutti e ucciso da Clarke, quella che all'inizio era la sua migliore amica, ha fatto svanire l'intero percorso del personaggio.
5) Seinfeld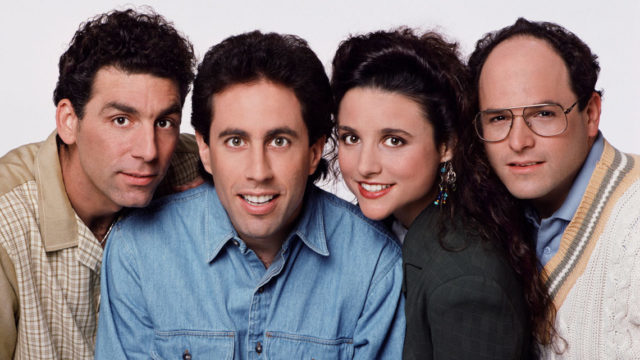 Concludiamo con la serie cult Seinfeld. Show amato e obiettivamente basato sul niente, ha coinvolto il pubblico che non ha accettato un finale così deludente. Celebre per aver riscritto le regole della comicità nella tv americana, portando nella sit-com il concetto di minimalismo, quotidianità e postmoderno dello stand-up.
La trama ruota intorno a quattro amici: l'ipercritico e caustico Seinfeld, la superficiale Elaine, il fannullone Kramer e il fallito George. Si riuniscono puntualmente in caffetteria, al bar o nella cucina dello stesso Seinfeld e interferiscono nella vita degli altri portando avanti una comicità autoreferenziale basata "sul nulla".
L'attesa per l'ultimo episodio, in onda il 14 maggio 1998, era così alta che ne è stato fatto un evento pubblicitario incredibile che ha coinvolto grandi quotidiani come il New York Times. Per questo la scelta di mandare in prigione i protagonisti per aver violato la Legge del Buon Samaritano è stata totalmente un disastro. Il pubblico si aspettava un finale col botto e invece è rimasto assolutamente deluso.