Attraverso il caleidoscopico mondo delle serie tv abbiamo avuto modo di osservare e studiare una vasta gamma di relazioni umane (non tutte malate stile Game of Thrones), in molte ci siamo riconosciuti e in altre abbiamo rivisto persone che conosciamo. Grazie all'universo seriale, dunque, abbiamo fatto la scoperta di personaggi così ben definiti e descritti che siamo stati in grado di catalogare delle tipologie comportamentali.
Queste ci hanno aiutato a riconoscere (e in alcuni casi a evitare) soggetti con cui non era il caso di interfacciarsi troppo.
Alzi la mano chi, imbattendosi in qualche ragazzo tutto frasi a effetto e intenzioni poco onorevoli, non ha pensato subito a Barney Stinson.
O magari chi a lavoro non ha riconosciuto in qualche capo dal sarcasmo tagliente e il cuore di ghiaccio una Wilhelmina Slater o un Perry Cox.

E se invece le serie tv ci avessero indottrinato e preparato su un altro tipo di personaggio con cui, presto o tardi, molti di noi saranno costretti a interagire? Per chi già c'è in mezzo da un po', per chi ci si troverà più in là nel tempo, ma soprattutto per chi ci si sta approcciando proprio adesso, benvenuti signori e signore nello sfiancante mondo delle suocere.
Ed ecco 5 categorie di suocere tremende che abbiamo estrapolato dal piccolo schermo!
1) SUOCERA ALLA BONNIE PLUNKETT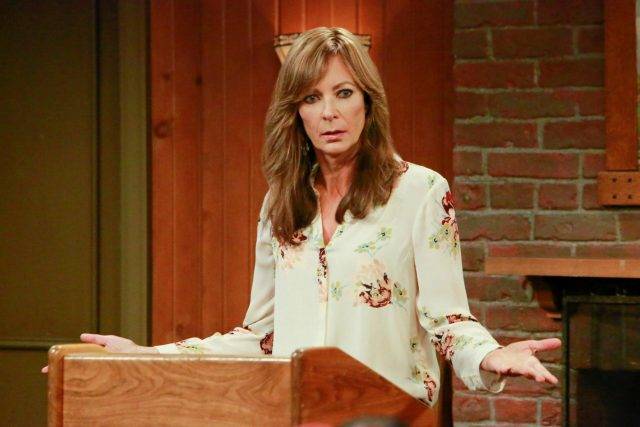 Come capire se vi siete imbattuti in una suocera Plunkett? Facile. Se avete la sensazione di avere a che fare con una diciottenne in preda a una feroce sindrome premestruale continua con delle evidenti tendenze autodistruttive, avete fatto centro.
Generalmente il suo bagaglio di aneddoti imbarazzanti circa il suo passato tutto sesso, droga e rock and roll vi mette in imbarazzo nove volte su dieci. Si consiglia di non lasciarla mai sola troppo a lungo nel vostro bagno, soprattutto se il cassetto dei medicinali è ben fornito, e di non dirle se ci sono dei contanti nascosti per casa. La suocera Plunkett non vi chiederà che intenzioni avete con sua/o figlia/o, non per una questione di rispetto, semplicemente non le interessa. Egocentrica, egoista e bugiarda, la suocera Plunkett è spesso un fardello più che un aiuto, ma per quanto possa sembrare disastrosa non è comunque la peggiore di questa lista.
PARALLELLISMO NEL REGNO ANIMALE – Coniglio
Le madri di questa specie abbandonano i cuccioli appena nati e si fanno vive circa due minuti al giorno per sfamarli nei loro primi venticinque giorni di vita. Dopodiché i piccoli devono farsi il segno della croce e arrangiarsi da soli. Non vi ricordano un po' la povera Christy?