È impossibile quantificare la perfezione. Ragion per cui la domanda che ci si pone nel titolo di questo articolo presenta un ostacolo insormontabile: non può beneficiare di una risposta precisa. È destinata a rimanere una domanda retorica, a meno di non ricorrere, appunto, all'astrattismo, con termini che rischiano di suonare vuoti, sensazionalistici e fini a se stessi. Eppure non vi è altro modo per descrivere qualcosa che adempie perfettamente al suo scopo.
Diciamolo, pertanto, senza timore di smentite: la colonna sonora di Romanzo Criminale è perfetta. Rendiamo grazie a Pasquale Catalano e a Stefano Fresi (sì, proprio il corpulento attore di Smetto Quando Voglio) per averci regalato cotanta perfezione. Come dovrebbe essere, d'altronde, qualcosa che ti spara The Passenger di Iggy Pop già nei primi cinque minuti del pilot?
Ma l'avere inserito nella soundtrack uno dei singoli più belli degli anni Settanta non è un mero esercizio di godimento estetico.
In generale, il bello della musica in Romanzo Criminale non è un bello fine a se stesso. Riprendendo il celebre schema delle dieci funzioni assolte dalla musica, elaborato dall'antropologo Alan Merriam, due sono in particolare le funzioni sulle quali vale la pena soffermarsi: la funzione di espressione delle emozioni individuali o collettive e quella intesa come rappresentazione simbolica di idee e significati.
Per quanto riguarda la prima va ricordato come Romanzo Criminale sia, appunto, un romanzo. A differenza di Gomorra e della vera banda della Magliana, i personaggi sono volutamente dotati di sprazzi di umanità. Quanto basta per consentire a loro di provare profondi sentimenti e noi spettatori per entrare in empatia con loro. E in questo contesto la musica svolge un ruolo fondamentale, intrecciandosi con la trama e agendo al livello dell'amigdala.
Diventa, pertanto, impossibile non associare per sempre una determinata canzone alla corrispondente scena all'interno della Serie. Un esempio in tal senso può essere considerato Total Eclipse of The Heart di Bonnie Tyler, in sottofondo al furto della bara del Libanese ad opera di Bufalo. Il tono struggente della melodia, ancor più che del testo, elevano il momento a uno dei più toccanti dell'intera Serie.
Per lo stesso principio Lilly di Venditti calza come un guanto al finale nichilista dell'episodio 2×08, alternandosi alle scene del tormento del Sorcio e, soprattutto, alla resa del Freddo. Un Freddo che prende coscienza del fatto di non avere più un'aspettativa e si lascia andare a quell'intenso scambio di battute: "Perchè hai ammazzato Buffoni, allora? Che senso c'aveva?" "Nun lo so. Me sa che nun c'avevo niente di meglio da fa".
E, parlando di finali epici, come non citare l'omicidio del Teribbile, accompagnato da Tutto il Resto è Noia? È in momenti del genere che la musica diviene parte integrante della trama, condensandosi nella nostra memoria per sempre. E così Pazza Idea diventa per sempre la canzone dell'amore di Freddo e Roberta, Figli delle Stelle scandisce il ritmo dell'escalation della Banda, Shout per la proclamazione delle sentenze e via dicendo…
Come accennato, la colonna sonora svolge anche una funzione di rappresentazione simbolica di idee e significati, ma non nella sua concezione più comune.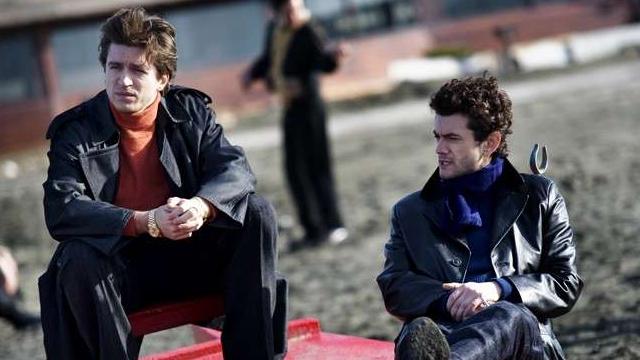 Difficilmente, infatti, è il testo delle canzoni a trovare attinenza semantica con gli eventi della Serie, come per esempio avviene con Mr. Robot. Le musiche danno vita a un lavoro straordinario nel contestualizzare gli eventi nel periodo storico della banda della Magliana. Non a caso la soundtrack è costituita dai singoli di maggior successo in quegli anni.
Oltre a questo, la colonna sonora costituisce un tassello fondamentale per la caratterizzazione dei personaggi. Non abbiamo la riprova dei fatti, eppure possiamo star certi che nulla meglio del no-sense tipico di Battiato (nella fattispecie Cuccurucucu) possa sintetizzare la veemenza e l'illogicità del rapporto sessuale tra Freddo e Donatella, con le immortali parole di Scialoja a corollario: "Vi consolate presto tra voi criminali".
Così come You Make Me Feel (Mighty Real) aiuta a inquadrare il Dandi, la sua personalità, la sua superficialità nel seguire determinate tendenze senza fare lo sforzo di comprenderle. Elemento che cozza e non poco con l'estrema razionalità tipica sia del Libanese che del Freddo (peraltro amante di Baglioni e Sabato Pomeriggio è lì, pronta a sottolineare la sua sensibilità).
Troppe altre ne stiamo dimenticando. Da Sunshine Reggae nella scena al Lido di Ostia a Le Freak che dà proprio il via a Romanzo Criminale. Tutte, in egual misura, hanno contribuito affinchè potessimo parlare di perfezione a proposito di cotanta colonna sonora. Persino capace, grazie alla sola scena finale, di rendere amabile Vasco Rossi a chi non è affatto un fan del Blasco.
Ma stiamo dimenticando soprattutto l'incredibile theme song, quel Tema Triste del Repertorio Machiavelli che lacera l'anima ogni volta un tasto di pianoforte alla volta. Per parlare di questo e della sua correlazione con le scene più epiche della Serie, tuttavia, occorre un articolo ad hoc. Per cui…"Famo domani".