Troppo. Se c'è una parola che descrive alla perfezione Riverdale è proprio questa.
Troppo insensata, troppo esagerata, troppo teen, troppo sovrannaturale. Troppo tutto. Iniziare un episodio della serie di The CW significa venire risucchiati in un vortice, con il vento che ti sballotta di qua e di là e ti fa girare la testa. Poi, però, il tornado non ti porta nel mondo di Oz, ma ti lascia in Kansas a chiederti che diavolo hai appena visto e quando esce il prossimo episodio.
Riverdale o la ami o la odi, non credo ci possa essere una via di mezzo, perché è una di quelle serie troppo assurde, troppo trash (l'avevo detto che "troppo" era la parola perfetta) per non dividere e creare opinioni contrastanti. Qualcuno potrebbe odiarla perché si è sentito ingannato dalla premessa alla Twin Peaks (e se pensavate di iniziarla per questa ragione lasciate stare, c'è Mädchen Amick ma manca David Lynch), qualcuno potrebbe odiarla perché è troppo trash, qualcuno potrebbe odiarla perché non ha senso e non vale la pena mettersi a contare le cose che non tornano.
E qualcuno potrebbe amarla proprio per tutti e tre questi motivi.
Riverdale è una serie difficile da apprezzare, con i suoi adolescenti adulti all'inverosimile e i mostri che escono dalle paludi come nelle migliori puntate di Scooby Doo. Soprattutto, però, è difficile da amare perché è una serie trash, un genere che ha spopolato con Pretty Little Liars ma che aveva fallito in precedenza con Scream Queens, cancellata dopo due stagioni (ma che adesso sta finalmente per tornare) e apprezzata solo da una piccola nicchia di persone.
L'Enciclopedia Treccani ci viene in soccorso per dirci che il trash è "caratterizzato da cattivo gusto, volgarità" e che attira il pubblico "con quanto è scadente, di bassa lega, di infimo livello culturale". Beh, come si fa ad apprezzare una tale accozzaglia di aggettivi negativi? Eppure Riverdale ha riscosso il suo discreto successo, dando vita anche a due spin-off: Katy Keene, purtroppo già cancellato da The CW, e Le terrificanti avventure di Sabrina, che si concluderà con la quarta stagione.
La cittadina avvolta nella nebbia nella quale i misteri non finiscono mai è diventata una delle più popolari degli ultimi anni e, forse, perfino i suoi fan si domandano perché continuano a guardarla, pur sapendo che il fil rouge che collega gli eventi li condurrà sicuramente a una conclusione folle. Ma è probabile che la ragione sia più ovvia del previsto, se pensiamo al gusto dell'orrido che, a più riprese, ha fatto capolino nella letteratura e nella storia dell'arte.
La verità è che le cose brutte ci piacciono più di quanto potrebbe sembrare.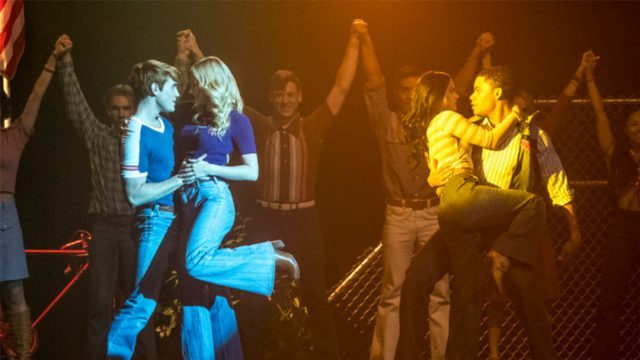 Avrete sicuramente sentito parlare di grottesco, un termine legato alla deformità, al paradosso, alla non naturalezza e attribuito a tutta una produzione letteraria, artistica e cinematografica. Vi dice niente il Saturno di Goya? Si tratta di un dipinto in cui Saturno divora uno dei suoi figli. Il titano è quasi deforme, il corpo inerte del figlio è decapitato e pieno di sangue, le tinte usate dal pittore sono cupe, la scena è terribile. Eppure Francisco Goya è stato uno dei più importanti pittori spagnoli dell'Ottocento e questo è uno dei suoi quadri più famosi.
Le cose brutte hanno un fascino particolare che ci attira e ci intriga, forse perché sono così diverse dallo standard o forse si tratta di un'attrazione come quella che proviamo per l'Universo o l'oscurità del mare di notte. Ci fannno paura – perché sono così immensi e sconosciuti – eppure ci attraggono. Il grottesco, il kitsch, il trash sono la dimostrazione che c'è un qualcosa nell'orrido e nel nonsense che ci piace. E Riverdale non fa eccezione.
Sotto a questa patina di assurdità, però, l'autore di Riverdale ha voluto fare il colto e l'ha disseminata di citazioni.
Dalla scena di Scream, ricreata insieme allo stesso Skeet Ulrich (FP Jones), alla macchina di Psycho. Da Carrie, rappresentato nel primo episodio musical, alla stanza d'hotel di Shining, al technicolor melodrama di Douglas Sirk nell'episodio sogno in cui i personaggi vestono i panni (letteralmente) delle loro controparti su carta. Insomma, Roberto Aguirre-Sacasa si è sbizzarrito, nascondendo qua e là easter egg di grandi classici del cinema, oltre che lasciandosi ispirare per tutti i titoli dei suoi episodi.
Tutti questi riferimenti, però, non cambiano la natura del prodotto. Il suo autore sarà un appassionato di cinema e forse si sarà divertito ad attingere ai suoi classici preferiti, ma la presenza di questi elementi non è una pretesa di serietà. Riverdale non cerca di essere seria, di essere coerente o di essere educativa, perché non vuole esserlo.
Ma essere trash non è necessariamente un aspetto negativo.
Non tutto deve essere serio o pretenzioso, non tutto deve insegnare qualcosa. Ci sono prodotti che hanno il preciso scopo di sensibilizzare su alcuni temi, o di costruire un'avvincente racconto thriller, oppure di farci riflettere su certi aspetti della vita. In un mondo tanto frenetico come quello in cui viviamo, però, a volte può anche essere piacevole staccare il cervello e guardare qualcosa che faccia ridere per quanto è senza senso.
In generale, credo che ogni prodotto andrebbe un po' preso per quello che è, senza aspettarci che soddisfi delle aspettative che non ha mai preteso di soddisfare. In questo senso il teen drama di The CW è una serie trash che ha preso alla lettera la definizione del termine e si è impegnata a rispecchiarla in pieno. Ovviamente può non piacere e, anzi, proprio per questo è una serie che non permette vie di mezzo: o la ami o la odi. Ma sappiamo tutti benissimo che sono entrambi sentimenti forti, perché, come si dice: nel bene o nel male, l'importante è che se ne parli.