Attenzione: questo articolo contiene spoiler su Rick and Morty 4×01!
A distanza di due anni da Rickchurian Mortydate, il fiore all'occhiello di Adult Swim ritorna sui nostri schermi. Dan Harmon e Justin Roiland si sono fatti attendere parecchio, facendosi però perdonare con la promessa di altri 70 episodi e di una nuova stagione coi fiocchi. Come sappiamo, quest'ultima sarà divisa in due parti da cinque puntate (in questo articolo ve ne spieghiamo le ragioni), ma non c'è da preoccuparsi: già durante la visione di Rick and Morty 4×01 si può intuire il mantenimento della qualità dello show, che come sempre riesce a fondere fantascienza, humor e nichilismo, soddisfacendo le aspettative.
Come ogni fan della serie ben sa, le citazioni cinematografiche sono ricorrenti in moltissimi episodi di Rick and Morty. Come in questo caso. Edge of Tomorty: Rick, Die, Rickpeat è il brillante apripista della quarta stagione che, come il titolo lascia intendere, si ispira al film Edge of Tomorrow (a sua volta basato sul fumetto Live, Die, Repeat). Proprio come nella trama originale, Rick si ritrova a tornare in vita ogniqualvolta venga ucciso, reincarnandosi sempre all'interno di un universo differente, mentre Morty si trasforma in un essere potente e disumano dopo aver visto il suo futuro e aver trafugato alcuni gadget futuristici del nonno.
Rick and Morty 4×01 si focalizza sulla capacità di elaborare il concetto di morte, spaziando tra il pragmatismo di Rick e il terrore cieco del nipote.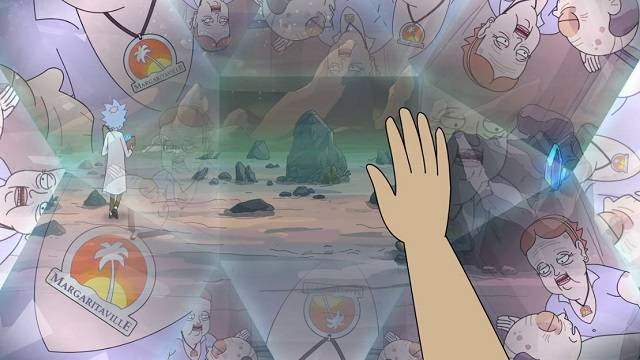 Una prima nota di merito riguarda la caratterizzazione dei personaggi e lo sviluppo di questi sul piano relazionale. L'episodio di apertura, infatti, contrappone le filosofie di vita dei due protagonisti e analizza il concetto di morte dai due diversissimi punti di vista. Da un lato abbiamo la concretezza di Rick Sanchez, il quale accetta la morte in quanto inevitabile e osserva l'esistenza dall'alto del suo nichilismo. Dall'altro, Morty si lascia invece sconvolgere profondamente dall'idea di perdere la vita. Sarà proprio questa acutissima paura, unita al desiderio di vivere in modo normale, stabile e sereno, a governare le azioni del ragazzo per tutta la puntata.
Si potrebbe dire che i ruoli si invertono temporaneamente: il vero antieroe della puntata, in questo caso, risulta essere proprio Morty con il suo egoismo. Sono le sue azioni e l'ossessione per Jessica a renderlo uno spietato killer, oltre che a condurre alla morte di Rick. Pare che il tempo trascorso con il nonno abbia condizionato non poco il nostro adolescente spaventato, dato che persino un cristallo è in grado di tramutarlo in un'arma di distruzione di massa (a tal proposito, consiglio vivamente di osservare con attenzione i vari futuri che si intravedono nel cristallo della morte, potrebbero risultare molto interessanti).
Non preoccupatevi però: anche questa nuova stagione è caratterizzata dal senso dell'umorismo bizzarro e grottesco che ci ha fatto innamorare di Rick and Morty.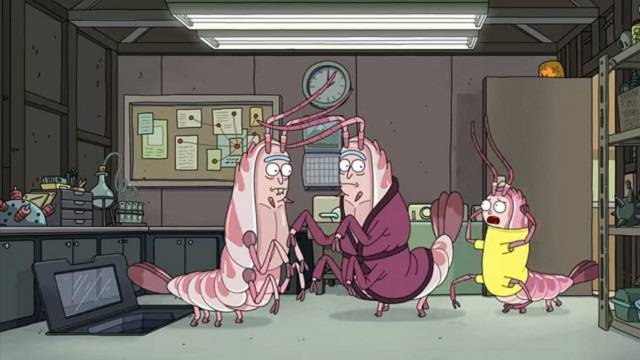 Se solitamente le sottotrame riguardano gli altri membri della famiglia, Edge of Tomorty segna un lieve cambiamento, dedicando il filone narrativo secondario proprio a Rick e ai suoi comici tentativi di tornare in vita nel proprio universo. Alcuni dei momenti più divertenti della puntata riguardano proprio il loop in cui lo scienziato si trova incastrato, tra versioni naziste di se stesso, gamberoni giganti e familiari col pungiglione. La linea narrativa di Morty è invece più seria, seppur sempre delirante, e al suo interno sono proprio l'ologramma di Rick e il ritrovato Mr. Goldenfold a conferire una buona dose di ilarità alle scene.
Per quanto riguarda la famiglia Smith, questa appare al completo solo in pochi momenti dell'episodio. L'incipit stabilisce la nuova situazione di status quo, facendo capire il nuovo ruolo impositivo di Beth rispetto alle scorse stagioni, mentre la scena finale ci strappa un'ultima risata con l'inopportuno e disgustoso intervento di Summer nella discussione tra Morty e il nonno. Anche il crudele banchetto tra vespe dell'alternativa famiglia Smith crea un'atmosfera di disagio assolutamente tipica di Rick and Morty.
Nel complesso, Edge of Tomorty è un'avventura eclettica e frenetica che rappresenta l'apertura ideale per la nuova stagione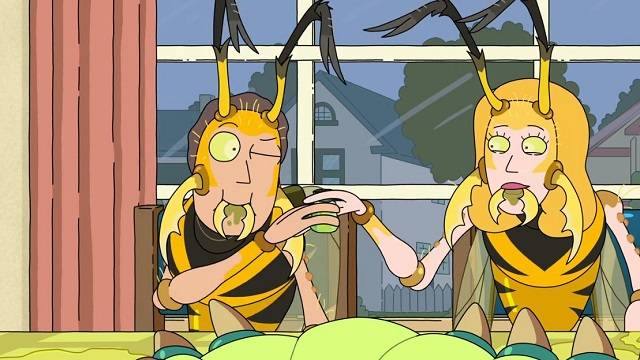 Se non fosse per la qualità dell'animazione, che rimane coerente alle stagioni precedenti pur migliorando progressivamente, si potrebbe scambiare la 4×01 di Rick and Morty per una delle prime puntate della serie. È una storia che, come alle origini, si concentra su ciò che accade quando il folle Rick e suo nipote si imbarcano in una nuova avventura, e al contempo introduce alcuni elementi sugli sviluppi all'interno della famiglia. La forte enfasi posta sul personaggio di Morty dà il via a questa nuova fase con una nota avvincente, che si trasforma in senso di disillusione dopo i titoli di coda (non dimenticatevi mai le scene post-credit, sono tra le più pazzesche delle serie tv).
Il ritmo della puntata è incalzante e gli eventi procedono in rapida successione, anche se la narrazione rimane scorrevole e comprensibile. I numerosi riferimenti alla cultura pop (come l'anime Akira), la buona caratterizzazione dei personaggi e, soprattutto, la capacità di rielaborare la trama di un prodotto cinematografico mediocre introducendo caratteri innovativi e a dir poco geniali, sono tutti elementi che fanno di Rick and Morty 4×01 la perfetta apripista per la quarta stagione.