Dio benedica "Young Sheldon" e questo episodio in particolare che è riuscito a essere divertente senza essere banale. Per quanto mi riguarda reputo questo episodio finora uno dei migliori della stagione. Magari The Big Bang Theory fosse ancora capace di farci ridere così  (leggi qui i 10 momenti in cui la sceneggiatura della Serie Tv è stata imbarazzante)!
In questo nuovo episodio di "A Patch, a Modem, and a Zantac" abbiamo visto Sheldon alle prese con un progetto piuttosto ambizioso: dimostrare a uno scienziato della Nasa che si sbagliava riguardo la possibilità di far atterrare i razzi propulsori.
Immaginavamo che "Young Sheldon"  prima o poi ci avrebbe mostrato come Sheldon si era appassionato alla fisica teorica, ma non credevamo che lo avrebbero fatto così presto.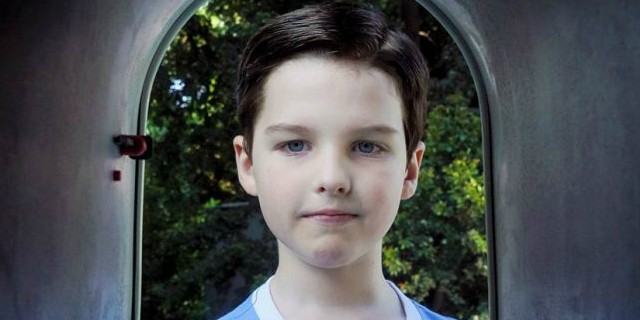 Sheldon (leggi qui i 10 tratti caratteriali che probabilmente condividi con lui) in questo episodio ha conosciuto uno scienziato della Nasa che si è recato nella sua scuola per presentare ai giovani studenti il suo lavoro. Il piccolo Cooper gli ha posto, come c'era da aspettarsi, molte domande e ha osservato come sarebbe molto più economico e sensato far atterrare i razzi propulsori su una superficie invece di farli cadere nell'oceano. Lo studioso della Nasa ha risposto frettolosamente agli interrogativi di Sheldon, limitandosi a donargli uno stemma e trattandolo da bambino. Questo ha mandato Sheldon su tutte le furie e lo ha spinto a interessarsi alla fisica.
"Le persone spesso si chiedono perché io abbia scelto di intraprendere una carriera nella fisica teorica. Di solito rispondo che volevo svelare i meccanismi segreti dell'universo. Ma la vera risposta è che volevo dimostrare che quel babbeo si sbagliava."
Ha cominciato infatti a dedicarsi anima e corpo ai calcoli e allo studio della traiettoria dei razzi con l'unico intento di umiliare quel uomo che si è permesso di sottovalutare le sue capacità e trattarlo come un bambino. I suoi studi hanno subito però una battuta d'arresto quando ha scoperto di aver bisogno di un computer per poter completare i suoi calcoli. Ha cercato quindi in tutti i modi di procurarsi i soldi per acquistare un computer ma senza fortuna. La nonna non può dargli più di nove dollari, i suoi genitori non possono permettersi di comprarlo e la banca non vuole concedergli un prestito data la sua giovane età.
Sheldon è disperato e lo è diventato ancora di più quando i genitori lo hanno messo in punizione e gli hanno vietato di andare nel suo negozio di elettronica preferito.
Rinchiuso nella sua stanza a rimuginare sui suoi calcoli e sulla sua rabbia, Sheldon ha cominciato a stare male e si è autodiagnostico un'ulcera. I genitori, ricordando tutte le malattie che Sheldon aveva creduto di avere e che si erano rivelate dei semplici raffreddori, erano piuttosto scettici ma alla fine hanno accettato di portarlo dal medico. Il dottore ha confermato i sospetti del piccolo ragazzino diagnosticandogli un'ulcera. Nello studio del medico però Sheldon ha potuto finalmente avere accesso a un computer e ultimare i suoi calcoli. Una volta tornato a casa ha quindi scritto un saggio su un quaderno per dimostrare la possibilità di far atterrare i razzi propulsori su una superficie e lo ha spedito alla Nasa.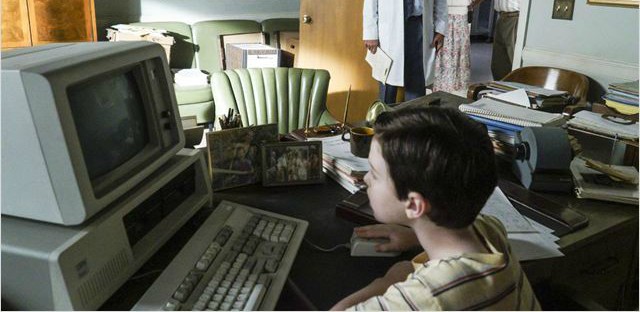 Ha atteso per molti giorni una risposta da parte della Nasa che però tardava ad arrivare. Per questo George Cooper ha deciso di risolvere la situazione una volta per tutte e portare suo figlio alla NASA a parlare con l'uomo che gli aveva provocato l'ulcera. Dopo un lungo viaggio fino a Houston a cui ha partecipato l'intera famiglia Cooper, Sheldon ha potuto finalmente parlare con l'ingegnere della Nasa. Quindi nel suo studio gli ha illustrato i suoi calcoli, ma incredibilmente lo studioso della Nasa non gli ha detto quello che lui si aspettava.
Ha detto che sebbene i suoi calcoli fossero corretti, erano inapplicabili e Sheldon ha capito purtroppo di essere in anticipo sui tempi.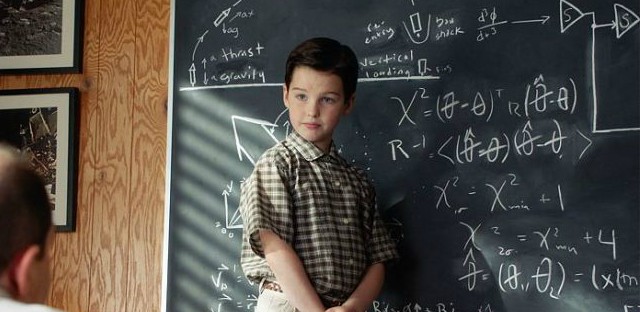 Questa esperienza però è stata molto utile al piccolo ragazzino dato che gli ha fatto capire che da grande doveva assolutamente occuparsi di fisica teorica.
"Mi sono sempre chiesto cosa sarebbe accaduto se mio padre non avesse preso le mie difese quel giorno. Sarei stato destinato a diventare un fisico teorico di fama mondiale o semplicemente un comunissimo fisico teorico nella media?"
Nella scena finale abbiamo scoperto che Elon Musk ha ripreso i calcoli di Sheldon e li ha applicati con successo prendendosi tutti i meriti del lavoro di Sheldon.
Questo episodio di "Young Sheldon" è stato determinante nella costruzione del personaggio di Sheldon!
Se già finora abbiamo sempre trovato che il protagonista di questa comedy fosse ben costruito perché rappresentava la perfetta copia di quello interpretato in "The Big Bang Theory" da Jim Parsons, in questo episodio possiamo dire che la somiglianza è stata ancor di più accentuata. La sua scioltezza nell'elencare calcoli e concetti molto complessi, il suo atteggiamento dispotico e vendicativo, i suoi sguardi, le sue parole tutto rimandava allo Sheldon Cooper che ben conosciamo. Ma questo episodio è servito soprattutto per approfondire il rapporto tra Sheldon e suo padre George, che abbiamo scoperto essere una presenza importante nella vita del piccolo genietto. Se il quinto episodio di "Young Sheldon" ci aveva mostrato un ritratto meno positivo del capofamiglia dei Cooper, stavolta George ci ha fatto capire che, a suo modo, ama suo figlio e lo sostiene in tutte le battaglie che vuole intraprendere, anche quando lui non le comprende pienamente.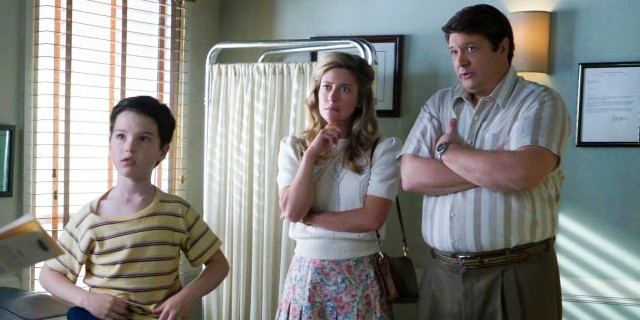 I fratelli di Sheldon mi fanno sempre più pena dato che, sebbene i genitori giurino di tenere a loro e di essere orgogliosi anche dei loro traguardi, sanno bene che Mary e George riservano attenzioni e lodi solo al figlio minore.
La nonna Costance è il personaggio più comico di questa Serie Tv e con le sue battute inattese e spiritose continua a farsi amare dal pubblico.
È stato molto bello anche vedere il rapporto dolce e tenero che ha con i suoi nipoti: anche se talvolta non si mostra molto responsabile e per badare a loro usa talvolta metodi poco ortodossi, tuttavia è evidente quanto gli voglia bene.
Insomma questo è stato un episodio molto divertente che ci ha fatto trascorrere venti minuti di pura leggerezza. Nel sesto episodio di "Young Sheldon" la voce di Jim Parsons con una narrazione dal ritmo serrato e ben costruito ci ha raccontato le fasi del piano di vendetta di Sheldon e il viaggio della famiglia Cooper verso Houston. La comicità brillante di questo episodio ci ha ricordato quella che caratterizzava le prime stagioni di "The Big Bang Theory" e che ci aveva fatto innamorare della Serie Tv. Questo spin-off non sbaglia un colpo!
Due piccole chicche prima di lasciarvi:
1) Lo scienziato della Nasa ha raccontato agli studenti della classe di Sheldon che gli scienziati sulle stazioni spaziali non hanno i bagni, ma ricordate chi molti anni dopo ha costruito il primo gabinetto spaziale? Esatto proprio l'ingegnere con il taglio alla Beatles che noi tutti fan di "The Big Bang Theory" amiamo.
2) Elon Musk, l'uomo che appare nell'ultima scena, è il fondatore della Tesla Motors ed è riuscito realmente a realizzare il primo razzo riutilizzabile. Avrà davvero attinto le sue conoscenze dal saggio "Rientro e Retropropulsione dei razzi" di Sheldon? Non lo sapremo mai, ma se così fosse stato sicuramente Elon sarebbe entrato a far parte della lista dei nemici mortali del dottor Cooper.