Finalmente abbiamo potuto vedere un nuovo divertente episodio di Young Sheldon, dopo che la settimana scorsa la serie non è andata in onda. Questa volta abbiamo visto il piccolo genio e Georgie alle prese con i bulli e abbiamo anche scoperto una cosa importante sul passato di Mary Cooper.
Il protagonista della puntata, intitolata David, Goliath, and a Yoo-hoo from the Back, è stato sicuramente Sheldon che ha sfidato il bullo più temuto della scuola!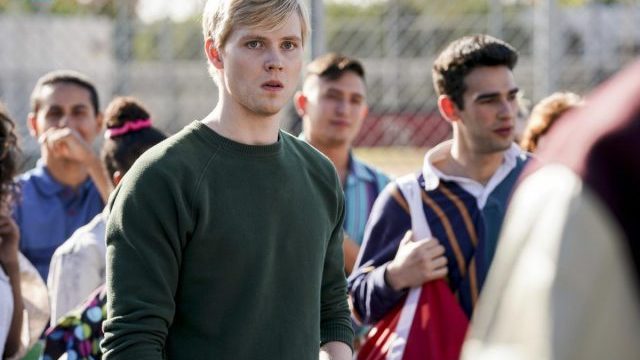 Tutto è cominciato quando il piccolo Shelly ha visto che Tommy stava infastidendo suo fratello e ha chiesto a Georgie cosa fosse successo. Dato che il ragazzo non ha voluto rivelargli nulla, Sheldon è andato a chiedere al bullo perché ce l'avesse tanto con suo fratello. Lui non solo gli ha spiegato la vera motivazione per cui stava per picchiarlo, ma lo ha anche preso in simpatia.Tommy ha preso quindi Sheldon sotto la sua ala e ha cominciato a proteggerlo non solo dagli altri bulli, ma anche dal suo stesso fratello. Il piccolo genio ha naturalmente deciso di approfittare della situazione per poter comandare a bacchetta Georgie anche a casa: ogni volta che il ragazzo non obbediva ai suoi ordini, lui minacciava di farlo punire da Tommy.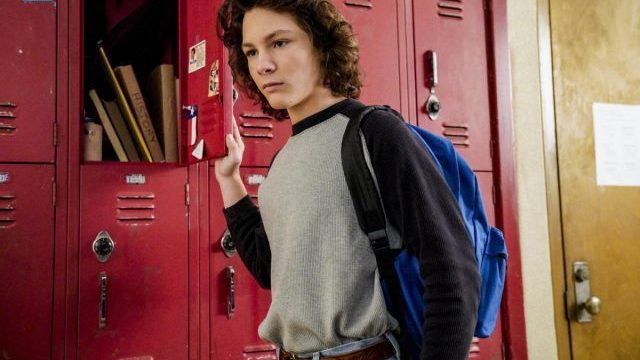 Ma ha capito che avrebbe potuto sfruttare questa sua nuova amicizia anche per un fine più nobile!
Ha deciso difatti di difendere un ragazzo che stava per essere pestato durante l'ora di ginnastica da Jason Davies. Quando il bullo stava per picchiare Sheldon, lui con voce trionfante gli ha annunciato che, essendo amico di Tommy, non poteva essere toccato. Jason ha deciso allora di affrontare il protettore di Sheldon e gli ha dato appuntamento in cortile. Il problema era che, essendo Tommy molto più gracile del suo sfidante, avrebbe sicuramente avuto la peggio in quello scontro. Sheldon per salvare il suo nuovo amico da quella azzuffata ha deciso di ricorrere a tutta la sua intelligenza e ha avuto una grande idea. Proprio come un novello Davide ha provato a mettere al tappeto il gigante con una fionda e un sasso. È riuscito però solo a far arrabbiare di più Jason che, per punirlo, lo ha chiuso nel suo armadietto e lo ha lasciato lì per tutta la notte.
Anche Missy in questa nuova puntata di Young Sheldon si è messa nei guai, dopo essersi presentata a scuola truccata!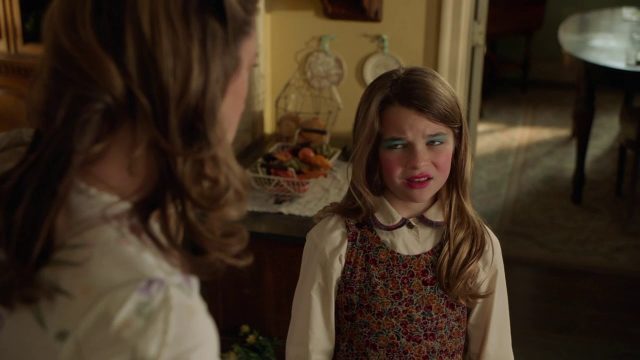 La dolce Missy ha rubato infatti i trucchi dalla borsa di sua nonna e si è impiastrata il viso per apparire al meglio nella foto scolastica. Il fotografo della scuola però, insospettito dalle sue parole, ha preferito chiamare sua madre per accertarsi che lei fosse a conoscenza di come si era conciata la sua bambina. Mary è andata di corsa a prendere sua figlia a scuola e a casa l'ha sgridata per bene, mentre Connie cercava di difenderla. Quando Missy ha detto che avrebbe preferito avere Connie come madre, dato che era notevolmente più divertente e permissiva, Mary è andata su tutte le furie. Ha lasciato la piccola a casa della nonna e le ha detto che sarebbe rimasta a dormire lì.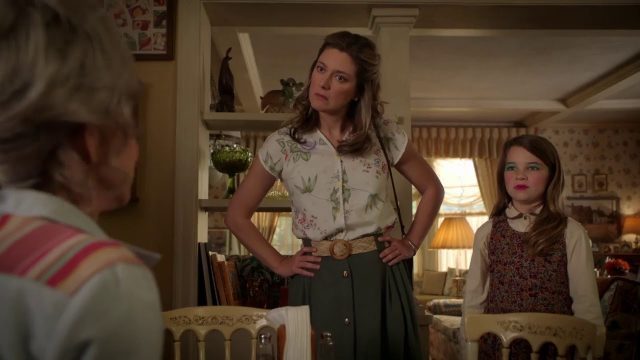 Una volta tornata a casa, la donna si è sfogata con George e gli ha confessato che temeva che, comportandosi sempre come un genitore severo, potesse finire per farsi odiare dai suoi figli. L'uomo le ha detto che stava facendo un ottimo lavoro con i bambini e che era dalla sua parte. Alla fine a risolvere la situazione però è stata Connie che, dopo aver pulito il viso di sua nipote e averla avvertita sull'eccessivo uso del fard, le ha rivelato un segreto riguardo sua madre.
Le ha detto che Mary quando era giovane aveva commesso diversi errori e le aveva dato molti grattacapi: sgattaiolava spesso di nascosto via da casa dopo il coprifuoco per uscire con i suoi amici e la madre l'aveva spesso sorpresa a fumare.
E allora come ha fatto a cambiare tanto in pochi anni?
Connie ha rivelato a sua nipote che, quando lei era nata, aveva avuto diversi problemi di salute molto gravi. Mary allora aveva pregato Dio e gli aveva promesso che, se avesse fatto sopravvivere sua figlia, lei sarebbe stata una perfetta cristiana e avrebbe servito il Signore per tutta la vita. Missy ha capito quindi che non doveva giudicare sua madre, ma bensì esserle grata per l'affetto che le aveva sempre dimostrato. Alla fine Connie ha detto a sua figlia che come madre stava facendo un ottimo lavoro, riuscendo quindi a rassicurare la donna.
Un episodio ricco di sorprese e risate è stato quello di questa settimana.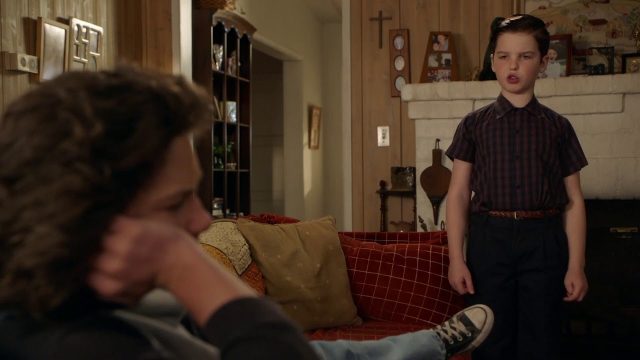 Quando gli autori di Young Sheldon si concentrano su due storyline alla volta riescono a dare vita sempre a episodi brillanti. È stato bello vedere Sheldon spadroneggiare a scuola e colpire Jason con la fionda. Ero convinta, dopo aver ascoltato i racconti del protagonista in The Big Bang Theory, che il piccolo ragazzino fosse sempre stato una povera vittima dei bulli, ma in questa puntata abbiamo scoperto una verità ben diversa. La coppia Connie-Missy vince a mani basse su quella formata da Sheldon e Georgie. Ogni volta che la nonna trascorre un po' di tempo con sua nipote, le due ci regalano sempre gag esilaranti.
Ho apprezzato molto anche questo approfondimento sul passato di Mary e il fatto che gli autori abbiano deciso di mostrare anche i dubbi e le fragilità di questo personaggio che era sempre sembrato molto sicuro di sé. Quello di questa settimana è stato quindi un episodio ben strutturato e molto divertente che ci ha mostrato alcuni personaggi sotto una luce diversa.
Per questo la quattordicesima puntata della seconda stagione di Young Sheldon è promossa a pieni voti.