Young Sheldon è nata un po' per caso. Jim Parsons voleva creare una serie su un piccolo genio e Chuck Lorre ha colto l'occasione, trovando un modo per approfondire la storia del Dr. Cooper. Ci vuole molto coraggio per creare uno spin-off di una serie tv del calibro di The Big Bang Theory. È una scelta insidiosa, ma non impossibile. Gilligan c'è riuscito con Better Call Saul, ma non si può dire lo stesso per Joey, lo spin-off di Friends.
La sitcom è andata in onda per la prima volta negli USA nel 2017 e in Italia un anno dopo. Attualmente è composta da due stagioni ed è incentrata sul giovane Sheldon, ripercorrendo l'infanzia del protagonista, interpretato dal piccolo prodigio Iain Armitage. L'idea ha incuriosito subito molti fan della comedy principale, desiderosi di trovare risposte ad alcuni quesiti rimasti in sospeso. Sotto questo punto di vista, il prequel funziona molto bene, ma ci sono altri aspetti che non soddisfano pienamente le aspettative.
Uno schema diverso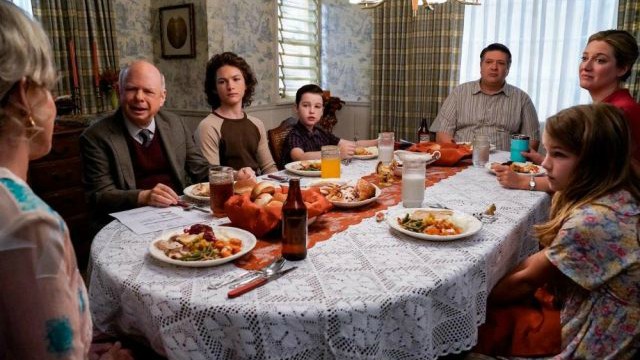 La prima differenza con The Big Bang Theory che salta subito all'occhio è la mancanza dello schema sitcom in Young Sheldon. Nello spin-off è presente una grande varietà di ambientazioni e le scene risultano molto più dinamiche. Inoltre, Chuck Lorre ha eliminato anche le risate registrate del pubblico, che marcavano l'aspetto comedy della serie. Alcune volte il pubblico sul set serve a stimolare quello televisivo, quando si vuole sottolineare qualche battuta.
In Young Sheldon lo scopo è totalmente diverso da quello della serie tv principale, dove si fa leva sui difetti dei protagonisti per creare delle caricature e usarle in maniera divertente. Il prequel nasce con l'intento di approfondire la vita di un personaggio entrato nel cuore di moltissimi fan. Nonostante la costruzione eccellente di tutti i protagonisti nella sitcom originaria, la storia di Sheldon è quella che risulta più complessa e affascinante. Era impossibile approfondire tutte le sfaccettature della sua personalità senza oscurare gli altri, quindi la scelta più sensata era quella di ricominciare da capo.
Un peso troppo grande sulle spalle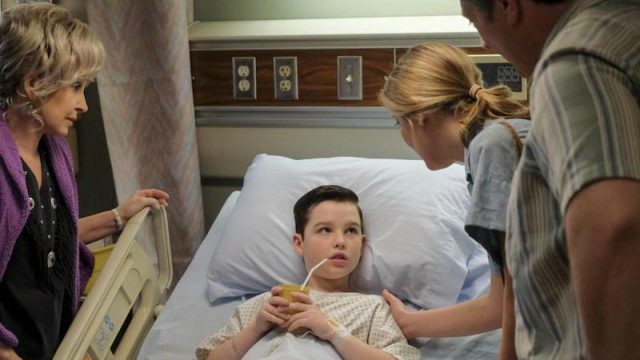 Il talento di Iain Armitage è innegabile. Il giovane attore riesce a svolgere un compito difficilissimo con grande disinvoltura. Interpretare un personaggio iconico come quello di Sheldon Cooper senza copiarlo è già difficile per un adulto con decenni di esperienza, figuriamoci per un bambino di nove anni. Malgrado questo, l'attore ha trovato un equilibrio convincente, capace di soddisfare immediatamente il pubblico. Un piccolo aiuto viene anche da Jim Parsons, che aggiunge un tocco nostalgico con la sua voce narrante. Soltanto il suo lavoro, però, non basta per rendere Young Sheldon una grande comedy. La maggior parte delle responsabilità ricadono sulla sceneggiatura.
Gli aspetti più divertenti in questo spin-off  si trovano spesso nelle battute di Connie e Missy, rispettivamente la nonna e la sorella gemella del protagonista. Agli altri invece è richiesto quasi sempre di svolgere il compito più arduo, cioè quello di spiegare ai fan le origini del comportamento di Sheldon da adulto. Dovendosi concentrare forzatamente sulle richieste del pubblico curioso, rimane poco spazio per la fantasia dei creatori.
Manca la libertà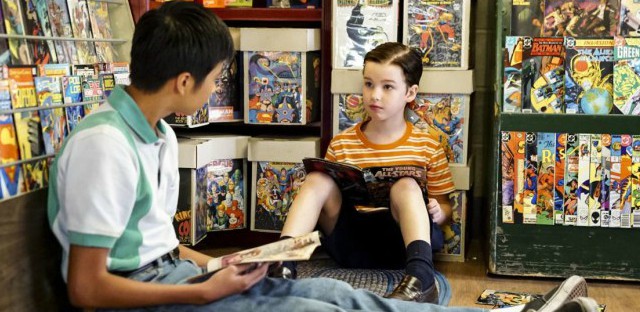 Durante i vari episodi di Young Sheldon, abbiamo visto quando il piccolo genio ha avuto il suo primo computer e abbiamo scoperto anche l'origine di Soffice Kitty e dell'iconica espressione Bazinga. Queste sono risposte che la serie era praticamente obbligata a fornire, insieme ad altre ancora rimaste in sospeso. La storia dello spin-off si concentra troppo sulla famiglia disfunzionale di Sheldon e si espande raramente ad altre tematiche. In The Big Bang Theory c'è il giusto equilibrio tra comicità e malinconia, che non si riscontra nel prequel. Se gli sceneggiatori non fossero soggetti a un'enorme pressione, sarebbero meno vincolati e potrebbero dar sfogo a tutta la loro creatività, regalandoci più spensieratezza.
Young Sheldon è arrivata soltanto alla seconda stagione, quindi ha ancora tutto il tempo per riprendersi. Basterebbe cambiare prospettiva e usare l'ingenuità e l'insicurezza del protagonista per trovare nuovi spunti di comicità. Sostanzialmente si tratta di un bambino con un quoziente intellettivo superiore alla media che deve imparare ad affrontare tutto per la prima volta, senza avere la minima idea di quello che provano o pensano le altre persone.
È come se Young Sheldon si trovasse in un limbo. È una serie tv abbastanza interessante, che soddisfa le curiosità degli spettatori, ma non raggiunge il livello della grande comedy da cui proviene.