Dopo che The Big Bang Theory si è chiusa qualche mese fa con un finale che ha commosso e tenuto sintonizzati ben 23,44 milioni di telespettatori (e infatti è stato proprio questo l'episodio di una serie più visto dell'anno) c'era curiosità sullo scoprire che strada avrebbe seguito lo spin-off. Se finora infatti Young Sheldon aveva potuto contare sull'appoggio della serie madre da questo anno dovrà camminare sulle proprie gambe.
Dopo aver visto il primo episodio della terza stagione, dobbiamo ammettere che è arrivato per Young Sheldon il momento di staccarsi da The Big Bang Theory.
Nella nuova puntata di Young Sheldon, intitolata Quirky Eggheads and Texas Snow Globes, abbiamo scoperto cosa è accaduto al dottor Sturgis dopo quello che aveva combinato nel finale della seconda stagione. Lo scienziato è stato chiuso in un ospedale psichiatrico per curare il suo esaurimento nervoso e Connie non ha più avuto sue notizie. Mary quindi comincia a nutrire dei timori riguardo la salute mentale di suo figlio. Il piccolo Cooper è sempre stato, infatti, un ragazzino diverso dai suoi coetanei e aveva sempre avuto molte cose in comune con il fidanzato di sua nonna. Per questa ragione Mary inizia a temere che anche suo figlio possa andare incontro allo stesso destino del professor Sturgis.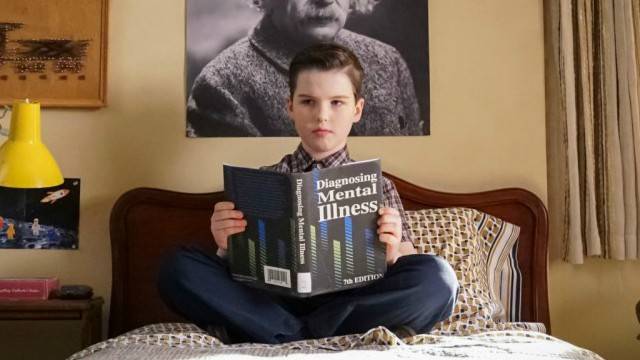 Acquista quindi un libro sui disturbi mentali e man mano che procede con la lettura, riscontra in Sheldon molti sintomi che potrebbero rivelare la presenza di un disturbo. Comincia quindi a fargli delle strane domande e a suggerirgli di parlarle di qualsiasi cosa lo preoccupi. Il ragazzino vedendo che la madre è sempre in ansia comincia a sua volta a temere che possa avere qualche problema e prende in prestito un libro in biblioteca per capire cosa ci sia che non va. Comincia anche lui quindi a sospettare che la donna possa avere qualche problema mentale o un esaurimento.
Quando Mary e Sheldon si incontrano di notte confessano l'uno all'altro le loro paure e il ragazzino scopre che sua madre teme che lui possa essere pazzo.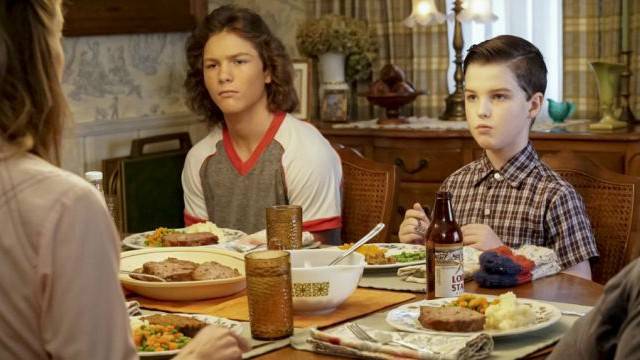 Sheldon si offende perché sua madre crede che abbia un disturbo mentale solo per il motivo che si comporta in modo diverso dagli altri ragazzi e il giorno successivo litiga con lei durante la colazione. Alla fine decide di accettare di sottoporsi al parere di un dottore per dimostrare di non avere alcun problema. Una volta arrivati lì, il ragazzino chiede a sua madre perché abbia cominciato a preoccuparsi proprio in quel momento delle sue stranezze, mentre prima non se ne era mai curata. La donna allora è costretta a raccontargli la verità sulle condizioni del dottor Sturgis e il piccolo Cooper capisce perché sua madre fosse così in ansia. Alla fine quindi la perdona per aver dubitato della sua sua sanità mentale e i due si riappacificano.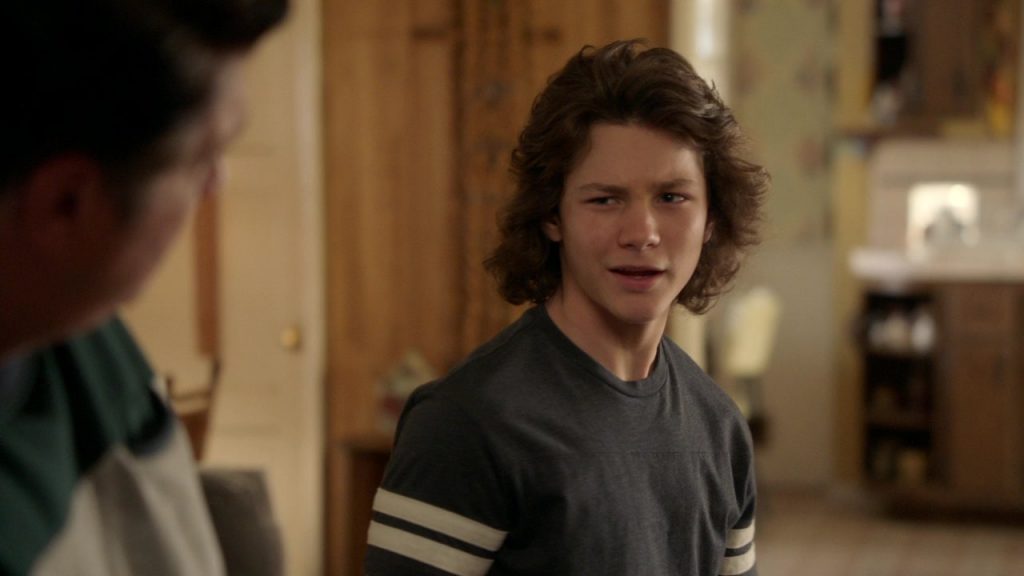 Il personaggio che più mi ha fatto divertire in questa puntata però è stato Georgie. Il primogenito di casa Cooper decide di intraprendere un progetto, mostrando di avere già quello spirito imprenditoriale che lo farà diventare il famoso Dr. Tyre. Quando scopre infatti che un negozio di souvenir che sta chiudendo l'attività vende tutte le sue palline di neve a un dollaro, decide di approfittarne. Le compra tutte con l'obiettivo di rivenderle a cinque dollari l'una agli abitanti della sua città. Suo padre non è molto convinto che la sua idea sia così geniale e si rifiuta di investire del denaro in quel progetto.
Per mostrargli che si sbaglia, Georgie si mette a lavoro con l'obiettivo di vendere tutti i suoi souvenir. Parlando con un vicino di casa scopre che qualche tempo prima c'era stata un'insolita nevicata a Medford che era ancora viva nel ricordo degli abitanti di quel paesino del Texas. Proprio rievocando quel ricordo e servendosi della sua impeccabile parlantina, il ragazzo riesce a convincere i suoi clienti a comprare tutte le palle di neve che aveva acquistato. In questo modo non solo riesce a guadagnare una bella somma, ma dimostra anche a suo padre quanto aveva avuto torto a dubitare di lui.
L'assurda avventura di Georgie ci ha fatto divertire parecchio e ci ha riservato diverse gag carine. Ma la storyline dedicata a Sheldon Cooper e ai timori di Mary è stata secondo me una grande occasione mancata. Se in The Big Bang Theory gli autori non hanno mai voluto svelare che Sheldon soffriva della sindrome di Asperger (scopri qui per quali ragioni), non credevo che avrebbero deciso di fare lo stesso anche in Young Sheldon. Quando ho visto che Mary aveva cominciato a preoccuparsi per alcuni comportamenti che manifestava suo figlio, ero sicura che avrebbero finalmente affrontato l'argomento.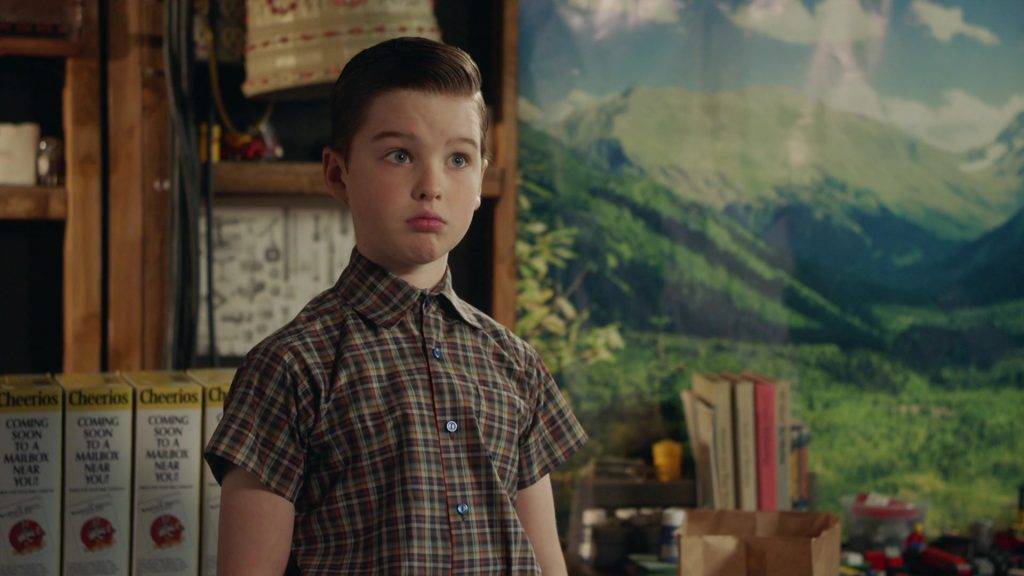 Alla fine però tutto si è risolto con un nulla di fatto e con un abbraccio. Non volevo che etichettassero Sheldon in alcun modo, ma che svelassero una volta per tutte questa sua caratteristica. Nelle due stagioni precedenti lo show ha dato prova di voler affrontare anche argomenti seri in modo più maturo rispetto a quanto aveva fatto la serie madre, tuttavia su questo tema hanno deciso di seguire la strada tracciata da The Big Bang Theory. Ma se lo spin-off vuole limitarsi a raccontare quanto è stato già detto nella serie madre, a lungo andare non diventerà ripetitivo? Questa serie non dovrebbe approfondire proprio il personaggio di Sheldon?
Per il momento questo nuovo episodio ci ha mostrato che Young Sheldon ha ancora molto da raccontare, ma che è arrivato decisamente il momento che faccia il salto di qualità e smetta di dipendere troppo da The Big Bang Theory.